Description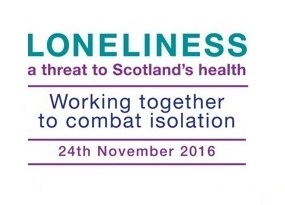 Our annual conference and AGM takes place on Thursday 24th November in Edinburgh. The conference will consider compelling evidence about the impact of social isolation and loneliness on mental and physical health and the part the third sector plays in preventing and addressing this.
Read the conference briefing paper on loneliness and social isolation.
Dr Catherine Calderwood, Chief Medical Officer for Scotland
Dr Andrew Fraser, Director of Public Health Science at NHS Health Scotland
James Jopling, Executive Director for Scotland, Samaritans
Pete White, Chief Executive, Positive Prison ? Positive Futures
Marie Hayes, Operations Director, British Red Cross

Carolyn Sawyers, Head of Policy and Learning Scotland, Big Lottery Fund
Sponsorship and Exhibition Opportunities
We have a range of sponsorship options and exhibition opportunities available for our conference.
Sponsor Options Voluntary Health Scotland Conference 2016
Please contact Lauren Blair lauren.blair@vhscotland.org.uk if you have any questions.
We are delighted to be joined by our Partners, Sponsors and Exhibitors:
Art in Healthcare
Befriending Networks
Big Lottery Fund
Chest, Heart and Stroke Scotland
Care Inspectorate
Good Morning Service
Graphics Co-op
Legion Scotland
Music in Hospitals
NHS 24
NHS Health Scotland and The Healthy Living Award
Paths for All
Poppy Scotland
Scottish War Blinded
The Golden Jubilee Conference Centre
Event sponsors: