Description
In association with One Planet Week, the York Environmental Sustainability Institute (YESI) and GreenSTEMs would like to invite you to a waste symposium as part of One Planet Week.
The symposium will showcase the breadth of research being conducted at the University of York around reducing waste, the principle topic of this year's One Planet Week. Including both global and local perspectives, we will explore the key challenges and possible solutions to managing waste more effectively worldwide.
YESI will also be launching its Waste Network, a new interdisciplinary hub to connect researchers interested in all aspects of waste.
This will be followed by a key note presentation from Dr Henry King, Science and Technology Leader for Sustainability at Unilever, a transnational consumer goods company who's brands include Dove, Ben and Jerry's, and PG tips. Dr King will provide a corporate perspective of waste management and will show how Unilever addresses the waste issue.
There will be a chance to ask our speakers questions, both in our concluding panel discussion and at our drinks reception following the event.
Provisional Agenda: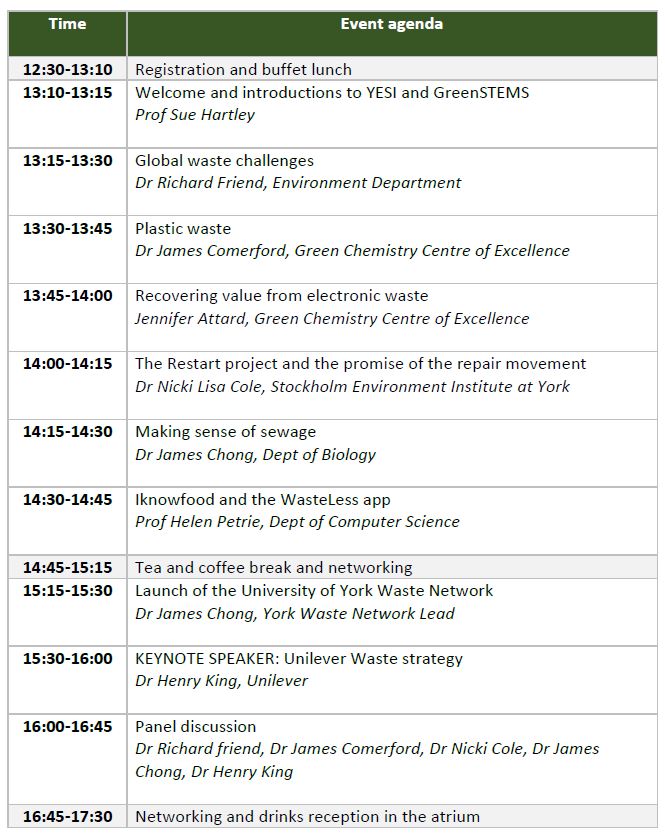 For directions to the Ron Cooke Hub please click here
In addition, there will be a short workshop in the morning (10:00-12:30) for York researchers to discuss new collaborations and future funding opportunities on the topic of 'Plastics in the Environment.' For further details and to register please contact yesi@york.ac.uk.