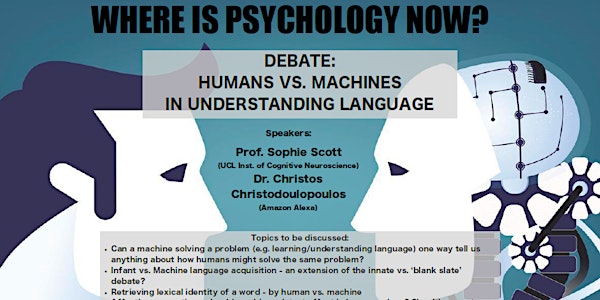 Where is Psychology Now? - Humans vs. Machines in Understanding Language
Location
Chandler House
2 Wakefield Street
Room G10
London
WC1N 1PJ
United Kingdom
Description
Humans vs. Machines in Understanding Language

Speakers:
Prof Sophie Scott (UCL Institute of Cognitive Neuroscience) vs. Dr. Christos Christodoulopoulos (Amazon Alexa)
Topics to be discussed:
Can a machine solving a problem (e.g. learning/understanding language) one way tell us anything about how humans might solve the same problem?

Infant vs. machine language acquisition - an extension of the innate vs. 'blank slate' debate?

Retrieving lexical identity of a word - by human vs. machine

Affective computing - should machines detect affect in human voices? Should computers attempt to produce emotional speech?

Vector models of Natural Language Processing vs. Word Net models in Psycholinguistics

Does the machine need to be embodied and placed in a social setting (like a human) to learn a language?