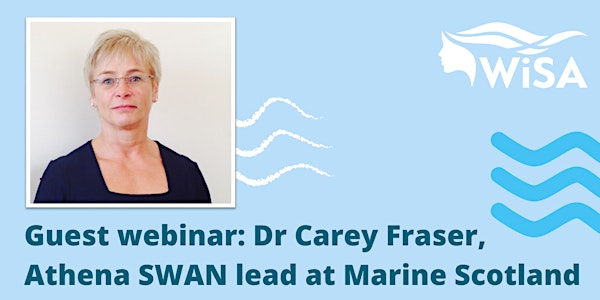 WiSA guest webinar: Dr Carey Fraser, Athena SWAN lead at Marine Scotland
WiSA is delighted to be joined by Dr Carey Fraser, Athena SWAN lead from Marine Scotland.
About this event
Carey has had a number of roles in Marine Scotland Science, including lab technician supporting fish health research, diagnostic services and research group leader, and Science Operations Programme Manager. Carey was the first Head of Professional Development for Science in Scottish Government and is active in promoting diversity and equality within science and engineering areas of the Scottish Government. Her diversity and inclusion work included leading Marine Scotland Science's successful application for the Athena SWAN Bronze gender equality award, the first area of Scottish Government to achieve this. Join us to hear more about Carey's career, her role in promoting diversity and equality, and take part in a Q&A session.
The webinar will take place via Zoom; details will be sent to delegates the day before the event. A recording will be available after the webinar for those that are not able to attend the live version.