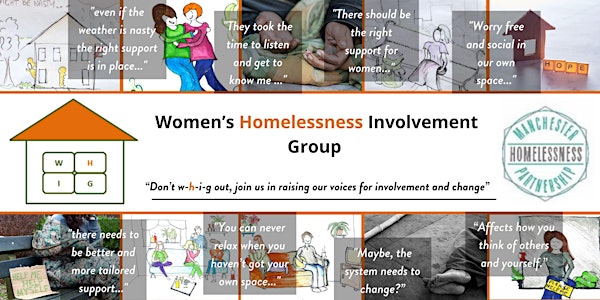 Working Well with Women and Reducing Barriers -Women & Homelessness
Join us to find out what women who have 'lived it' say about their experiences of homelessness and how services can 'work well' with women.
About this event
Are you working well with women?
Join WHIG, Manchester's Women's Homelessness Involvement Group for a free 75 minute-webinar. The online session will be exploring what women who have 'lived it' or 'worked it' say about working well with women, experiences of homelessness and what services could do differently to support them.
Does the system need to change?
"Sometimes I feel like I am on a hamster wheel, going round and round"
The months and years roll on ... many women are still 'stuck' in the system and unable to move forward meaningfully with their lives. But with the right women-centred support and accommodation, many women say, "it's like getting a fresh start. Like I can breathe again and make plans for my future".
System and service change can start with us!
As part of this webinar, we will also be exploring the importance of woman-centred approaches and women only spaces. We will also be discussing a 'working well with women' guide that has been created and shared for staff to better understand how to support women facing barriers in the system and in accessing the support they need to live their lives fully.
"Sometimes you just need to hear. 'I am not a bad person'. Bad choices don't make a bad person."
"Sharing my story helps others share theirs. I'm really proud to stand with other women and use our voices to tell people how it really is. How they can AND should support women like us better."
Who is this for?
This session is aimed at staff, managers and service commissioners and basically anyone involved in designing, managing or delivering services to women experiencing homelessness and multiple disadvantage. Please also feel free to join us if you volunteer or access services.
***Please note the session will be recorded. Please consider this when deciding to use your video function or contribute information ***