World Radio day 2017: Radio Fair and Panel Discussion
Description
World Radio Day London 2017: Radio and Global Transitions
On Friday, Feb 10th 2017, SOAS Radio will be hosting World Radio Day London.
World Radio Day is an event for exploring today's world of radio, bringing together community stations, local organisations, and international media groups to exhibit their work and create an exchange of ideas between industry professionals, radio enthusiasts, academics, and anyone curious.
We will be addressing the theme of 'Radio and Global Transitions'; the experience of migration, health crises, innovative communication technologies and how they are reflected in radio.
Come learn and participate in exhibitions, workshops and discussions about contemporary approaches to radio. See what's happening in the airwaves around you!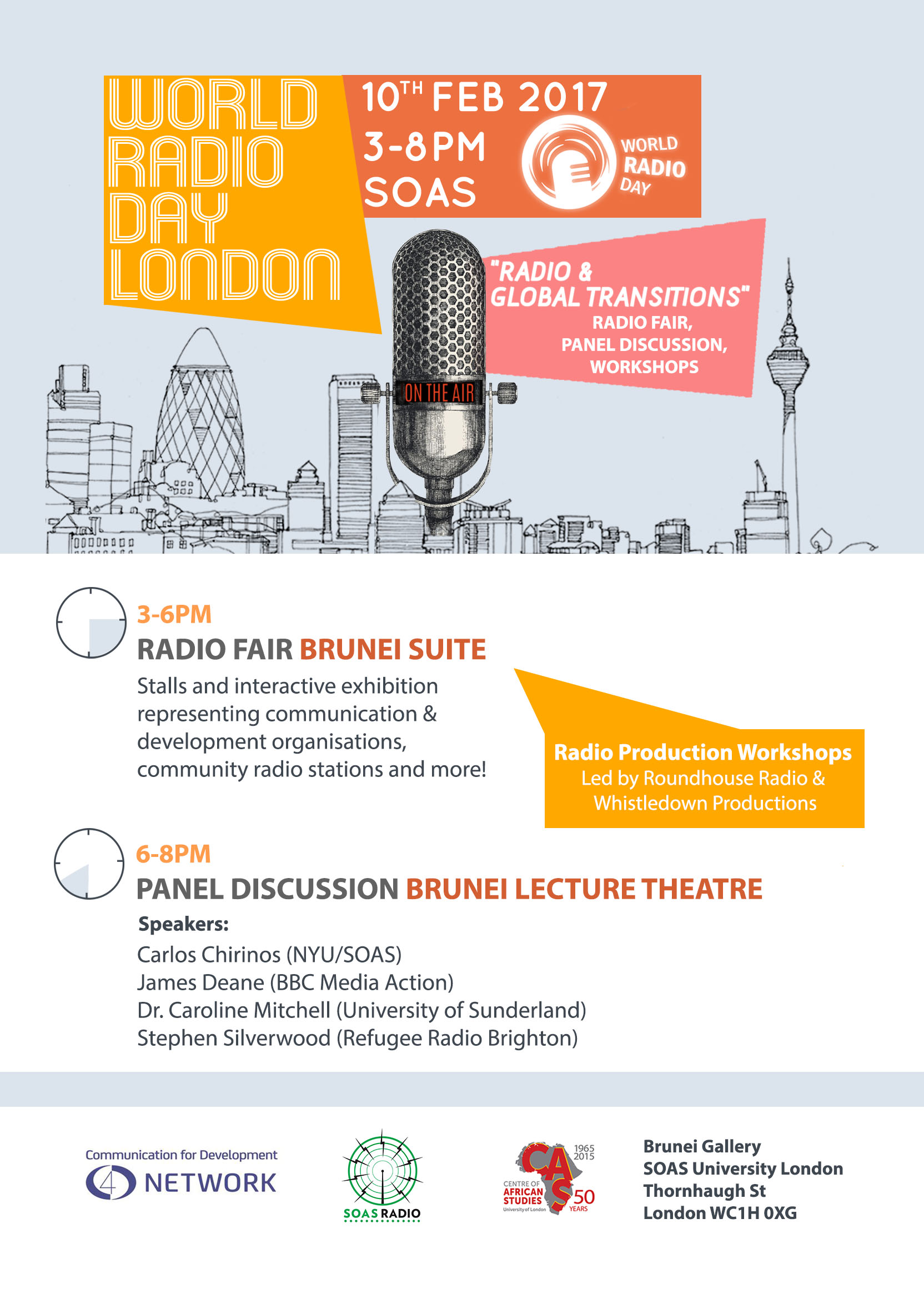 ---
Programme:
Friday, Feb 10th 2017
3-6pm: Radio Fair & Workshops (Brunei Suite, SOAS University London)
Stalls and interactive exhibition representing communication & development organisations, community radio stations and more!
Confirmed Exhibitors include RadioActive, Development Media International, SciDev, Radio Souriat (Syrian Women's Radio for Peace), InsightShare, London International Development Center, Refugee radio and In Tune For Life.
Workshops by
Nicole Logan & Ros Fraser (Roundhouse Radio)
David Prest (Whistledown Productions)
6-8pm: Panel Discussion (Brunei Gallery Lecture Theatre, SOAS University London)
How is radio representing global transitions?
Speakers:
Carlos Chirinos (NYU/SOAS)
James Deane (BBC Media Action)
Dr. Caroline Mitchell (University of Sunderland, Transnational Radio Encounters)
Stephen Silverwood (Refugee Radio Brighton)

This event is co-hosted with C4D-Network and Centre of African Studies.