Like to find out about genomics & health? Affected by a rare/genetic condition? Join us for our first Virtual Genomics Café for young people
About this event
Are you a young person interested in finding out more about genomics and health, or affected by a rare or genetic condition? Join us for Young People's Genomics Café! These events are aimed at those aged 16 to 25 and are run by Wales Gene Park with Genomics Partnership Wales. At February's café we have two great talks lined-up!
Ethical Dilemmas in Genetics and Genomics - Dr Alexandra Murray (All Wales Medical Genomics Service) will pose some though-provoking medical genetics & genomics scenarios, including testing, consent, incidental findings, and other ethical issues
V for Vaccination: from Cowpox to Covid - join Dr David Llewellyn (Integrated Wellbeing Networks, Aneurin Bevan UHB) to learn about the social history of vaccination with a discussion on what it means now for Covid
The café is a relaxed opportunity to find out about new advances in genomic medicine in Wales and a chance for young people to meet, come together, and let us know how we can better support those affected by rare or genetic conditions. The cafe is FREE to join via Zoom, but you will need to register via Eventbrite to receive the joining link.
Further information email walesgenepark@cardiff.ac.uk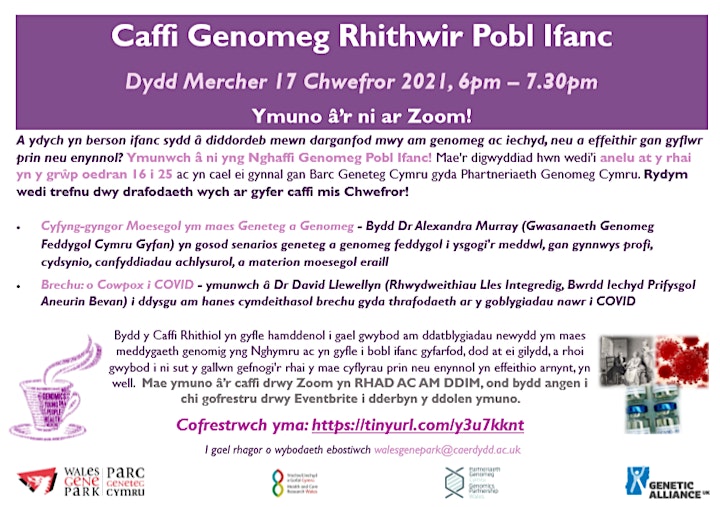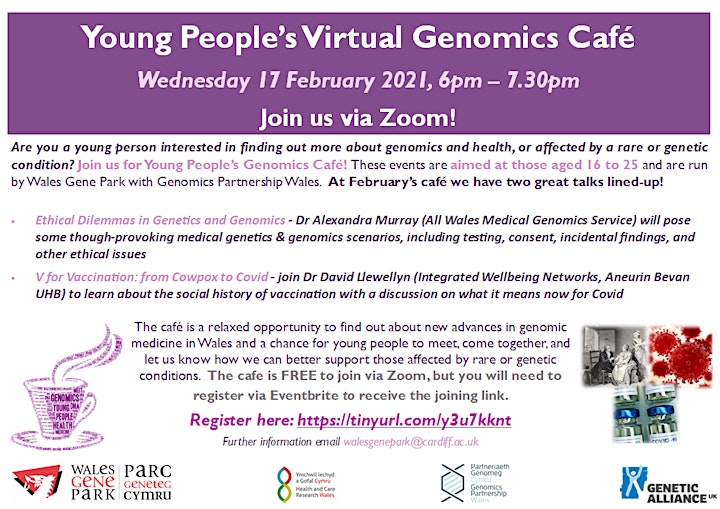 Organiser of Young People's Virtual Genomics Café
Our mission is to promote and facilitate Welsh medical genetic and genomic research and its application to improve heath and wealth in Wales. Also, to engage the public and health professionals to improve understanding of the opportunities and challenges arising through genetics and genomics.
We bring together expertise and experience in genetics within Wales, provide state-of-the-art technologies to researchers in Wales and provide innovative initiatives to educate and engage health professionals and the public in Wales and beyond.