Anarchist Communist Group
We are a revolutionary anarchist communist organisation made up of local groups and individuals who seek a complete transformation of society, and the creation of anarchist communism. This will mean the working class overthrowing capitalism, abolishing the State, getting rid of exploitation, hierarchies and oppressions,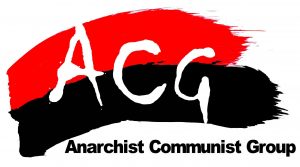 and halting the destruction of the environment. To contribute to the building of a revolutionary anarchist movement we believe it is important to be organised. We are committed to building an effective national and international organisation that has a collective identity and works towards the common goal of anarchist communism, whilst at the same time working together with other working class organisations and in grass roots campaigns. We do not see ourselves as the leaders of a revolutionary movement but part of a wider movement for revolutionary change. In addition, we strive to base all our current actions on the principles that will be the basis of the future society: mutual aid, solidarity, collective responsibility, individual freedom and autonomy, free association and federalism.