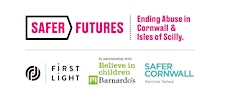 Barnardos - Safer Futures.
Domestic Abuse and Sexual Violence training programme (DASV) in Cornwall and the Isles of Scilly. The programme, written by Barnardo's, the U.K's largest children's charity and in partnership with First Light, has been commissioned by the local authority and Safer Cornwall Partnership.
First Light and Barnardo's provide the integrated Domestic Abuse and Sexual Violence (DASV) service for Cornwall and the Isles of Scilly, offering a range of early intervention, prevention, therapy and recovery programmes to children, young people and adults affected by domestic abuse and sexual violence. All aspects of the service are free at the point of delivery. The DASV service has been launched as Safer Futures.
We are determined to see a change in the social norms that facilitate domestic and sexual abuse. Early intervention and education is key to achieving this. Providing high-quality and meaningful professionals training will help ensure an appropriate and informed response to disclosures of domestic abuse and sexual violence in our society and encourage open conversations between professionals and their service users. 
The training consists of three levels; prior to booking any of our training, we ask that individuals consider if their professional experience, responsibility and previous training will support the level of learning of each session.
Support of individual services and organisations, through bespoke training may be considered if deemed appropriate.