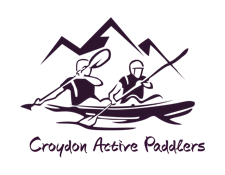 Croydon Active Paddlers
We're a friendly group who go canoe and kayak paddling in and around beautiful Surrey and further afield. We are both a canoeing club and a kayaking club, and we have quite a fleet of boats available for members to try out.
For those who're new to the sport and want a gentle introduction, we hold approximately 20 pool sessions each year at the South Norwood Leisure Centre. You can try paddling in a warm swimming pool, with qualified lifeguards and coaches providing safety and help. 
We encourage everyone to join us on suitable day trips to build up skills and confidence on different types of water, as well as getting out to enjoy the scenery. We typically venture out onto local rivers once or twice a month to paddle mainly flatwater rivers like the river Wey, Medway, Loddon, Mole which are all around an hours' drive from Croydon, and we spend 3-5 hours paddling before driving home.
If you're up for something a little more challenging, we also host white water trips for beginner, intermediate, and experienced paddlers, led by our coaching team. Wales and Dartmoor are typically the venues for this, and we organize accommodation which is generally a rural 'bunkhouse' with some meals catered for, and some taken in local hostelries.
We welcome couples, singles and families to come along and have some fun, and we can also support your training towards the various BCU awards.
There is a fee payable on the day for attending trips, payable by cash. The cost for this trip is:
Members with own kit - £5
Members using any club boat and / or kit - £10
Non Members using club boat and kit - £15
If you have any further queries, please contact Mike on Chairman@croydonactivepaddlers.org. You can also visit our Facebook group and check out some of our previous trips https://www.facebook.com/groups/23167988907/


South Norwood Leisure Centre • London