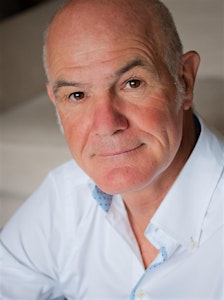 Dr. Stephen Simpson
Dr. Stephen Simpson is a world renowned mind coach, presenter, author, and Fellow of the Royal Society of Medicine.
As a private mind coach Dr. Simpson counts many luminaries from the sporting, gaming, entertainment and business worlds among his clients, including world number one poker legend Chris Moorman.
Dr. Simpson has appeared on the BBC, ITV, Sky, Voice of America, and other top international TV and radio programmes, as well as in the pages of Sunday People, Glamour, Golfing World, The Best You Magazine, WPT Poker and more, sharing his simple, innovative methods for building luck.
As an inspirational speaker Dr. Simpson has delighted audiences of many thousands in Europe, The Americas, Africa, and Asia.
Additionally Dr. Simpson works as a Mind Coach on both the PGA European Golf and World Poker Tours, helping star performers find their zone, perform in flow, and gain the winning edge.
More details of his work, books, videos, podcasts, and audiobooks can be found on his website www.drstephensimpson.com
Sorry, there are no upcoming events