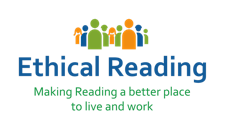 Ethical Reading CIC
Ethical Reading CIC exists to help organisations in Reading and their teams do the right thing by each other, the wider community and the environment, and to thrive in the process.
It's all about supporting people to take a compassionate, respectful and responsible approach when making decisions at every level, from the board room to everyday interactions.
We want to encourage organisations of all kinds and their and employees to make more ethical choices. We'll do this by bringing people together at events with inspirational speakers and opportunities to share ideas, and by providing access to thought-provoking training resources.