Fleet Operator Recognition Scheme (FORS)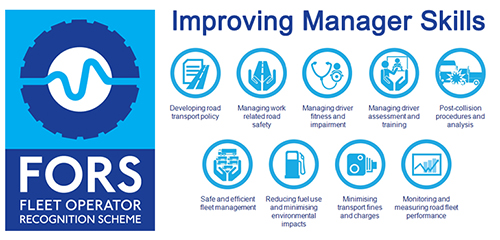 Becoming a FORS practitioner
Workshop delegates from FORS accredited companies continue to have the opportunity to become a FORS practitioner.  Complete each of the workshops numbered 1 to 9 below to receive your FORS Practitioner certificate. You can attend in any order, but each workshop takes you on a journey through the programme. 

Important Information
Please note if you are a FORS associates (ID starting with an 'A'), you cannot book a place and must speak to the workshop provider so your name is added to a waiting list. You will be notified within 5 days of the workshop as to whether or not we are able to accommodate your booking.

Cancellations
FORS will accept cancellations and substitutions notified 5 or more business days prior to a funded FORS workshops however cancellations made less than 5 business days prior to any event or non-attendance are subject to the following fees:
• Funded Half Day Event Cancellation or Non Attendance Fee – £70 + VAT
• Funded Full Day Event Cancellation or Non Attendance Fee – £130 + VAT
 Please read our Cancellation Policy and by registering for a course you are agreeing to its terms. Click here to read the Cancellation Policy.


Please remember you can add the date to your calendar at the time of booking.  If you need to cancel, please remember to go back to Eventbrite and cancel your place. 
Sorry, there are no upcoming events