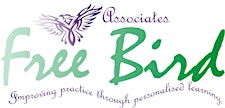 FreeBird Associates
The faces behind FreeBIrd Associates are Anna Elwood and Corinne Leverton. We are Learning and Development Consultants, specialising in Health and Social Care.
We formed the company in 2015 after our roles for a Local Authority Learning and Development team were made redundant. Between us we have over 20 years experience of developing, designing and delivering learning and development programmes. We are qualified to Master's level in Coaching and Mentoring/ leadership and whilst many of our programmes are underpinned by research, this is married to our experience of working in direct support services with people who have a label of learning disability, older people and people with physical disabilities and illness as well as informal carers. 
Our philosophy is that for learning to be effective we need to be able to transfer it into practice, so many of our courses are blended with practice and input. 
            Theory without practice is fruitless, practice without theory is futile.  (Kolb, liberated from Marx!)
Sorry, there are no upcoming events