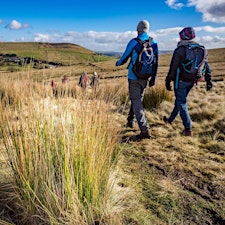 Freshwalks
Freshwalks helps you feel and perform better. In life and in business. It does this in five ways. Through an enhanced state of mental performance and wellbeing, improved physical fitness, collaboration with others, knowledge sharing and growing your network.
We offer walks of all grades - from gentle 5km country park rambles and city-centre guided tours through to long coastal walks and challenging 30km hikes across moorland and hills.
Use Freshwalks however you want. To network, to recharge, to share business or personal challenges - all with the bonus of keeping fit. 
***
COVID UPDATE (30 DECEMBER 2020):
Given the latest government announcement, we temporarily plan to postpone all January events that take place in Tier 4 areas. We've already begun the process of pencilling in revised dates and all registrants will be notified of new dates by email.
It's quite frustrating but wholly necessary while the country attempts, yet again, to reduce the spread of Covid-19 in the community.
A combination of our robust Covid-secure procedures and a strong sense of individual responsibility made Freshwalks a very safe place to be in 2020 for the eight months our walks were allowed to happen. We have had zero reported incidents of virus transmission since safely resuming walks in June 2020.
Through a shared sense of achievement our walks have inspired this community to improve physical fitness, safeguard mental wellbeing and build natural immunity. All vital in the battle against the virus and of course other ailments.
We'll continue to review the situation and will update in due course.
Thank you, Michael Di Paola (Founder, Freshwalks).