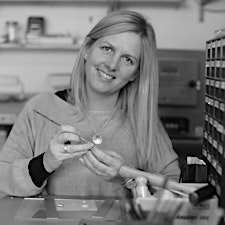 Jo Richards - Faye Benjamin Jewellery
Tutor Biography:
Jo Richards BA (Hons) in Design & Technology from Southampton University. City and Guilds levels 2 and 3 in Jewellery Design & Silversmithing. Art Clay Diploma levels one and two, and recently a Higher Level Diploma in Art Clay. Member of the Association for Contemporary Jewellery and the Guild of Jewellery Designers.
Owner and founder of Faye Benjamin Jewellery since 2015.
I have been studying, designing, making and selling jewellery for over 25 years. Since 2006 I've concentrated mainly on working in Art Clay Fine Silver - a recycled silver which can be Assay hallmarked as 99.9% pure silver. I absolutely love what I do, and sharing my passion for Silver Clay with you makes me truly happy. I look forward to seeing you (and your beautiful creations!) at a workshop soon. Jo
Headbourne Worthy, Winchester - Full details of location to follow on booking • Winchester
£80 - £85