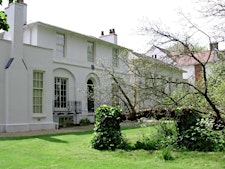 Keats House
Welcome to Keats House, the beautiful Regency villa where Romantic poet John Keats found inspiration, friendship and love.
Keats House is closed until further notice due to the current 'National lockdown: Stay at Home' guidance. We hope to reopen the house as soon as Government guidance allows us to do so.
In the meantime, please see below for any events being delivered online and you can also follow Keats House and the Keats200 bicentenary programme, as well as discover inspiring content from across the City of London Corporation's cultural venues, at www.ourcitytogether.london or on social media using #Keats200.