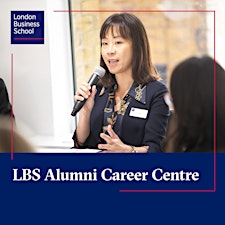 LBS Alumni Career Centre
The LBS Alumni Career Centre is here to support you with your continued personal and professional development through providing top quality content, advice and insights.
Stay up to date with our next events and webinars here on EventBrite, and capitalise on the great resources and thought leadership you have access to as lifelong members of the London Business School community at www.london.edu/alumni
Please note:
Many of our events and webinars are open to both Alumni and Students, please make sure you are signing up using the right ticket type to avoid your ticket being refunded or cancelled. If there are no more tickets available please do join the waitlist for your ticket type (Alumni ticket or Student ticket) to benefit from a place if one becomes available.
Not all of our Webinars are recorded so please make sure that if you can no longer attend that you cancel your ticket so someone on the waitlist can benefit from your spot.
We look forward to seeing you at one of our live or virtual events,
Your Alumni Career Centre Team