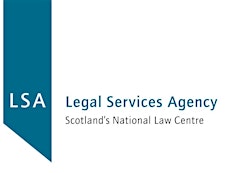 Legal Services Agency Ltd
LSA's seminars, conferences and workshops are among the most innovative, best value and, above all, useful available.  They cover most areas of law in practice.  They are relevant to everybody concerned with law and legal rights.  This includes practitioners, whether qualified or not, solicitors or advocates, paid or unpaid and anyone in the private, community, charitable or statutory sectors.  The events are also of interest to policy makers, managers, campaigners and students.  The events reflect LSA's values of inclusiveness and respect for fundamental rights.  They come out of our extensive casework tackling unmet legal needs in all relevant courts and tribunals.  LSA has a record of attracting the best speakers and delegates who are at the cutting edge of the law.  The result is often sparky and thought provoking discussion.
For further details on LSA's seminars, please see our website www.lsa.org.uk or contact our Seminar Manager, Susan Bell on 0141 354 1274 or email seminars@lsa.org.uk.
GOT A NEW IDEA? Is there a seminar you wish existed?
If you have a new idea or, indeed, wish to convene a seminar please contact seminars@lsa.org.uk