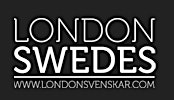 LondonSwedes.com
LondonSwedes.com is the largest website for the Swedish and Scandinavian community in London and the UK. Since 2003, over 20 000 members have joined and the website currently has over 24 000 unique monthly visitors.
Whatever you need in London - we are here to help!
The website have over 600 pages with information, interviews, articles and guides to make the life easier for all new Londoners. 
www.londonswedes.com

Instagram: LondonSwedes
Twitter: LondonSvenskar 
Sorry, there are no upcoming events