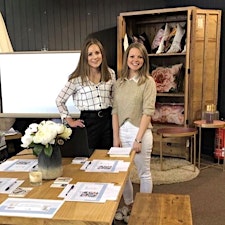 #MyHomeStyleSeries with Alice Maughan & Jess Blake
Alice & Jess started their #MyHomeStyleSeries workshops in May 2019, after having similar conversations with clients time and time again about where to start with a room update or renovation. So these four workshops were born, to help people who may not need a dedicated Interior Designer but could do with some guidance. The series of four allows people to pick & choose which topics might be helpful, or come to all four to get a good basis for all future design projects. 
About Alice & Jess
Alice qualified from The Interior Design Institute in January 2016 and since then has worked within her family run construction company, Stronghold Homes, designing and styling showhomes alongside consulting & design projects with her Alice Maughan Interiors clients.
After four years working in Charity Events & Fundraising, Jess retrained in Interior Design at KLC, Chelsea Harbour in 2016 and has since worked for an Interior Design company in Wimbledon, a Kitchen Design company in the Midlands and in 2018 set up Happybeams Interiors, through which she has worked on a number of private and commercial projects. 
Alice & Jess met in May 2018 at an Instagram Interiors Event and instantly gelled over their love of the colour blue and similar design styles. Being self employed and often working alone, it makes you really appreciate having a network of likeminded women, and of course supporting each other's achievements!
*Please note tickets for the fourth workshop 'Your House, Your Home' were sold on an alternative ticket site, which is why only three are listed under previous events.
Sorry, there are no upcoming events