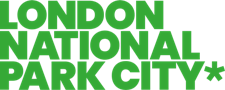 National Park City Foundation
Launched in July 2019, the London National Park City is a place to enjoy, a vision to share and a movement to join to improve life in London. We're doing this by enjoying being outdoor more and helping to make our city greener, healthier and wilder.
Having successfully campaigned to make London a National Park City, the National Park City Foundation is a registered charity established to bring the idea of National Park Cities to life both in London and internationally.
Sorry, there are no upcoming events