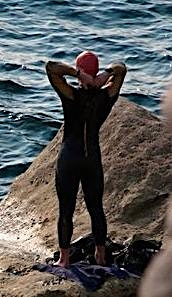 Nick de Meyer - www.speedyswimming.co.uk
Welcome to Speedy Swimming!
With 20 years of combined knowledge and coaching experience we help triathletes and swimmers of all levels reach their goals. 
Our skilful coaching will provide practical steps to help you swim with efficiency and more speed. We'll adapt your swim technique with our stroke analysis methods, teach you cutting edge skills and drills from our Speedy Freestyle swim book, and improve your fitness, so you can swim confidently to your personal best and beyond!
Whether you're returning to swimming, entirely new to triathlon or an experienced competitor we pride ourselves on giving you effective advice in a relaxed and friendly environment.
We offer one to one Pool Sessions and Open Water Swimming, Online Training Plans, Swim Clinics and Group Lessons, in Surrey and South West London.