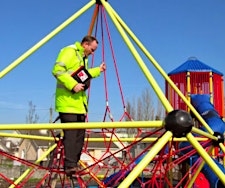 Play Services Ireland
Covid 19 ANNOUNCMENT
With the new Covid 19 work protocols in place we are unable to plan any training events in advance at the moment.
As and when the situation changes we will add new dates and venue.
We are however conducting and carrying out 'in house RPII training' for our customers,subject to government guidelines and would recommend you contact us directly on our RPII Training hotline -07712398926
Play Services Ireland are an established local company focused on helping those responsible for playgrounds do their utmost to manage risk in a responsible way. This is done through the provision of Post Installation, Operational and Annual Inspection services, through training others in Risk Assessments and Routine and Operational Inspections and also by providing wider advisory services such as design and consultation during the development of playground projects.
We are an accredited RPII Training facility for RPII Playground Inspection Training including Routine (1 day) Operational (2 day) and the NEW Operational and Routine Inspection course for School playgrounds targeting school caretakers and those responsible for managing risk these environments 
Sorry, there are no upcoming events