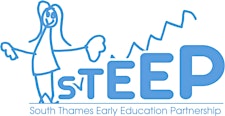 South Thames Early Education Partnership and Teaching School Alliance. (STEEP)
STEEP is a partnership of six South London, Nursery Schools and Children's Centres, with a long history of working with children and families.
We believe every child deserves the best possible start in life and support to fulfil their potential. A child's experience in the early years has a major impact on their future life chances. A secure, safe and happy childhood is important in its own right, and provides the foundation for children to make the most of their own abilities and talents as they grow.
STEEP aims to support those working with young children and their families through the provision of a range of high quality professional development opportunities including:
Support and training for Childminders

Initial Teacher Education

CPD for Early Years professionals in schools and settings

Sharing practice and building networks across our learning community
Sorry, there are no upcoming events