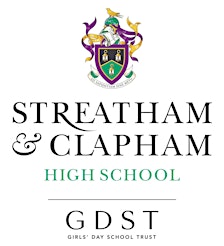 Streatham & Clapham High School
Streatham & Clapham High School is a family school. We pride ourselves in nurturing, not coercing excellence and celebrating difference through our buzzy, diverse community, drawing strength from all that is great about London.

We are a private school ranked in the top 20% of the independent schools in the country. We offer inspiring, enlightened and intellectually challenging education in a lively, vibrant and warmly supportive environment. 


We are a through school, catering to girls from the age of 3-18, starting from Nursery through to Sixth Form. Our girls mature into confident, accomplished and well-adjusted young women, prepared for the challenges of university education and their future careers.
Our motto: ad sapientiam sine metu ('towards wisdom unafraid').


Our vision: To be unrivalled in empowering our young women to discover, nurture and project their unique identities and character.


Our purpose: To enable every girl to achieve beyond the bound of expectation on a daily basis, across the spectrum of endeavour.