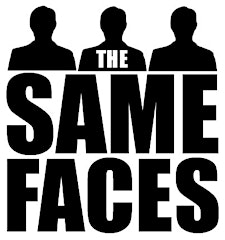 The Same Faces
The Same Faces are a Leicester-based improvised comedy group, with regular gigs in Leicester and Northampton. The group are available for gigs on the comedy circuit, corporate entertainment events, and parties. Get in touch via our twitter or facebook pages.
Each of our gigs features five performers: our three regular members are Tom Young (founder/director), Allan Smith, and Mike Brown, and our extended roster of semi-regular guest players include Dave Gotheridge, Jaz Cox, Emma Bamford, Jim Shields, and Tom Lawrence, and many more.
We currently have two regular gigs, where we perform every month: one in Leicester at The Criterion (first Saturday of each month) and one in Northampton at The Black Prince (last Saturday of each month).