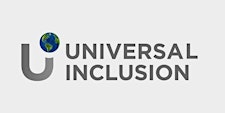 Universal Inclusion
Universal Inclusion is leading the way in making the world a much more accessible place, one where everyone feels included. Our ethos reflects the many ways as a society we can collectively and individually change not only our own, but other people's lives, for the better - often by making simple changes to the way we do things.
At Universal Inclusion we believe in bringing our values and beliefs to life through spectacular, international, ground-breaking events.

We invite you to join us as we celebrate life's opportunities through our fabulous events
.