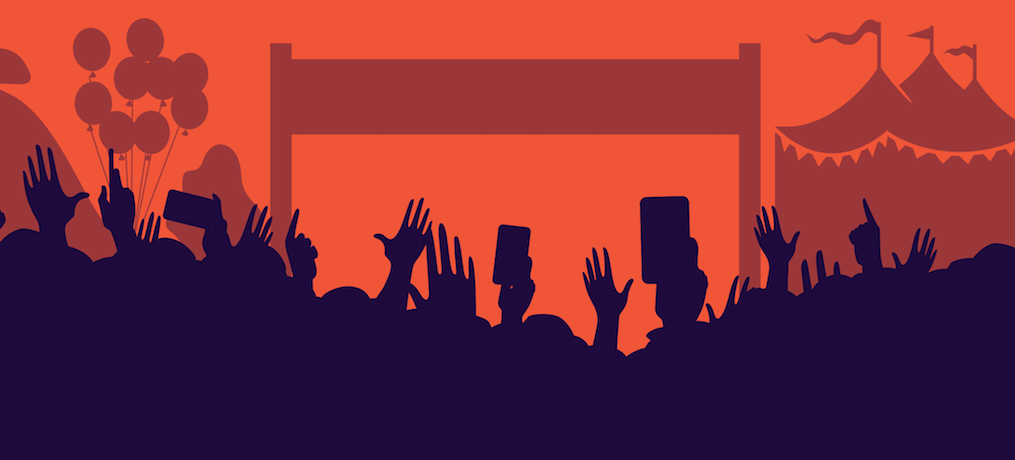 5 Ways to Get Attendees to Travel to Your Festival
Getting people to leave their city or town for a destination event isn't easy. On top of ticket costs, they need to pay for travel and hotels, which can add up quickly to a figure that not everyone is willing to pay (at least, at first glance).
For some lucky festivals, on the other hand, the destination is as much a draw as the event itself. But what happens when you're hosting an event where travelling isn't as glamorous as, say, flying to a music festival in Croatia?
It all comes down to making it as easy as possible for event attendees to organise their trip. Keep on reading for five ways to get people to travel to your festival.
Related: The New Millennials Event Mini Break Trend
1. Entice ticket buyers with local partnerships
If you know your location might pose a barrier for some event attendees (e.g. a busy airport, expensive hotels, or overwhelming traffic), solve the issue for them by partnering with local organisations that can help.
Use official welcome committees or tourism boards. 

Tourism bureaus know how to welcome visitors to your event's city. They also have additional partnerships with other local businesses. Use the bureau's connection to not only build more partnerships but to create marketing messaging specifically targeted for tourists.

Give attendees more reasons to come to your event (and your event's location).On your website, list nearby attractions to lure guests to make a longer vacation of their stay. Local business partners can help promote your event to the local community in return.

Provide local accommodation options to help fans plan their stay. Are there hotels or hostels close to your event? Partner with those locations and offer special deals to attendees. Then send an email to your attendees with information about those accommodations, and even include instructions of how to get from there to your event.
2. Make it easy to get to your event
When people are travelling to your event, you want to make it as easy as possible. Making your event more accessible widens your reach and makes your attendees feel welcome. Here are a few ways you can make it easy for your attendees to get to (and from) your event.
Give insider tips on how to get to your event's location. What are some secrets that only locals know about getting there? Maybe it's better to take a train or rent a car rather than fly into the airport.
Include a dedicated transportation section in your FAQs. Use your event page or website to detail all available transport options in one place. That way, people don't have to Google them and spend time figuring out what's feasible.

Provide a range of transportation options. Give attendees a variety of options to get to your event: public transportation, parking and valet, designated bicycle parking, shuttle buses, and carshare pickup and drop-off points. Use signage throughout the event to help attendees easily find the option that's easiest for them.

Partner with local transportation business. For example, if you partner with a shuttle bus or coach service, you can then offer that service as part of a ticket bundle. Doing so can help ease the stress of travelling to an event.
3. Offer unique perks for those who travel long distances
Your goal is to help make people from far away feel as welcome at your event as possible. From small gifts to larger gestures, there are a couple of ways you can offer unique perks those who are travelling long distances that will help them meet new people and connect with your event.
Offer VIP access at a reduced rate based on how far they travel. One way to attract attendees is by offering discounts. Use those promos to make travellers feel like they're getting a deal when they click "Buy."

Create special meetup locations at your event to bring people together. Once you get event-goers to travel for your event, you want to make them feel like they have a community. Help connect them with other people from their city or state.
4. Target your marketing efforts
Analyse your data to find where people are coming from to attend your event. This way, you can spend your marketing budget in the cities attendees most often come from. Dig into your analytics for postcode and city information, so you can create lookalike audiences to target.
Once you've discovered your hotspots, you can tailor your messaging to attract attendees in these areas. For example, promote package options for long-distance travellers. Or create location-based ads with personalised messaging about why people should come to your event.
5. Global sponsorships
If there's long-distance travel involved in your fans' plans, consider going after global sponsorships with brands that will benefit from attendees' choosing them — like airlines and global hotel chains.
Big brands can help you offer perks like discounted airfare that will really make it hard for attendees mulling over the travel expenses to say no.
Related: How to Secure Event Sponsorship
Get a fresh perspective on festivals around the world
Destination festivals and events might a bit trickier to plan, market, and grow, but when done right, they can be spectacular. Check out our guide to running club nights abroad for promoters— to discover the secrets to success.