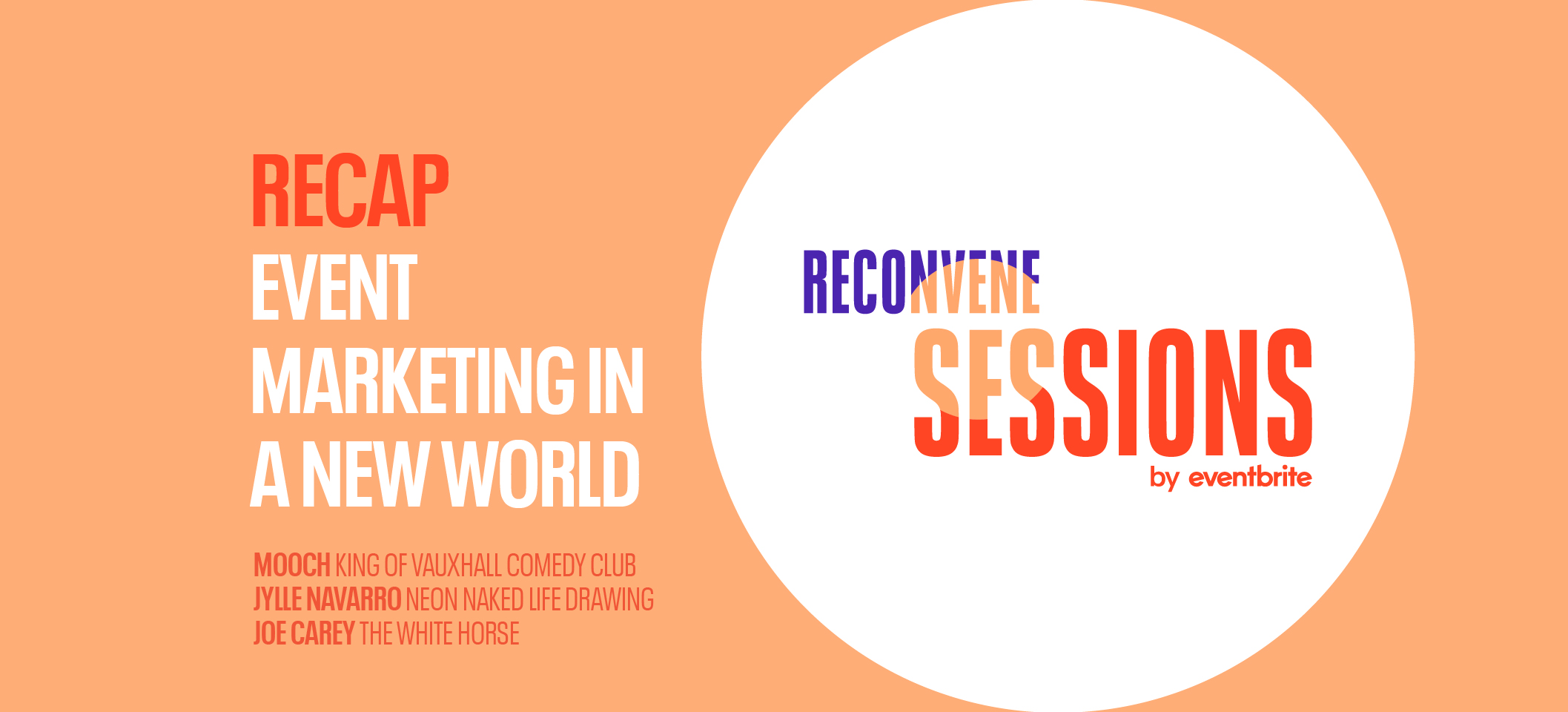 8 Insider Tips for Post-Pandemic Event Marketing
Now that events programmes are back up and running, organisers are navigating a new world when it comes to reaching audiences and growing their events.
For Eventbrite's RECONVENE Sessions event Staying in Touch: Event Marketing In A New World, three expert community builders and event organisers shared how they have adapted their offer, adjusted their messaging, and acquired new marketing skills in order to engage audiences old and new, driving ticket sales in the process.  
Watch the full event recording – featuring Mooch from Vauxhall Comedy Club, London, Jylle Navarro of Neon Naked Life Drawing, London and Joe Carey of The White Horse music venue in Cork – below:
Read on for a teaser of key takeaways from each of the event's speakers. Want more in-depth insights? Watch the full video above. For additional tips from Eventbrite's ongoing RECONVENE events series, visit our recaps hub.

Mooch, Owner of Vauxhall Comedy Club
Based in London, Mooch has been an events promoter for more than 20 years – starting with student events before moving into dance music event promotions and, most recently, transitioning into the comedy world. In 2019, he set up Vauxhall Comedy Club and now runs eight events, seven days a week.
Incentivise your audience
To tempt people back to in-person events, Vauxhall Comedy Club introduced a loyalty card system, which has seen great results in ensuring repeat visits. 
Test out new technologies 
"We've focused on upskilling – and that's meant filming, editing and adding animations to short videos," Mooch says. "Coming in at under 60 seconds, they give people a taste of our events, and means we can reach them on more platforms – like TokTok."
Take a personal approach
Mooch and his team have taken their email marketing know-how up a notch. Personalised subject lines have increased open rates, while they are also planning to send out a survey asking people how, when and on what channels they want to be reached on.  

Jylle Navarro, Founder of Neon Naked Life Drawing 
Jylle's background in fashion design and performance art is the inspiration behind her Neon Naked Life Drawing class, which she runs and tutors as an event organising team of one. 
Constantly review and refine your voice
We've all been operating in a constantly shifting environment, but as live events find their footing in the new normal, it's important to review your messaging. That means making sure information is up to date and relevant – whether it appears on your site, your Eventbrite page, or your social bios.
Offer an insider's perspective 
"My events are hard to describe – and probably unlike anything an attendee will have done before – so I post behind-the-scenes Reels and/or Shorts," Jylle says. "It is phone-quality and not polished, but it's also honest, authentic and communicates what Neon Naked is all about."

Joe Carey, Owner of The White Horse
An established musician, Joe hosts events for all types of musical acts at the renowned Cork venue, which provides an intimate and interactive space that revolves around the power of audience connection and bringing unique experiences to a local setting. 
Embrace word of mouth
"We try to build community in a non-contrived way, and members of our guitar club and gospel choir do a great job of spreading the word among their own friends, families, and followers," Joe says. It's about finding your team or tribe, and the awareness they build on your behalf." 
Communicate your health and safety commitments
As people start returning to live events, it is important to do everything possible to reassure attendees that their comfort and wellbeing is a priority. Communicating this in an effective way before your event will drive attendance numbers on the day.
Build interest online 
The White Horse created Songlines during lockdown – a series of 27 shows filmed with no audience. Although Joe and his team believe that music events are best enjoyed live, where possible, they now have a library of online content to share with followers and the potential to reach people around the world. 
Build your marketing strategy
Once your event is live, start thinking about who your audience is, where they hang out online and how best to reach them. From personalised email marketing strategies to DIY video footage for your social channels, tools like Eventbrite Boost keep it all in the one place so you can track the success of your marketing efforts and lean into the most impactful. Ultimately, nailing your marketing strategy will drive those ticket sales for your next event.