How to Plan an Event – Free Template
Looking to plan your first event? Maybe you've been planning events for a while but want to ensure you're using the best possible framework. Understanding the key components, ensuring you have an event plan and creating lists to help you check off all of those last minute details is a system event planners use to ensure success.
In this guide we'll walk you through what event planning is, what it involves and how to write an event plan, step-by-step, with a checklist to help you along the way.
What is event planning?
Event planning is the organisation of all of the activities that surround an event. This could be a party, a festival, a conference or a tradeshow. Planning an event takes lots of work and key organisational skills. Event planners will often work on everything from catering, to entertainment, booking presenters and managing exhibitors. The event planning process ensures that all of these areas are covered, that the event remains within budget and that it is delivered on time and fulfils the event objective(s).
Key components of event planning
The key areas an event planner will manage include:
Event preparation – writing an event plan, documenting budgets and timelines and researching suppliers like caterers or staff members.
Event promotion – all of the aspects that help to sell the event, raise awareness and increase the number of attendees.
On-site event management – making sure the big day (or days) goes without a hitch and that everyone is where they need to be. Putting out any onsite fires!
Post-event review – organising debriefs, data collection and analysis and reviewing these against the original event aims and figures.
Here's a graphic that captures the full event planning cycle: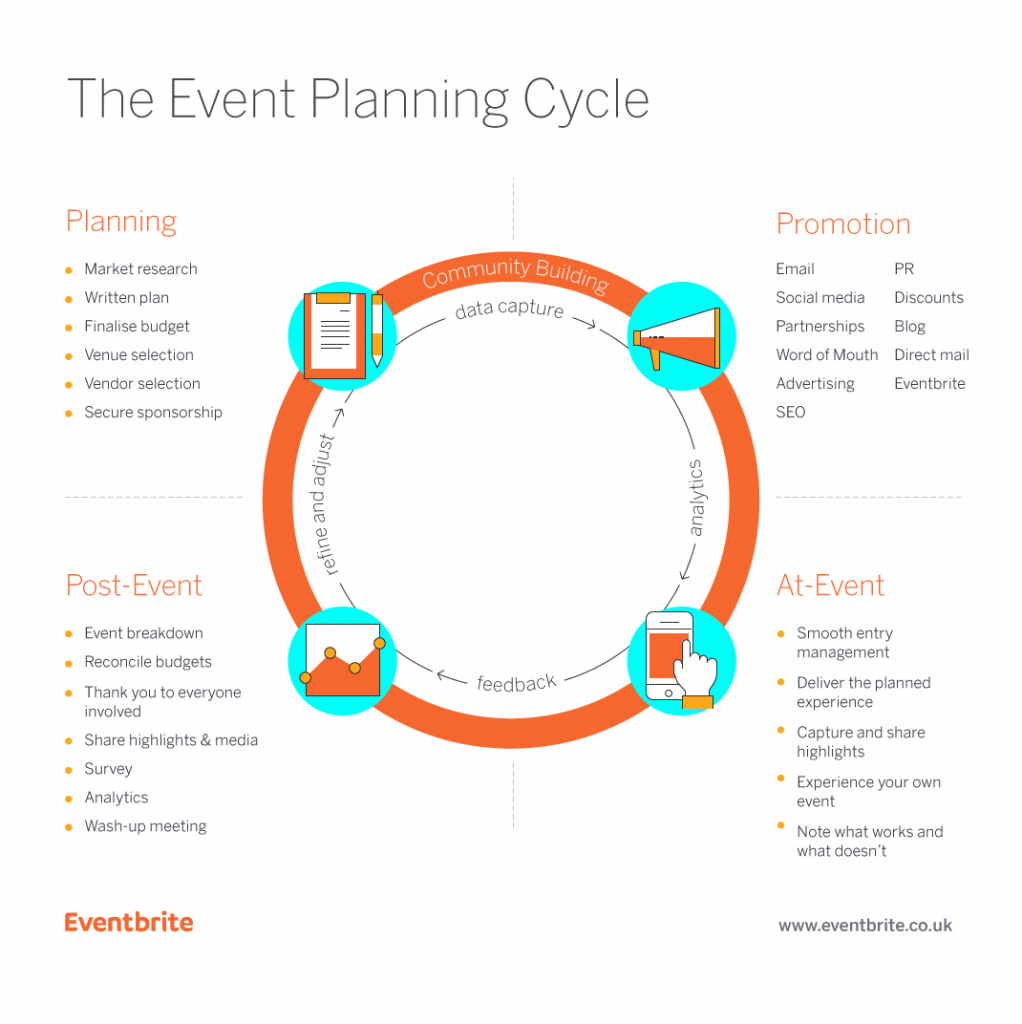 Of course, there are many more individual tasks that fall under the event planning bracket, which is why creating an event plan to cover them all is a great idea.
How to make an event plan (and checklist)
To plan a successful event it's important to have an event plan. This is usually completed before the event as it allows you to think about the event from start to finish. This is especially useful if you have different teams like sales and marketing, or if you need to present the event plan to other investors.
In our event planning 101 toolkit (which you can download at the bottom of this page) we include a copy of a free event planning template.
Here are the key seven areas to consider when writing your event plan:
1. An overview of your event
The name of your event. Simple, right? Well, not quite. Before you name your event, think through these questions: Is your event name unique? Memorable? Clear and descriptive so it's easy for people to know what your event is about?
Again this sounds simple, but have you checked to ensure there are no big direct or indirect competitive events on or close to your event date? Have you ensured there are no big bank holidays, religious holidays or other large events? Are you sure the venue is available and at least on hold for those dates?
This could be your specific venue, or if you haven't booked it yet, the intended city or destination for your event. Before you make a decision, consider; have you checked your Eventbrite dashboard to see if you've picked the best location based on where your attendees come from? Are there good transport links to the venue? Does it fit with your budget, brand, preferred dates and anything else materially important to the experience of your attendees?
People run events for lots of reasons. What is the purpose of yours? Some options include: profit, fundraising, brand awareness, lead generation, networking, education, community engagement, product launch…and many more. Be sure you know what the core purpose and essential outcome of your event is.
Getting into the meat of the document now, let's start off by identifying the core need of your attendees. Why are they going to pick your event over everything else they could spend their time or money on? What do you give them that no one else can? Here are some examples:
A professional conference organiser: Our attendees need to learn about the latest trends and opportunities taking place in their industry.
A festival director: Our fans need a fun weekend with their friends where they can see all of the hottest bands in Indie music in one convenient place.
A charity: Our supporters need an event that lets them get involved with our cause, show their commitment and help raise money at the same time.
A small business: Our customers need a place where they can meet their peers, learn about our latest product updates and how to implement them.
2. Event audience and USP
This is the place to describe some of the key features or benefits of your event, which directly meet the needs of your attendees. For example:
Conference: We have the best speakers in the industry, who will share their uniques insights to help our attendees leave with a plan for the future.
Festival: We have the best bands – established and emerging – in Indie music, with an amazing array of fun features to keep everyone energised for a full weekend.
Charity: We have an inspiring 5k walk, making it accessible for everyone, with all entry fees being dedicated to our cause.
SMB: We've our Product Director to explain all the key features of our latest release, followed by free drinks and food so everyone can enjoy a fun networking evening.
Unfair advantage
This is typically an internal resource or process that would make it very hard for a competitor to replicate your solution. Some examples:
Conference: Our producer has the best relationships in the business, meaning we can secure better and more senior speakers than any other conference.
Festival: We have exclusive contracts with our top 3 headliners, meaning they won't be seen anywhere else this summer.
Charity: We have a unique site secured exclusively for our walk, making it a uniquely beautiful experience for our supporters.
SMB: This will be the first time anyone has heard of our product updates, making it an exclusive event for only our top customers.
Unique Value Proposition
We covered how to create a compelling Unique Value Proposition in a previous post, so this is the space where you pull the key elements of your event together into a simple, memorable tagline. For example:
Conference: The only place you can hear all 10 of the Top 10 Fast Tack 100 CEOs speak in one place.
Festival: The only place you can see XXX, YYY, ZZZ play this summer and enjoy 50+ incredible gourmet food trucks catering every cuisine you can imagine.
Charity: Join hands with your community and show your support for XXX in the unique grounds of YYY this Spring.
SMB: Be the very first to hear about our first major product update in 2019, then catch up with your peers as we serve up drinks and food all evening.
Audience
Arguably your audience comes first of all, but as you start thinking about promotion, this is a great place to document exactly who you think should be at your event. We've also covered audience development in depth here. For the strategy document, you may just put the essential demographics down, such as:
Conference: Mid-to-Senior Management at fast-growing companies with annual revenues between £1m-10m.
Festival:Millennials (aged 21-40) with disposable income, active on social networks, typically single.
Charity: Anyone who has been touched by the same issue as our members (e.g. cancer survivors, relatives of crime victims, orphans and their adoptive families).
SMB: Our 100 most valuable customers and our business development teams top 50 priority list. 
3. Event marketing timeline
The best event marketing strategies follow a timeline and logical sequence, with each promotion reinforcing the last. While every event is different, there are some common tactics that can help guide you as you plan your event project.
Start by breaking down your efforts by milestone: pre-event, ticketing launch, day-to-day, and last call. Then choose your channels, including email, social media, SEO, blog articles, partners, press releases, and influencers.
Once that's established, you can map out your schedule. Even if ticketing isn't launched a year before your event, that doesn't mean it's too early to start brand marketing.
Looking for a strategic breakdown for your social media plan? Check out our Essential Guide to Social Media for Events.
Try to stick with 3-5 marketing channels so you don't spread your team and budget too thin. In our examples they may look this:
Conference: The marketing channels we will focus on are: Email, Direct Mail, Paid Social Media
Festival: Sponsors, Social Media, Display Ads
Charity: PR, Word of Mouth, Partnerships, Blog
SMB: Influencer Relations, Webinars, Email, Social Media
4. Key Metrics
The key metrics you put in your event plan should tie back directly to your event's purpose, or at least support it in the some way. Again, try to limit these to between 1 and 3, for example:
Conference: 1. Profit; 2. Average ticket price; 3. Growth
Festival: 1. Revenue; 2. Number of attendees; 3. Cost per acquisition
Charity: 1. Funds raised; 2. Number of participants; 3. Press mentions
SMB: 1. Attendance
5. Event costings overview
This is the place to detail your headline costs or expected budget, so everyone is on the same page as to what they can and can't spend and where they'll need to make savings.
Get a proper handle on what you're spending and manage costs like a pro by using a budget template (we've included one in our event toolkit below).
Here's an example of what your event cost template may look like:
Expenses
Details
Cost
VENUE

Rental

Furniture

Power/lighting

Signage/branding

REFRESHMENTS

Food

Beverages

MARKETING

Printing

Web development

Promotional items

Advertisements

ENTERTAINMENT

AV

Speaker fees

Performers

Staging

Total cost
VAT
6. Team roles and responsibilities
Knowing who on your team will be responsible for what months in advance is vital as everything comes together in the planning stage. If you're not sure where to start, you can refer to a past event that's similar to your upcoming one to divide the roles and responsibilities. There are also many free event planning productivity tools that will help you and your team stay in sync.
Note: Make sure you've designated a point person for even the seemingly small things, like updating sponsors on attendance. What might seem like a small task now can become a huge problem if you don't have a coverage plan when everyone's bandwidth is maxed out.
You may also be tempted to hire a professional event planner to take care of it all for you, but can you afford one? Des Mclaughlin, Divisional Director of Grass Roots Meetings & Events, suggests that event planners charge and the different payment models that can influence the final cost.
"The simple truth is that there are no hard and fast rules when it comes to payment styles and terms between clients and event agencies. In fact the very same agency can often charge differently depending on the client or indeed service offered – event management and logistics is for example a very different service to that of strategic meeting management and venue finding – particularly when you consider the difference between external and overhead costs that each represent."
He explains that there are six key event planner models to consider when working out event planner fees which include:
Fixed management fee: This is a flat rate for the whole project rather than an hourly rate. This requires the agency to estimate how many hours work organising the event will take and caps the fees payable.
Percentage of budget: An event planner may also charge according to the total value of the event. They will typically leverage a fee of between 15-20% of the total cost.
Return of commission: Many venues and hotels offer commission to agents on bookings. Under this model the agency or event planner passes on any commissions received, to come off the client's bottom line. Alternatively, the event planner may look to negotiate non-commissionable pricing to achieve a better base price for the client.
Sharing of commission: Rather than passing all commission on to the client, the event planner may split the revenue between themselves and the client.
Markup on services: An event planner may take remuneration by marking up the third party services it supplies, such as venue hire, catering and AV. This would typically be between 10-15%.
Open book client relationship: Where the client has access to the event planner's accounts so they can check they are not hiding commissions etc.
The bottom line is that there are many different payment models, allowing you to choose the one which best suits your organisation and budget.
7. . Event revenue model
Last but certainly not least, you need to document how you'll be balancing the books and getting some money in the bank! For example, here are some event revenue models you could use as a starting point:
Conference: 50% Delegate Tickets (early bird, standard, onsite); 50% Sponsorship.
Festival: 30% Sponsorship; 20% Concessions; 50% Ticket Sales.
Charity: 60% Entrance Fees; 30% Onsite Donations & Concessions; 10% Sponsorships.
SMB: 100% Internal Investment.
8. Event safety plan
When it comes to keeping your event attendees, staff members and presenters safe, there are many elements to consider. The government's health and safety for events guidelines can help to ensure you think about the different elements such as:
Reducing risk
Creating information for employees or attendees
Organising contractor health and safety
First aid, toilets and wash facilities
Parking
Waste removal
Food health and safety
Event planning checklist
Use this checklist to ensure you have thought about all of the key areas relating to your event. Have you:
Determined the event goals and objectives
Produced a written event plan
Defined the event audience
Conducted market research
Finalised the event budget
Decided on an event name
Booked an event venue
Created a marketing plan and timeline
Selected your vendors
Secured your event sponsorship
Determined a registration system
Launched an event website
Launched the event marketing campaign
Scheduled an email marketing campaign
Booked speakers and presenters
Organised insurance and health and safety compliance
Organised catering
Organised audio visual, lighting and staging
Booked entertainment
Hired event staff
Determined a lead capture system
Ordered event signage
Involved local or industry press
Reviewed and analysed event success
Ready to complete plan your event and begin working out the most successful method to get things launched? Download our event planning package of resources below to help guide you to a successful event for you and your attendees.