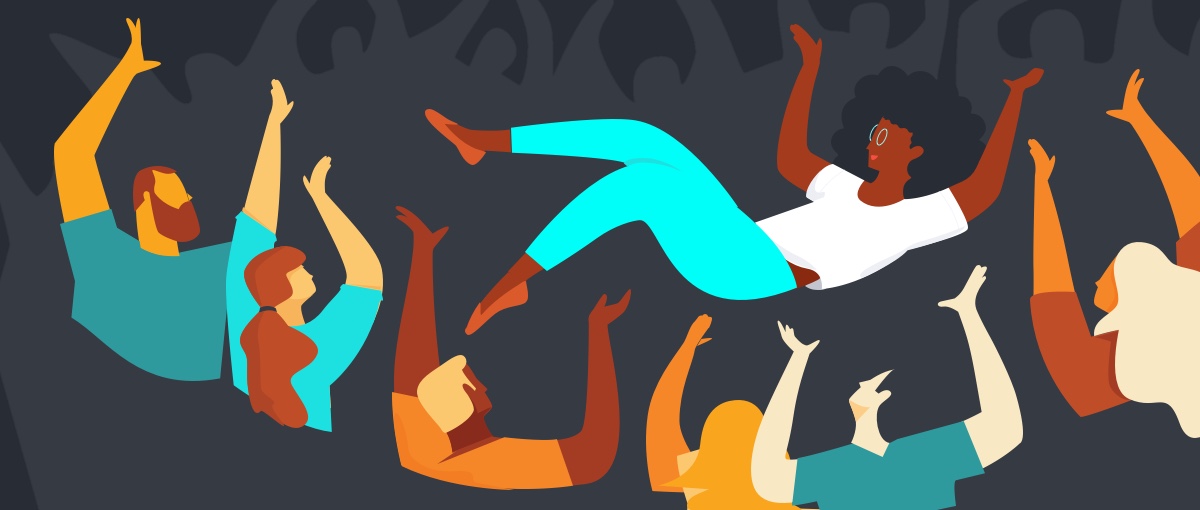 The 5 Best Brand Activations for Festivals
Whether you'd like to attract brand sponsorship to your festival, or are looking for ideas for bringing your own brand to life through live events, these 5 examples of brand activations at this summer's festivals will inspire you.
Related: How to Do Brand Activation at Events
Benefit Cosmetic's Glastonbury Brow Bar
Why wait until festival-goers actually arrive on site to engage with them? Benefit Cosmetics set up camp on the A37 to provide a fun diversion for drivers on their way to Glastonbury.
According to Benefit, GlastonBrow was the first ever "brows and beauty drive-thru". The bright pink attraction gave away free eyebrow waxes and goodies, including "necessary festival essentials" such as dry shampoo, wet wipes, and ponchos.
Visitors could pull up to a window and choose from a menu of gift options, before driving to the collection point where a "Benebabe" would deliver the giveaways. Customers then got the opportunity to win a year's supply of Benefit brow products by posting a photo using the hashtag #BenefitBrows.
Benefit worked with experiential marketing agency The Persuaders to stage the activation, which also featured DJ sets to keep travelers entertained during the traffic jams that build upon approach to Worthy Farm.
Related: How to Plan Successful Experiential Marketing Campaigns
H&M's Palm Springs House at Coachella
H&M has been a long-standing partner of Coachella, sponsoring the California-based music and arts festival for eight years. To enhance its collaboration, the fashion brand even launched a clothing line inspired by the festival, H&M Loves Coachella.
This year's collection was fronted by Coachella band The Atomics, which is formed by model Lucky Blue Smith and his three sisters. The campaign for the collection included an exclusive music video shot at a Palm Springs house.
The interactive installation at Coachella was a "surreal representation" of this house. It featured a garage, living room and patio, where visitors could be filmed inside a kaleidoscopic video booth or capture Instagram-worthy photos on a giant sofa or atop a mountain peak, complete with suspended clouds.
The core aim of the activation, which was powered by green energy, was to highlight the brand's sustainable practices, such as its Garment Recycling initiative. After using augmented reality to "try on" H&M gear in a virtual fitting room, festival-goers could recycle their old clothes in exchange for a fresh new look.
Out on the "patio" meanwhile, visitors could charge electronics and make use of a water bottle refill station, designed to educate people about H&M's initiatives around PET bottle recycling.
Related: How Impactful PR Stunts Are Used to Promote Events
Casper and One Night's Retro Motel at SXSW
Mattress brand Casper teamed up with Standard Hotels to create a late-availability retro chic motel for South by Southwest visitors. The brands refurbished the historic Austin Motel in Austin, Texas just for the festival.
SXSW attendees could only secure a room at the motel by using Standard's One Night app, which lets you book same-night hotel rooms after 3 pm. As well as overnight stays for $99, visitors could also reserve a 45-minute "refresh room" to grab a quick nap and recharge electronic devices.
All rooms were equipped with Casper mattresses and milk and cookies. Meanwhile, if you were feeling homesick, you could request for an on-site "mom" to come and tuck you in and read you a bedtime story.
Tesla was also involved in the activation, providing cars to offer guests rides from the motel back to the festival. It's no surprise that all rooms sold out at the Austin Motel within minutes of going on sale.
RNIB's Karaoke Eye Test at Glastonbury
Glastonbury's charity of the year, RNIB aimed to highlight the importance of getting regular eye tests through a karaoke-themed activation at the festival.
Festival-goers experienced the feeling of having poor vision and losing their site by taking part in a karaoke key test where the lyrics on screen decreased in size line by line, just like an eye test. Meanwhile, filters applied to the screen simulated the effects of preventable eye conditions such as glaucoma, diabetic retinopathy, and age-related macular degeneration.
At the end of each karaoke performance, singers were given eye health tips and encouraged to have their eyes tested when they returned home after the festival. The charity teamed up with karaoke supplier Sunfly to develop the experience, which was situated next to the Pyramid Stage.
Sally Harvey, chief executive of RNIB, said the initiative was, "a fantastic and memorable way of getting a whole new audience of Glastonbury-goers on board with our mission of improving the eye health of the nation, and reminding them of the importance of having regular eye tests."
Visa's Interactive Corridor at Toronto international Film Festival
Visa aimed to promote its contactless payment capabilities via an interactive art installation at the Toronto International Film Festival (TIFF) in Canada. It created a corridor that festival-goers could walk through to trigger a unique light and sound show.
The light-up chrome bars along the corridor were equipped with motion sensors meaning pedestrians could control the light pattern with their movements alone. Speakers in the activation were also queued by movement so sound "followed" people through.
At the end of the corridor, a rotating camera captured people passing through, resulting in a Boomerang-style image that they could download and share on social media. The images were also displayed on a nearby digital billboard.
Once festival-goers had exited the corridor they could purchase water and popcorn using
Visa's contactless payment feature for smartphones and smartwatches. The Visa activation follows previous activity at TIFF which incorporated AR to allow users to "dress up" in costumes (this was designed to promote Visa's Checkout feature).
"Our sponsorship has really been developed to combine learning about our innovation with something unique and fun," Brenda Woods, head of marketing for Visa Canada, told Media in Canada.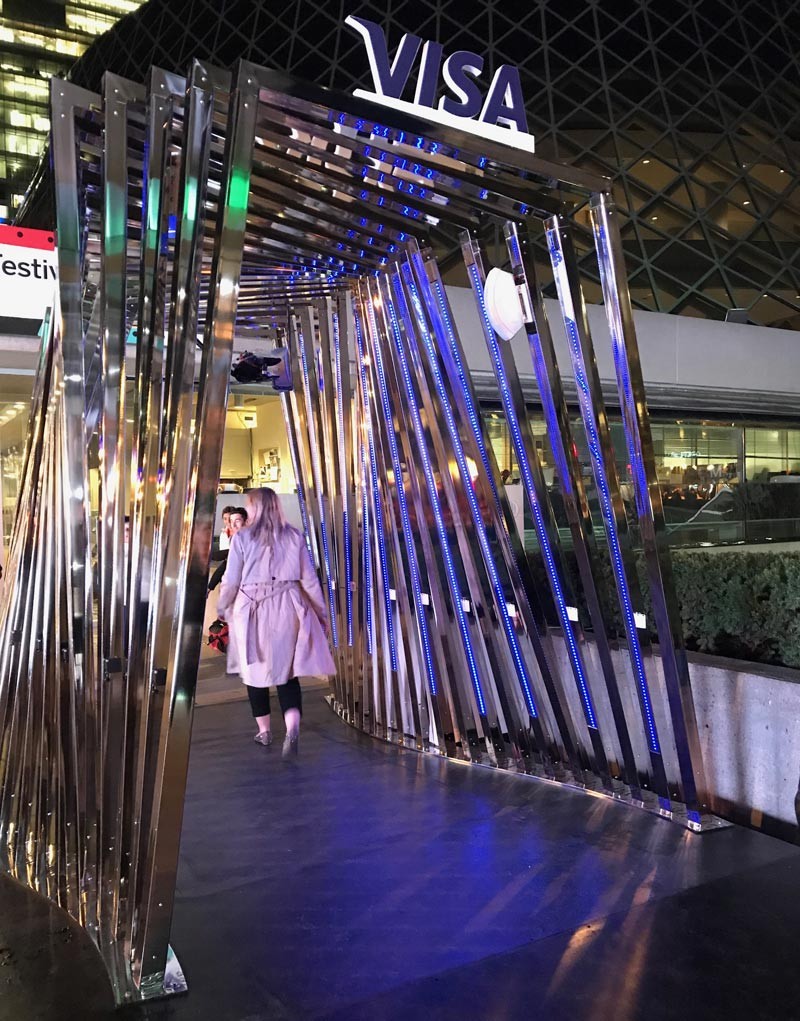 Conclusion
As these experiential examples show, when brands and festivals team up amazing things can happen. Involvement that goes beyond pure sponsorship not only provides the funding event organisers need, it actually enhances the visitor experience.
Download our Complete Guide to Experiential Marketing to learn more.