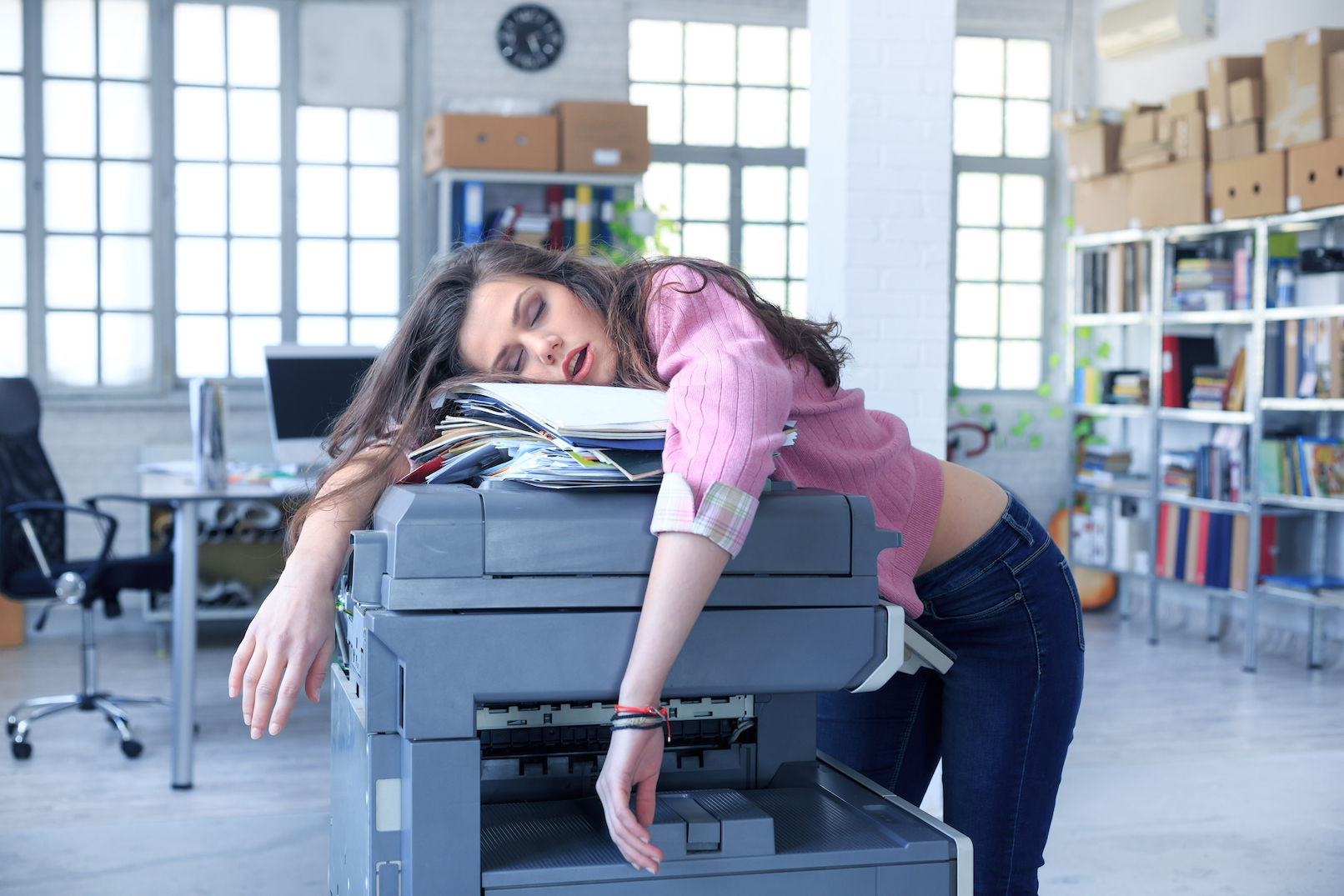 7 Apps That Can Help You Get a Better Night's Sleep
For events managers, sleep often seems like a luxury – something to be squeezed in around other, more important, tasks.
But we all know how important sleep is for our physical and mental health, and many of us worry about the long-term effects of regularly missing out on zzz's.
So, when time for sleep is at a premium, how do you ensure you make the most of it? There are a plethora of apps on the market that claim to be able to help us get better quality rest. Here we take a look of some of the newest and most novel.
Related: 10 Scary facts about what sleep deprivation does to you
Calm is already a popular app for guided meditations. Now the San Francisco start-up has expanded into sleep by adding bedtime stories for grown-ups.
The tales mix music, sound effects, and soothing voices to help people drift off to sleep naturally. Each Sleep Story is about thirty minutes in length and contains original content, as well as classic tales by well-known authors.
One notable recording is a reading of The Wealth of Nations, the 1776 epic tome by Scottish economist and moral philosopher Adam Smith. That alone might sound suitably sleep-inducing, but to top it off, it's read by Ben Stein, the monotone teacher in Ferris Bueller's Day Off. Take that insomnia!
Calm co-founder Alex Tew says: "When you're a child, you have much less on your mind and sleep comes easily. Sleep Stories are meant to take you back to a simpler mental state and let your brain relax and prepare for a deep rest, just as it did when you were young."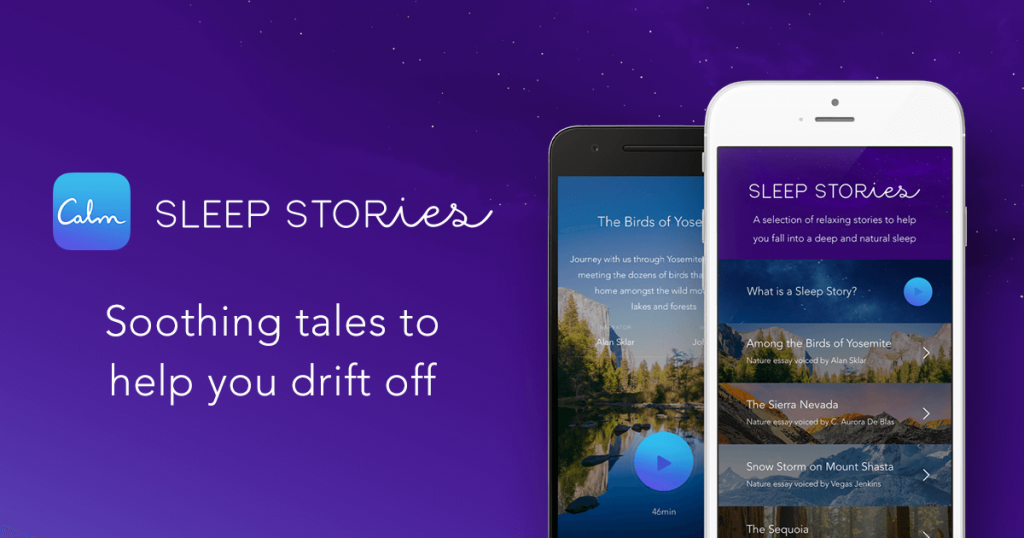 Most parents will be familiar with the concept of playing ambient white noise, such as pouring rain or crashing waves, to get their little ones to sleep. Well, it can be just as useful for adults.
White Noise by TMSoft lets you create your perfect relaxing soundscape with a wide variety of sounds to suit every proclivity. Indeed, some of them might sound like your idea of hell: Air Conditioner, Clock, Clothes Dryer, Crickets Chirping, Frogs, Hair Dryer, Vacuum, Drip.
However, if you can find one that works for you, TMSoft says you will "fall asleep faster, stay asleep longer and give your body the deep sleep it needs."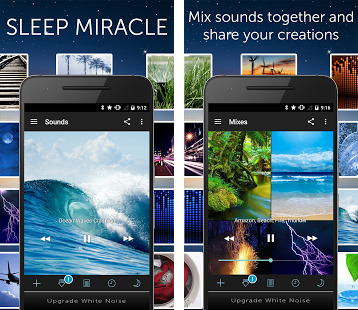 The Sleep Watch app by Bodymatter is a sleep-monitoring app for Apple Watch. It features automated detection of sleep, so users don't have to open up the app before going to bed or in the morning – simply wear the watch to bed.
Sleep Watch leverages the motion and pulse sensors built into the Apple Watch to monitor estimated sleep time, awake time, sleeping heart rate and sleep quality. Users can see their stats via a 'sleep report' delivered to their Apple Watch every morning.
Sleep Watch also lets users automatically sync detected sleep times into the Apple Health app. You can use this data to help you gauge how factors such as exercise, alcohol and coffee consumption impact your sleep quality – and make changes accordingly.
Aaron Giroux, Executive Chairman of Bodymatter, said: "We believe that digital health applications and wearables have a bright future in helping users achieve positive health outcomes."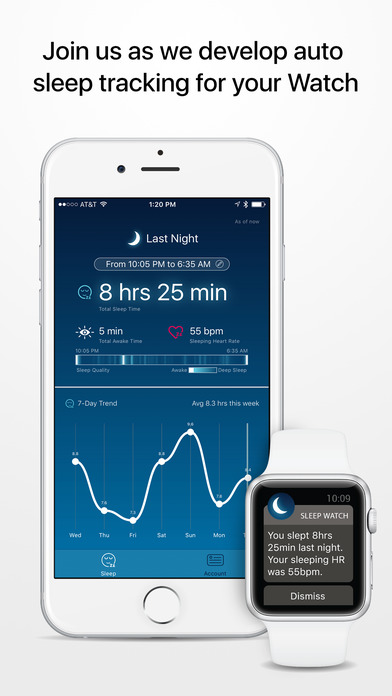 Sleepio is a digital cognitive behavioural therapy (CBT) tool for people who have problems sleeping. Sleepio has an animated virtual therapist and focuses on a technique called sleep restriction, in which people set a regular, restricted "sleep window" (midnight to 6am, for example) and gradually extend it.
Sleepio also coaches you to break the association between lying in bed and doing other activities like watching TV or eating (bed is for sleep only). And it helps you to manage those intrusive thoughts that keep you awake.
Users begin their Sleepio journey by answering an "onboarding" questionnaire that helps identify the type of sleep problem they have (i.e. problems getting off to sleep, staying asleep, waking up too early etc.) and assesses how much of an impact it's having on their lives. The app then tailors a personal therapy programme.
It's not cheap – $300 per year, but studies have shown the app equally as effective as face-to-face CBT, so it could be worth it if insomnia is a problem for you. You can't put a price on a good night's sleep, after all.
Related: 6 Steps to avoid burnout as an event manager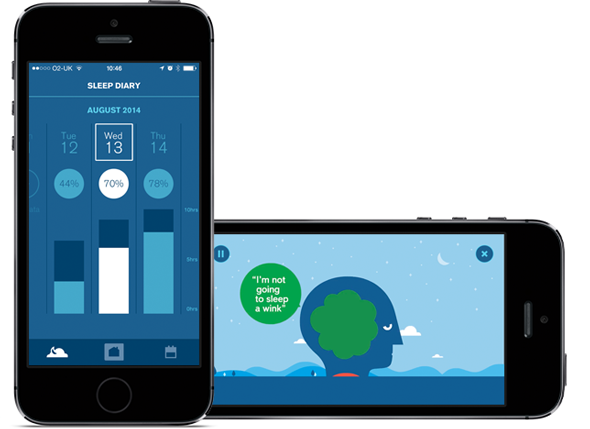 If you can't sleep, don't binge watch Netflix. You need something altogether less stimulating – enter Napflix. Napflix is a curated selection of YouTube videos, all chosen for their "monotony and repetition."
You could watch koalas sleeping, a Spanish royal wedding ceremony, someone playing Tetris (and scoring a record 999,999), an educational documentary about Tupperware, the American finals of a crossword puzzle tournament or even a masterclass on the language of the Klingons from Star Trek.
Take your pick and just see how long you can stay awake!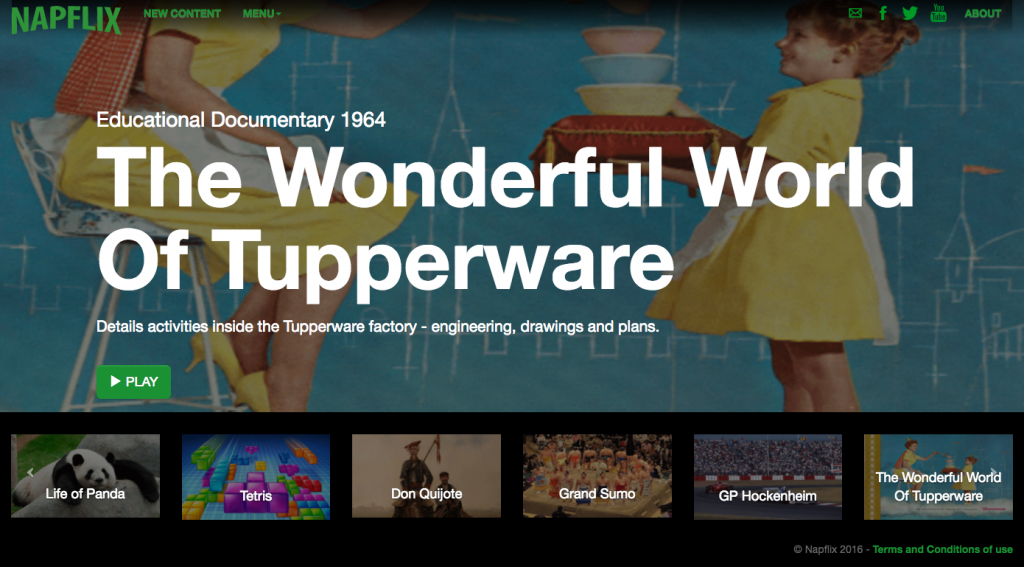 If you're an iPhone user, all you need to do to gain access to some basic sleep tracking tools is download the latest operating system.
iOS 10 features a new Bedtime section within the integral clock app, which lets you set up bedtime reminders and wakeup alarms that work separately from the normal clock alarms.
There are nine soothing new sounds in this section that aren't available for normal alarms. But there's more to this feature than simply setting alarms and reminders.
Once you've configured your Bedtime settings, your iPhone will track your sleep habits based on your phone usage and movement – if you're using your phone or moving around you're not sleeping! It will also make note of any times where you wake up in the night and reach for your iPhone.
A bar graph at the bottom of the Bedtime screen shows you the current week's sleep analysis, and this data is also recorded into the iOS Health app so it can be tracked alongside your other health stats.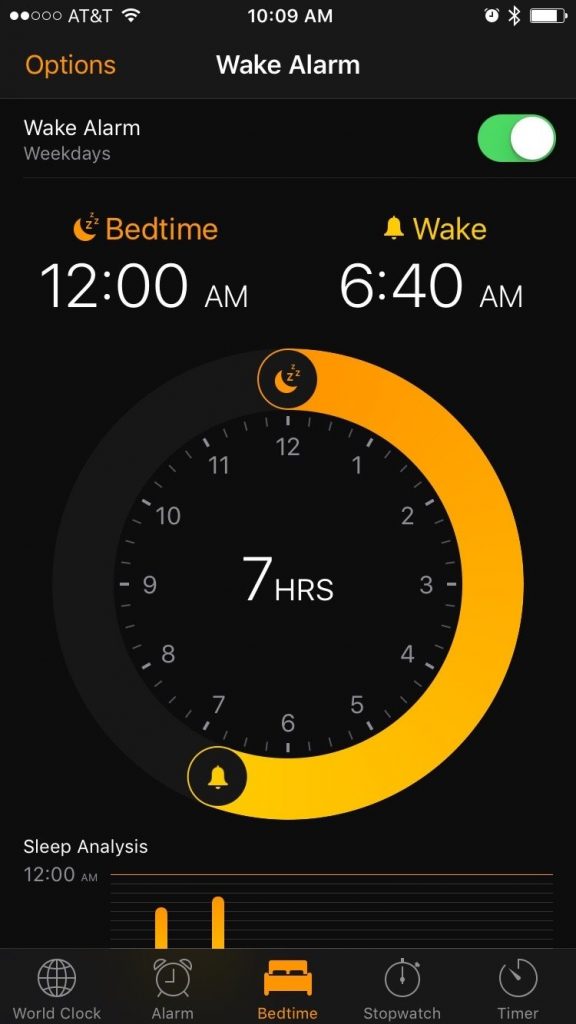 If you're running on an Android operating system, Sleepbot offers similar functionality to iPhone's Bedtime feature (detailed above).
Sleepbot paints a picture of your sleep activity by tracking any movement you make via the accelerometer, and even recording any sounds you make while sleeping (which you can tap to play for great hilarity).
The app also offers information about food and exercise habits to encourage a healthier sleep, as well as quick strategies to help you sleep or stay awake.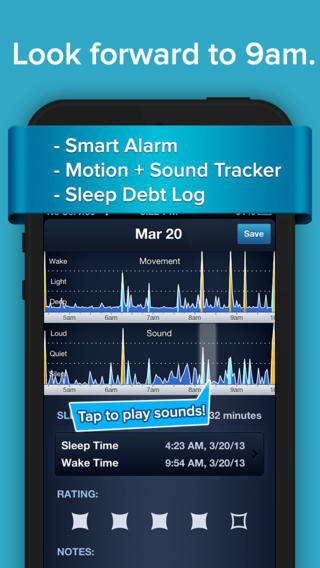 Related: How to get a better night's sleep before your next big event
Conclusion
Our lives are so busy it can be hard to switch off sometimes, but with these apps at hand you never need to lie there desperately wishing for sleep again.
Listen to a relaxing bedtime story, zone out to a boring video or pummel your mind into submission with relentless white noise. Keep track of your restful hours to calculate any sleep debt and make sure you make up for it when you can. Sweet dreams!