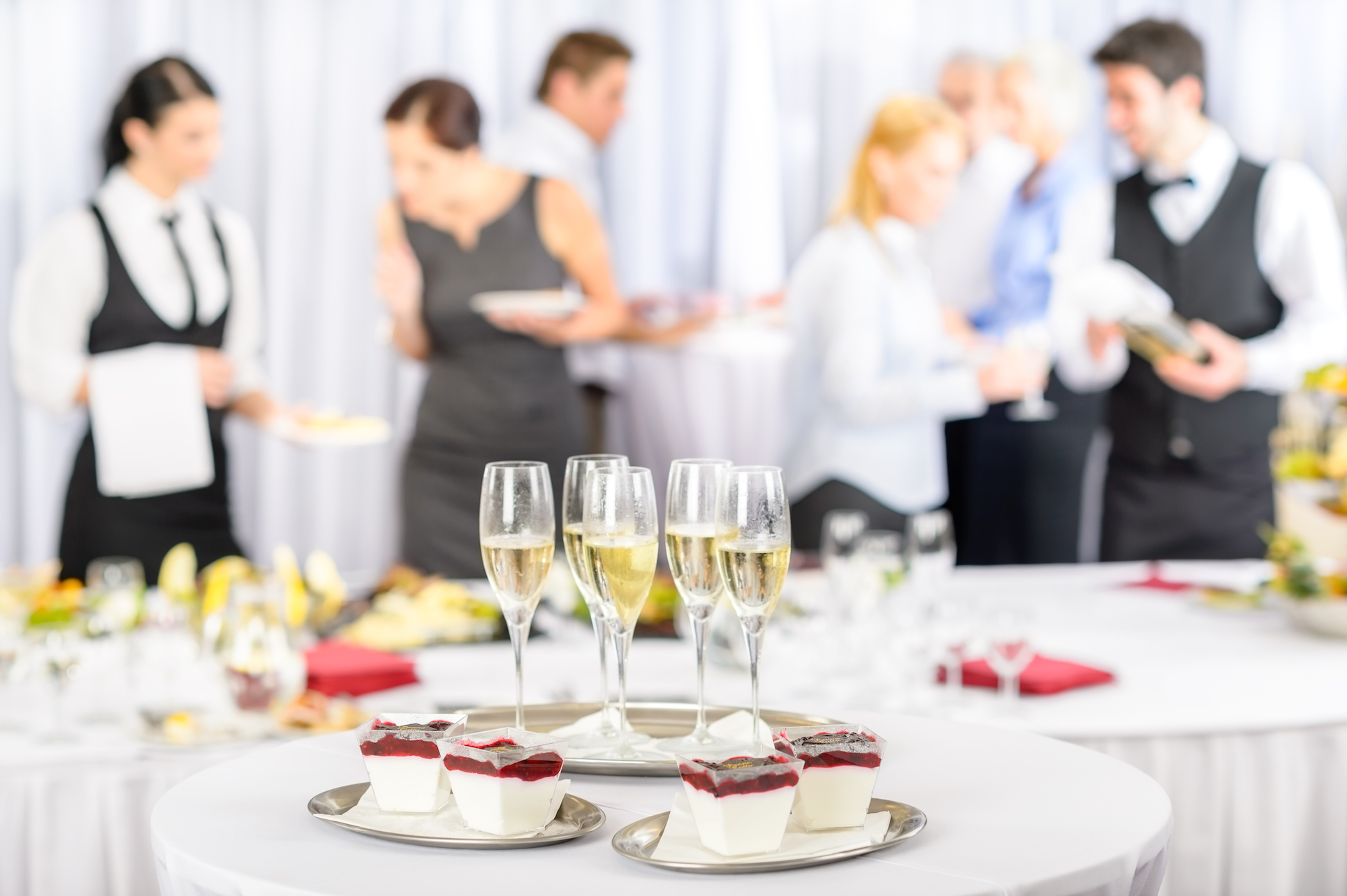 10 Questions To Ask When Hiring An Event Caterer
Food, glorious food! Hiring an event caterer can be fun (just think of the tastings), but it can also be stressful (so many mouths to feed, and not so many pounds to spend).
However, if you do your research and ask all the questions below, you can ensure your guests leave full up and you avoid being left fed up!
1. Do you have availability on the date of my event?
For obvious reasons, this should be the very first question you ask your prospective caterer. If they say they're available, it's also worth checking if they will be catering for any other events that day. If they already have a 500-person conference on, you'll want to know how they'd handle the workload. Would any elements be outsourced? Will the food be freshly prepared?
2. Can I see some sample menus with costings?
Once you have decided on the scope of your catering requirements (i.e. full three-course meal or simple cold buffet lunch), ask for some menu suggestions, along with per head prices. This will give you a good idea of how the caterer fits with your budget. There is always room for negotiation and there are ways to reduce costs, but it will give you a better understanding of what you can afford.
Related: 7 Questions to ask when hiring an event planner
3. Are you familiar with my chosen venue?
It is a definite plus point if the caterer has worked in your venue before. They will know about access and kitchen facilities and any potential issues. If they are not familiar with the venue, will they carry out a site visit free of charge? If the food is to be prepared off-site and brought in, you may want to ask for a tour of the caterer's kitchen facilities, for reassurance it will be produced in conditions that meet your standards.

4. Can I see some testimonials?
Hopefully the caterer already came recommended to you, but if not, do ask for some references. Have they got corporate clients who can testify to the quality of their food and service? Can you speak with them directly, if you want to? You should also ask the caterer how much experience they have of events like yours. If they usually cater for weddings, are they able to handle a three-day conference? It will give you peace of mind if they are experienced in catering for your specific event type.
You'll also want to see evidence of their public liability insurance and check it meets your requirements.
Related: 8 Food & drink tips to remember
5. What options do you have for different dietary requirements?
You're bound to have guests with a variety of different dietary requirements, so how will your caterer deal with these? You should think about vegetarian and vegan options, as well as gluten-free and dairy-free selections. What about nut allergies? The last thing you want is an allergic reaction on your hands! What level of communication can they provide about food ingredients?
6. Where do you source your ingredients?
You'll want to be sure your guests will receive high quality food, so you need to look beyond the caterer, to their supply chain. Do they use local suppliers, organic or seasonal produce? Is it traceable and trusted or are they cutting costs by using cheap meat from some far flung land where regulations are less stringent?
Related: 8 Questions you must ask an event venue before signing
7. Can you provide furniture and tableware?
Should your venue not come with all the equipment you require, it will need to be hired separately. It will save you hassle if this is something your caterer can take care of – either by renting equipment directly or working alongside a third party. Ask about hire costs, deposit and breakage policy.
Check if the caterer will also handle the set-up and break down of the catering and dining area. Will they set the tables and deal with the clean up afterwards? How long will it take?
8. What is the ratio of serving staff to guests?
Find out how the caterer works on the day of the event to ensure a smooth service. How many waiting staff will they supply – do you have to pay extra for these? How will they be dressed? What time will they arrive on site? Who will be in charge on the day?
If you are simply having food dropped off, confirm the delivery arrangements and drop-off time so you don't keep hungry delegates waiting.

Related: Foodie heaven – 7 tasty venues you can hire for your events
9. When will you need a final guest count?
Forecasting numbers can be the hardest part of event planning, so it's important you understand the caterer's policy on slippage (when you have fewer guests than anticipated) and also how flexible they can be for increasing headcount at the last minute.
Don't forget to get the heads up on their cancellation policy, too!

10. What are your payment terms?
When you confirm your booking you will usually be required to make a non-refundable deposit – how much will this be and what is the latest you can confirm the booking? When is payment in full required? What is their rate of interest for late payment? What methods of payment do they accept?
Conclusion
A professional event caterer will be well used to answering these questions, so don't be shy about giving them a grilling. Be clear about what you want to achieve and your budgetary restrictions and ask them to help with creative problem solving. Catering can form a massive part of your event budget so it's vital you chose a partner that's got an appetite for your project.
Do you have experience of hiring event caterers that you could share with our community? What's hot in food & drink right now? Please share your thoughts.