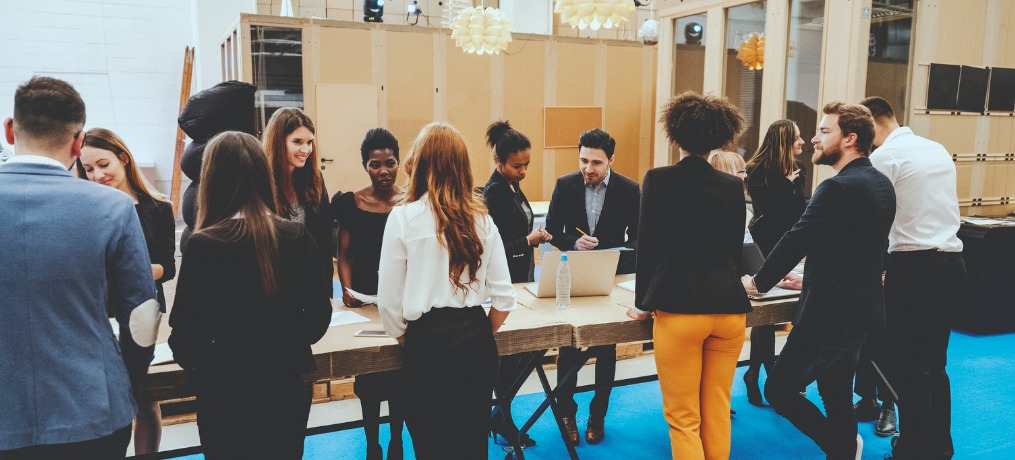 How to Get Ahead in Your Event Planning Career – Insider Tips
Guest blogger Joanna Hedges who works as a Festival Director, Consultant and Events Management Lecturer, brings advice from her industry colleagues on how to get ahead in your events career.
Many years ago when I was making my university choices, Events Management courses were a rarity, and the study of events tended to be a small part of the wider field of tourism and hospitality. So my career in events did not start with a specialised degree, my route was one of trial and error working my way up in any job I could find in events, festivals, arts and culture.
Years later and I now share my events industry experience lecturing on London South Bank University's BA (Hons) Events and Entertainment Course, one of over 200 undergraduate event management courses currently available across the UK. This large number of courses is not surprising when you consider that in the last 10 years the UK Events sector has grown exponentially, establishing itself as a world leader in events.
Today events students are facing a highly competitive employment market when they graduate, and with that in mind, I asked colleagues from the events industry and career development sector to share some key tips and advice for getting ahead in events:
Sarah Perryman, Head of Operations and Development at Brighton Fringe – England's Largest Arts Festival
What do you look for in new staff joining Brighton Fringe in junior roles?
I always look for a candidate's interest in arts and events, I also look out for people who have previously been involved in a Fringe. You've got to love what we do and what our participants do! It's also great to see evidence that a candidate is a self-starter, i.e having created their own events in the past.
Do you think that having a relevant degree gives a candidate an advantage at interview?
Yes, but it's not the be all and end all. A degree is useful in that it proves you can study to a certain level, and that you will have theoretical knowledge of the events world. However, it is also about proving what you can actually do, and showing you have practical experience as well.
What career progression opportunities does Brighton Fringe offer staff and freelancers?
I'm probably a good example of this! I started as a freelancer on a fixed term part-time contract. When that finished, I applied for and got a full-time, permanent role, and over the last 6 years I have worked my way up to my current role. We have also had situations where interns have gone on to work for venues in a full-time roles and apprentices who have been given full-time permanent posts. There's lots of opportunities for the right people, and we like working with people who know and understand our business.
What is your top career tip?
Get practical, real-world experience in the areas you're keen to work in. Be willing to work in the types of events you haven't previously, you might be surprised at what you enjoy doing!  Finally, keep going, it's hard to build momentum when you're first starting out, but it's amazing how quickly your network and opportunities can grow.
Erica Sosna,  CEO and Founder of Career Matters
What advice would you give to someone just starting out in the events industry?
When it comes to first jobs, the most important thing is to get your foot in the door. Spend some time identifying your dream companies and take a direct approach. Write to them to share what you admire about what they do and what useful skills, passions and talents you could bring to the company. Ask if you can schedule a call, come in and meet them, job shadow or apprentice.
What steps should someone take mid-career if they are struggling to make their way up the career ladder?
A career is a series of choices that determine how we use our skills to make money and spend our time on something that matters to us, yet you have probably spent more time researching and planning for a holiday than you have on the 80,000 hours you will spend at work. 
Regularly take time out to reflect on the following:  
How do I define and measure success in my career?

What are the kinds of experiences/events/opportunities that I want to have in my working life over the coming year?

What needs to shift so that I can have more of these?
If possible, spend time with a coach, mentor or good friend to explore these questions and set out specific goals to move you in the direction of the work that most matters to you. 
What is your top career tip?
Remember, we all define success in different ways, take time to consider the kind of experiences that leave you feeling successful and fulfilled and design a career plan and goals to meet those. Check out The Career Equation® for more help in designing your career plan.
Hai Le, Employment Advisor, Graduate employment Team at London South Bank University
What should event students be doing to prepare themselves to be career ready?
In their 1st year of study, students need to work on their CV and Covering Letters, both, which are vital and the starting points for them to embark on their career. During their 2nd year, they need to be learning interview skills, having completed a few "mock" interviews and by their 3rd year, they need to be attending career fairs and networking events, whilst creating and using LinkedIn. They should also be sending out speculative applications to employers to gauge opportunities. 
How should event students make a first approach to employers?
Students should regularly check employers' websites searching for opportunities and send speculative covering letters along with their CVs. They also need to attend career fairs, networking events, and recruitment days where they will have access to potential future employers. 
What is your top career tip?
Create a LinkedIn profile, search for a company who you really want to work for and start connecting with employees at the company. Send a polite message to all those you're connected with, asking and gauging any opportunities that they may have as they have their ears to the ground. 
And finally…
My own top career tip is this: be determined, the events industry is a competitive market, so you need to make sure that your CV stands out with an equal measure of skills, qualifications and experience. Be passionate about what you do and be willing to try new things and throw yourself into any opportunity that arises, as you never know where the next job may lead.
Interested about learning more about a career in event planning? Check out How to Start a Career in Event Planning.