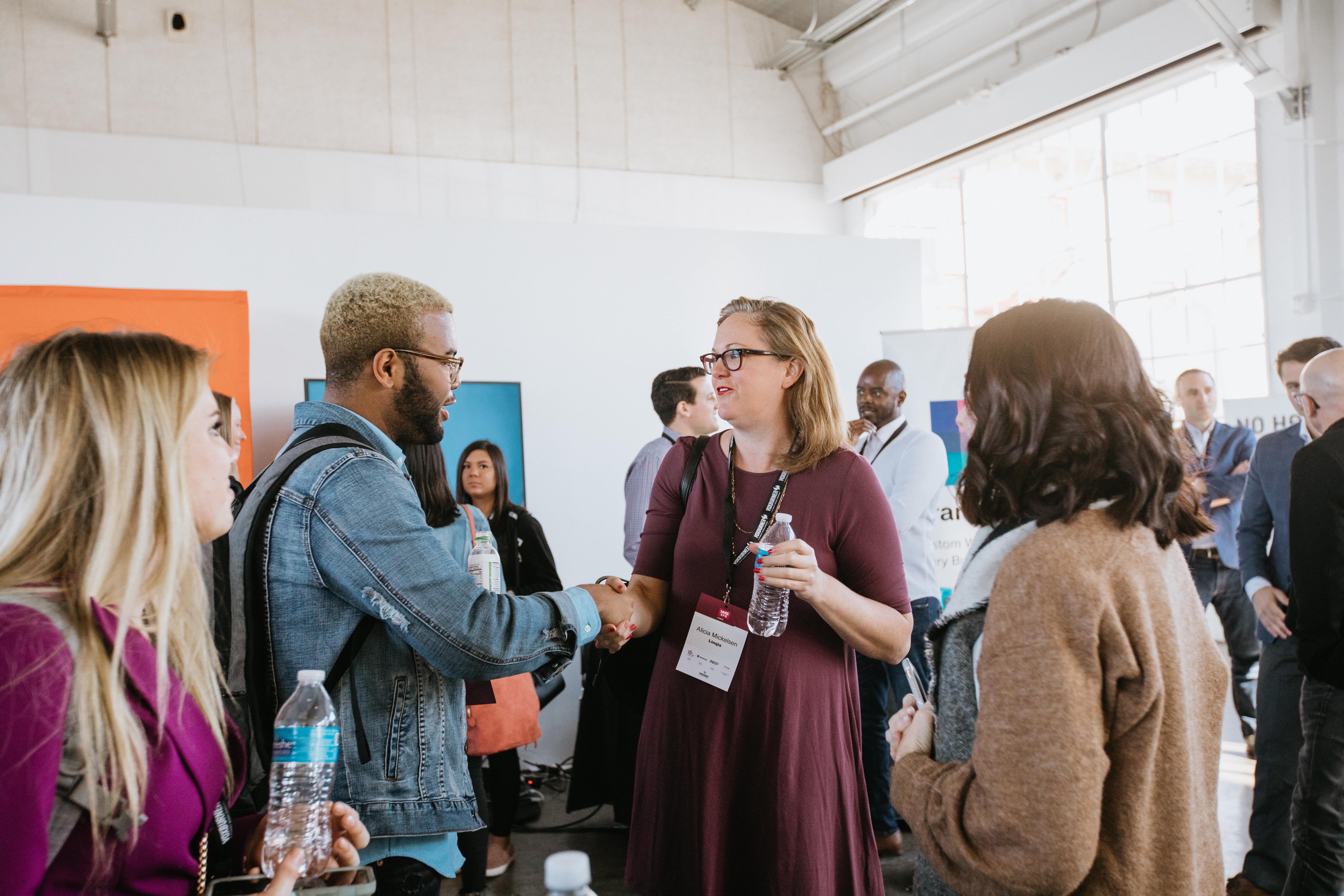 How to Work With Media Marketing Partners to Consistently Sell Out Events
This is a guest post from George Taylor, Director of Creative Industry United and Chief Organiser of the successful event brand 'Strictly Go Networking'.
To understand how media partnerships can benefit your ticket sales and social status, it's important that you grasp the basics of marketing and social status in an event format first.
'Social status' is a media buzzword for 'earned' or 'perceived' reputation. The historical timeline and quality of an event are the key driving factors for developing an earned reputation. To give you an example, take a look at the hugely popular and historical events surrounding you, such as the Olympics, World Cup, Glastonbury, Coachella, and so on. The organisers have built a solid social status and have developed a quality of event so powerful that people will go to almost any extent to buy a ticket – even if it means paying double the price on a touting website. While there's no way to fake the historical aspects and quality of an event, there are things you can do to create a perception of status that will bring you closer to a more genuine and 'earned' reputation.
Media marketing partnerships are a collaborative way of promoting events directly to your target audience while building up your earned reputation. In the pre-internet age, ad and marketing agencies were the expensive go-to professionals for businesses who could afford to promote themselves this way.
In recent years, the rise of social media and influencer marketing has allowed businesses to interact with their audience on a more personal level through influential people they already trust. 'Influencers' are social media stars who have existing credibility in their respective industries, as well as access to large audiences and the ability to persuade others to act on the back of their recommendations. This presents a far less costly opportunity for event creators whose niche interests align with a particular influencer's audience. For example, if your event was a virtual wine and cheese tasting, you might send an Instagram 'foodie' influencer a sample of your pairings ahead of the event in exchange for posts.
So, how do you build an 'earned' reputation?
Know who you're targeting
Firstly, though it may sound clichéd, you must establish who your target audience is from the get-go. Next, research and identify online networks with large databases that will help you to market your event directly to your ideal consumer. Let's look at an example.
Imagine you're organising a training seminar for people who work in the recruitment industry. Start by doing some research and find websites that have large databases of recruitment professionals. Search for online membership bodies, societies, or even online recruitment magazines. Then, check that company's social status to find out how many Twitter followers and employees they have.
Recruitment brands and influencers who are willing to partner with events are also fantastic, especially if they have large local followings. According to the Digital Marketing Institute, 49% of social media users consider influencer recommendations. Remember, influencers have built their earned reputation by being experts at audience engagement. Align yourself with this kind of marketing power and you'll be in a better position to consistently sell out events.
Find the right partners
If their status looks promising, use LinkedIn to find out who is in charge of marketing and pitch them an affiliate deal offering a 20–40% commission-per-sale in exchange for newsletter mentions, dedicated newsletters, editorial coverage, and/or social mentions. Offer to put their logo on your website, to include sponsorship placement on your event banner and Zoom backgrounds, or advertise them on your podcast. Be sure to mention them in all external marketing activities so you can amplify the benefits of your mutual media partnership.
Stay persistent and never take rejection personally. If you maintain a positive attitude and believe in your value proposition, you'll eventually find an ideal partner willing to work with you. Aim to find 10–20 websites with a large database of your direct target audience. This can also be referred to as 'growth hacking'. We can help you create unique discount codes or tracking links exclusively for your media partner's database, which is great because it allows you to track the strength and success of each campaign. Once you've found the right partners for your online event, show them how valuable that partnership is. You can do this with the help of many free marketing tools designed to streamline business-to-business relationship building.
If you're new to the events industry, media partnerships can also help to lower your initial risk and test your event. Most importantly, these partnerships give you the chance to trial your marketing resources before you pay upfront in the future. Plus, they'll also help you to build solid business relationships.
Know what to ask
Once you get approval from a company, make sure you ask these important questions:
What size database do you have?
How many monthly unique visits do you receive?
Is there a way I can target a certain demographic, i.e. London or Manchester?
Depending on the size of the event, you should have certain expectations in mind. If you're running an event for 50–100 people, you'll ideally want to find websites with a minimum of 10,000 monthly unique visits and a database of contacts of 10–20,000.
If you're aiming to sell 300–500 tickets, a database of 10–20,000 is likely to be too small to achieve this result. So, it's a good idea to aim for larger databases of 50–100,000+ and 50–100,000+ monthly uniques.
This means if you can convert .005% of your partner company's visitors or database into a ticket sale, you're looking at 50 and 250 tickets being sold respectively (roughly half of your target sales).
If you can't find a partner with those numbers, spread your marketing over multiple small-to-medium-sized partnerships, which will increase your reach. Work towards creating a larger infrastructure over time as it will help you to expand your events and gain the 'earned' reputation you have been waiting for.
Get your messaging right
Next, you need to get your marketing text (otherwise known as 'copy') perfect. This is your chance to maximise ticket sales. I have launched campaigns that have sold 100–200+ tickets in a few hours with ease, but only because I made the online event promotion look attractive enough to inspire an instant 'click.'
Mention the benefits and uniqueness of your event and make people want to buy a ticket. If you have competitors, this is your chance to give them a run for their money. The more partners you have, the more tickets you'll sell, and the faster your social status will grow. Why? Because you're piggy-backing on another company's success and brand equity. Perfect!
Engage your customers
Another idea is to send manual confirmation emails to your customers with your social media pages hyperlinked at the bottom. You'll be surprised how quickly your social media pages will grow. Through data collection, we have shown how valuable social sharing can be to event organisers. Every share drives an average of 16 visits back to the original event page, and generates approximately £2.41 in incremental revenue for the event organiser.
If you manage to get editorial coverage on partner sites, this will benefit your SEO in amazing ways, so always push for a feature. Offer to write content for them with a backlink to your event or website in exchange for a similar service. It's important to create an infrastructure over time because those relationships will benefit you for years to come.
To sum up, media marketing partnerships are an inexpensive way of promoting events directly to your target audience while building up your own earned reputation. By finding partners who can help you reach more of your audience, you can sell a comfortable amount of tickets with no start-up capital whatsoever. If your strategy works, you can invest safely in the future once you've perfected your event. You'll also sleep well at night knowing you have a successful sold-out event just over the horizon.
Amp up your marketing strategy by promoting your event through our platform.