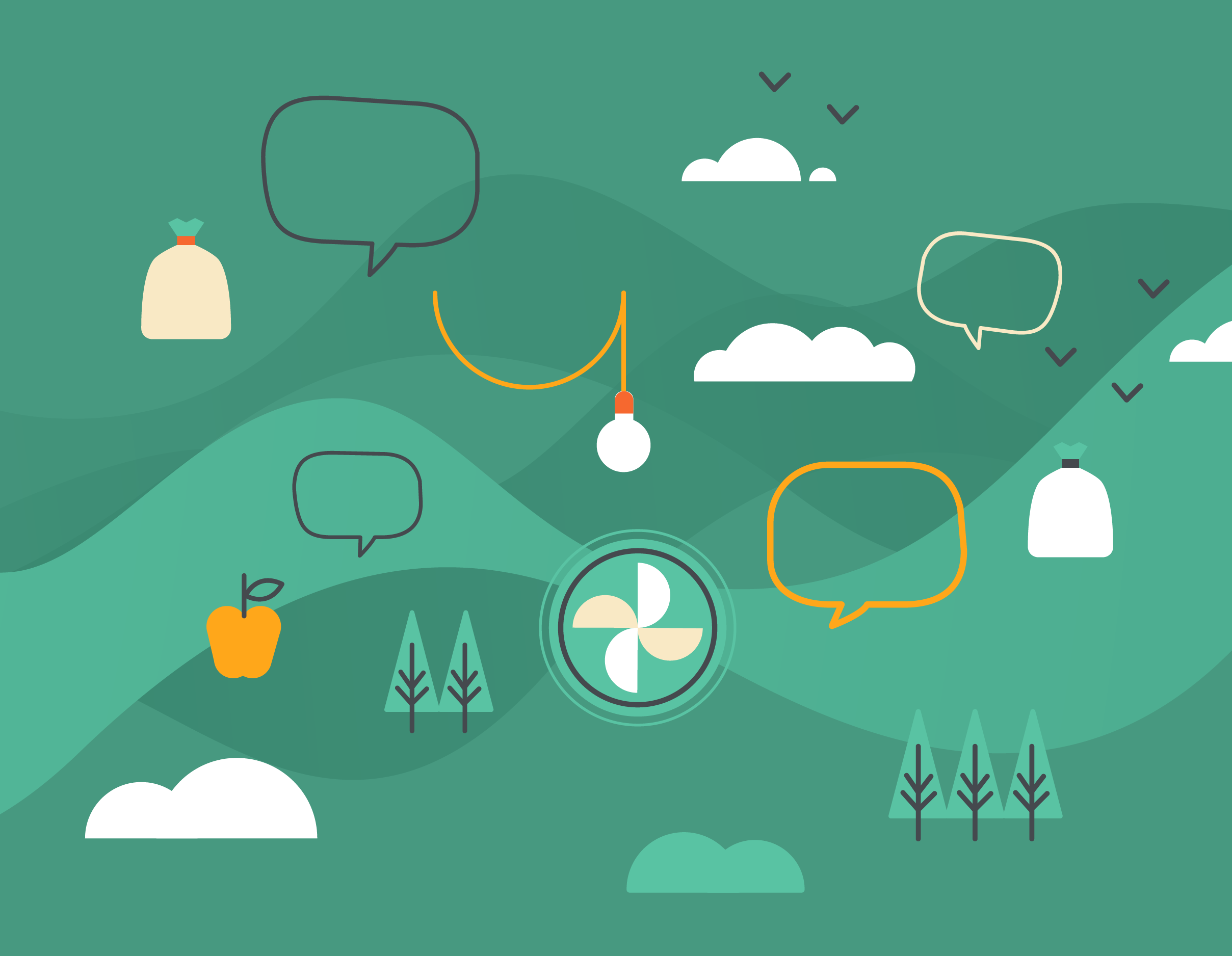 How To Plan A Green Event
There are so many things to think about when you organise an event, and so many demands on your budget. Ensuring you plan an event that's also environmentally friendly can seem like further complication and expense.
However, with a little thought and consideration you can easily understand – and minimise – the impact of your event on the environment. Here are 10 simple steps you should consider…
1. Save trees, send digital invitations
Rather than sending out invites and info packs, cut down on waste (and postage costs) by using Eventbrite to promote and manage your event. You can create an event page, featuring full joining instructions for your attendees and send invitations from your Eventbrite account. Meanwhile, attendees can download the Eventbrite app, to receive tickets straight to their mobile. Simply scan the QR code to easily check-in attendees – all completely paper-free!
2. Buy biodegradable tableware
If you are providing any refreshments at your event and it is not practical to use glass and china tableware and metal utensils, be sure to choose a biodegradable option. These have come a long way from the paper plates of childhood parties – check out these gorgeous plates and utensils made from fallen leaves, which compost in around two months.
3. Feed the attendees, not the five thousand
Over-catering is a common practice at many events, resulting in unnecessary waste. Meegan Jones, author of 'Sustainable Event Management: A Practical Guide', says: "Food into landfill is a major cause of landfill methane emissions, a global greenhouse gas emissions contributor. Food waste at events also contributes to startling global food waste statistics, estimated at 1/3 of all food produced being lost or wasted."
To cut down on food waste Meegan recommends accurately estimating the volume of food required considering the number of attendees, the event type and timing of activities or breaks, and asking about dietary requirements in advance (which you can do on Eventbrite using custom questions). You should also ensure any unconsumed perishable food has been handled correctly so it can be donated to food salvage programmes.
4. Keep it local
When it comes to sourcing the things you need for your event, try to do so as locally as possible to cut down on transportation, which has the added bonus of supporting the local community. When it comes to food, try to think about what's in season and easily available – it's not green to ship in strawberries from South Africa so you can have strawberries and cream in December!
Related:A Q&A with the Iain Devine aka the Drunken Butcher
5. Partner with public transport
Many train operators are willing to offer discounted tickets for event delegates. Check with your venue or city convention bureau if they already have an agreement in place. Leicester and Leicestershire Convention Bureau, for example, has a partnership with East Midlands Trains to offer a discount of up to 50% for visitors attending business conferences, events or exhibitions in the city.
6. Encourage car sharing
It won't be possible for everybody to travel by train, so as an alternative, promote a car-sharing service such as liftshare.com to your attendees. Guests can use the site to either advertise their planned journey and look for others to share the ride, or simply request a lift. Either way, you're helping cut down on the emissions it takes to attend your event.
7. Give chemical toilets the flush
Chemical toilets are not only unpleasant, but they are also environmentally unfriendly. If you need outdoor facilities at your event consider some of the new, green, toilet options. Last year Glastonbury Festival switched to composting loos, saving a vast amount of water and cutting out the use of chemicals.
The use of sawdust helps eliminate smells and, once the waste has been composted, it can spread on the fields to feed the land, so it's a win, win. Don't forget to include some recycled toilet paper!
8. Go solar
If your event requires sound and staging look at ways to save energy, like using solar power. According to Event Solar, most sound equipment and LED lights can easily be run on solar panels – even in cloudy Britain. Event Solar is the energy behind The Croissant Neuf Summer Party, a medium-sized family festival in Wales. This festival has been voted the Greenest Festival in the UK (UK Festival awards) three times and is entirely run on solar energy.
9. Inspire sustainable practices
To run a truly green event you need to win the hearts and minds of your attendees. To get them thinking sustainably why not introduce a fun feature such as the raver-powered DJ stage at the Coachella music festival in California?
In order for the DJs to be able to play their set, festivalgoers had to run in two human hamster wheels. The energy was also generated by a playground, featuring an adult-sized seesaw, swings, hand cranks, and bicycles, that fed into a lithium-ion battery.
10. Turn to an eco expert
The easiest way to run a green event is to select a green venue, where everything will be taken care of for you. Choose a venue that has an international sustainability certification like ISO 20121, such as Manchester Central or ACC Liverpool. Or to really help your guests feel connected with the environment, a venue like Sheepdrove Eco Conference Centre, based on an organic farm in Berkshire.
A specialist green venue can help you save resources like water and power, divert all waste from landfill, offer guests sustainably-produced organic food and offset all of your event's carbon emissions.
Related: 21 Amazing, unusual and unique venues in the UK
In conclusion
It's not necessaryto spend a fortune to green your event. Many of these ideas will actually help you cut your event's overall cost and provide added benefits for your guests. All of this at the same time as helping to save the planet! What other simple ways are there to be more environmentally friendly when organising event?