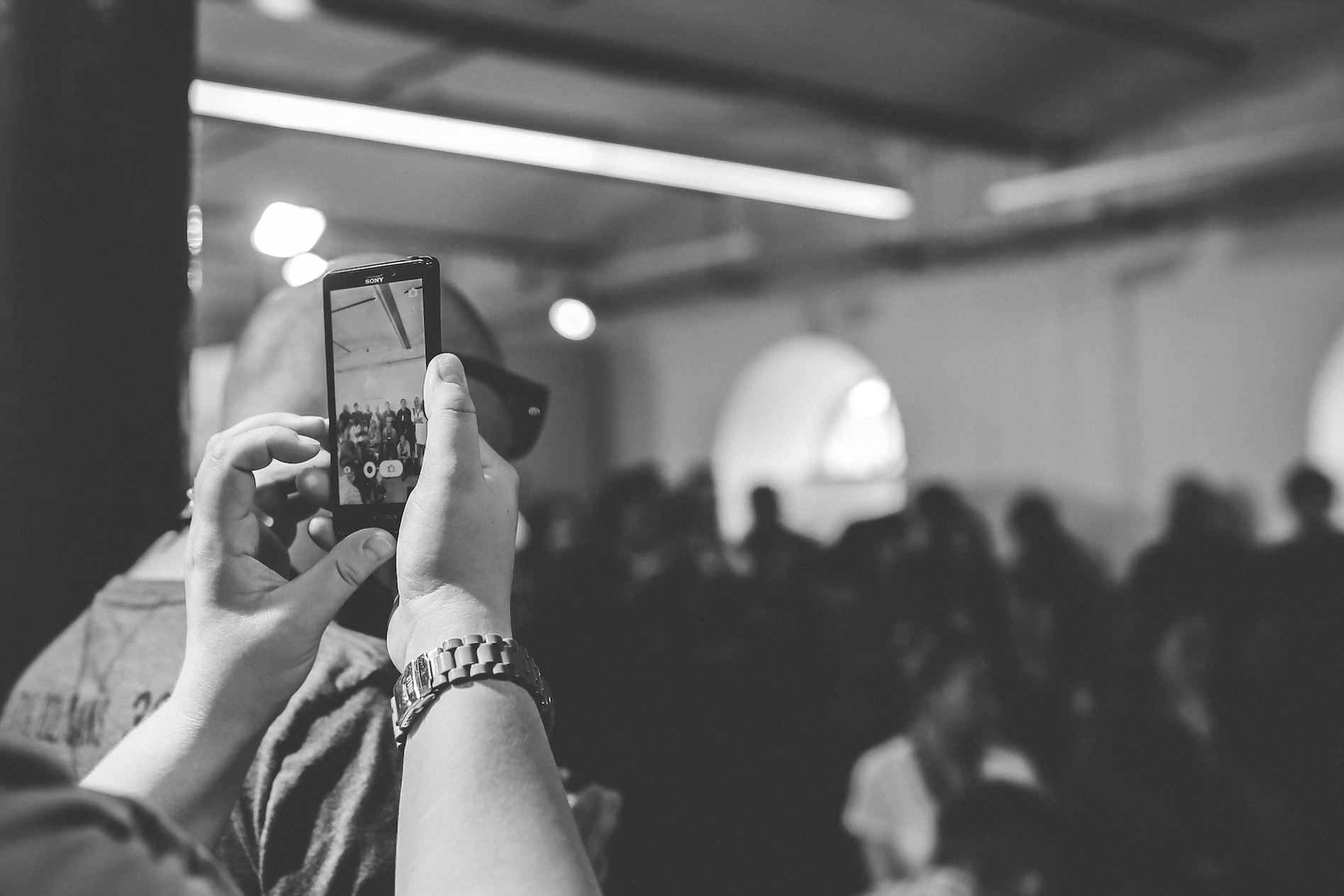 This is a guest post by Mark Simpson, Chairman of shop4pop.com. With over 40 years' experience creating and producing full POP campaigns for large national clients, shop4pop.com has been able to transfer their expertise from the Simpson Group to their new web-to-print website.
In the busy and ever-changing world of business, there's no space for complacency when it comes to drumming up new clients. Connecting with new audiences is as crucial to a company's success as nurturing existing relationships – and if you want your business to be noticed, you'll need to get creative and think outside the box.
In today's post, we're putting the spotlight on the power of the pop-up. We'll take a look at how this cost-effective form of exhibiting can generate interest in your brand and help you to expand your client pool – keeping your business one step ahead of the competition.
Making your voice heard
Business events provide a unique opportunity to meet and liaise with a number of other industry professionals – but for small businesses, it can be difficult to make your voice heard among a sea of exhibitors. As a smaller company looking to make a splash in your sector, creativity is key – and planning one-off events puts you in the driver's seat. This allows you to set, manage and review your goals – helping you to execute a successful pop-up event that works for you.
Pop-up events provide businesses with a number of innovative avenues – enabling you to reach your demographic and raise brand awareness from a platform you have designed around you. From choosing your location to deciding on which promotional materials work best for your business, planning a pop-up is your chance to promote your business your way. As opposed to large industry expos, personalised pop-ups prevent your voice from being lost in a sea of exhibitors – and this face-to-face engagement with your audience can be invaluable to your business.
Your pop-up, your way
When it comes to making your event stand out, personality is everything. Pop-ups allow businesses to inject fun and creativity into their brand, and there are a number of things you can do to ensure your event goes off with a bang – including:
1. Going bold with branding
Pop-ups allow you to design an event around your business – and from promotional vehicles and impactful banner stands to printed business cards and posters, bespoke branding will ensure your business is noticed. This is a chance to get creative with your business – making sure your brand's voice is heard by creating a buzz around your pop-up event. Remember to keep branding cohesive across the board – this will help to build brand familiarity and has the potential to generate increased engagement with your company.
2. Promoting with a purpose
Promoting an event properly can make the difference between a successful execution and a lack of attendees on the day. While newspaper advertorials and press releases are a great way to generate interest in your event, it's important you bear your budget in mind. Whether it's new clients or creating important connections, a profitable return on investment will always be the end goal – and if you're looking to keep costs low, there are a number of channels you can use. Social media can play an integral role in the planning, execution and follow-up of a pop-up event. From tweeting location details to connecting with attendees on LinkedIn, harnessing the power of your social networks will not only help you maximise interest ahead of an event, but also ensure that you maintain those connections once your pop-up is over.
Related: The Ultimate Guide to Free Event Promotion Ideas
3. Choosing your location wisely
Unlike preplanned expos, pop-up events allow you to choose your location – meaning that you can target high foot traffic areas you know are popular with your intended audience. When it comes to selling your product or service, are you looking to target current customers or attract a new audience? Whether it's one or both of these, this will inform your approach to choosing the best location. Making sure your event is well publicised will guarantee plenty of attendees on the day. Unlike large-scale business events, pop-ups provide you with a unique selling point (USP) – in that you can benefit from passing foot traffic, meaning your business can increase its reach with minimal effort.
 Related: 3 ways to make your event stand out
Planning your pop-up
Pop-up events can occur anywhere, at any time – and planning yours will be entirely dependent on your business goals. Whether you're looking to leave with an armful of lucrative leads, increase your social media following or promote a product, spend some time thinking about what you're looking to achieve from your pop-up.
Plan: From ensuring your business is active across your social media accounts to selecting the best team for the job, planning is everything when it comes to a pop-up. There are several things to consider when planning your pop-up – and while time and location might seem like obvious factors, your target demographic should also influence your choices.
Execute: On the day of your pop-up event, it's crucial that you're able to engage your audience. Face-to-face marketing allows you to break down the barrier between the consumer and your brand, and helps to establish relationships with your audience. This form of communication is key to hosting an effective pop-up event. In an effort to ensure yours is successfully executed, remember to set some goals before the day. This will involve discussions with your team and allow you to measure the impact of your pop-up to inform future marketing strategies.
Follow-up: Don't fall at the final hurdle by failing to follow-up after an event. In many cases, exciting leads don't convert into clients because they fail to remain in contact with attendees after an event. Whether it's a Twitter follow, a short email or a friendly phone call, a timely approach to following up will keep your business fresh in attendees' minds and help you make sure that your leads don't go cold.
 Related: The complete 52 week event communication plan
Conclusion
With businesses constantly striving for unique ways to ensure their brand is recognised, it can be difficult for SMEs to get noticed. But by adding these marketing tactics to your arsenal, you can harness the power of the pop-up for your next event – maximising brand exposure and increasing your business's reach.