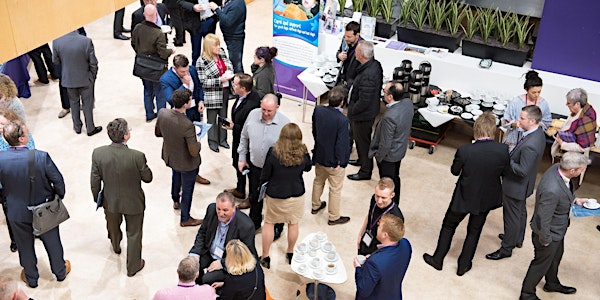 Hampshire Meet The Buyer 2018 - The Business Development Event For Hampshir...
Location
Portsmouth Marriott Hotel
Southampton Road
Portsmouth
PO6 4SH
United Kingdom
Description
Are you fed up of attending events as a business development professional or business owner that give no return? Then you need to book for Hampshire Meet The Buyer NOW!
STANDS ALL SOLD AS OF 16th APRIL - PLEASE E-MAIL TO BE ADDED TO WAITLIST: INFO@HAMPSHIREMTB.CO.UK
VIP ATTENDEE TICKETS NOW LIMITED ARE ONLY AVAILABLE TO BOOK UNTIL 18th MAY.
THESE AREN'T AVAILABLE ON THE DOOR ON THE DAY DUE TO VENUE AND NUMBER CONSTRAINTS -BOOK NOW!
What's involved?
This is the second business development event brought to you by Little Kanga, Portsmouth City Council, the University of Portsmouth and Marriott Hotels (Portsmouth).
Hampshire Meet the Buyer will bring together start-ups, SME's and corporate companies in one location. A combined expo and conference, with C-Suite decision makers in the room.
Our biggest contract win from a £199 attendee ticket last year was a £300k rolling contract. Do you need to be here?
Our aim is to provide an informative combined expo and conference; with guest speakers that can help advise on key areas and subjects that can aid business growth.
What's in it for me?
Meet Buyers - speak DIRECT to corporate company buyers who are looking to speak to YOU - these are high level procurement professionals seeking new local suppliers to award contracts to
Meet Suppliers - meet and mingle with other businesses to do more business
Use our app to network and connect with potential new customers and leads - the app uses your Linked In profile to match you to people you want to meet at the event
Arrange meetings during the event using our dedicated app - speed up the sales process and make great use of your time. Last year 3 deals were struck before the event commenced (via the app)
Expert speakers - we have a range of companies speaking about subjects that affect YOUR business today.
Donna Jones (Leader of Portsmouth City Council) - will open the event as she did last year talking about the 'Future of Portsmouth' and the impact on business in the local and wider Hampshire area.
This is the ONLY combined expo and conference designed to help you get MORE sales and connecting you FASTER through our dedicated event app for MORE ROI and we have case studies to prove results.
Buyers – you will have 10 minute (timed) face to face appointments that you can book on arrival (subject to availability), the buyers are located in the main exhibition hall with exhibitors:
Portsmouth City Council Procurement – Wishing to speak to local business owners (any discipline) who wish to learn more/be on their supply chain

University of Portsmouth – Wishing to speak to local business owners and companies who wish to learn more/be on their supply chain for their £400mn Estates Masterplan

Comserv – They are seeking to speak to skilled trades and those involved in refurbishment and facilities management

Mountjoy – They are seeking to speak to skilled trades and those involved in refurbishment and facilities management

Corrigenda – They are seeking to speak to skilled trades and companies involved in M&E and and facilities management/Fire doors/Security

Balfour Beatty - They are looking to speak to Groundworks, Sheet Piling and Coastal/Beach experts
Partners and Sponsors:
Portsmouth City Council and University of Portsmouth

Print and Exhibition Partner: Stanbury Chameleon – Now 100% carbon neutral! Find out more how great design can add to the 'bottom line'

Media and Radio Partner: SAM FM/Celador Radio – Come and find out how you can use radio advertising to bring in new business and raise your brand awareness

Marriott – The Marriott Portsmouth – they are our venue partner

Uber – They are the transport partner for the event
Some of our buyers, exhibitors and attendees:
Portsmouth City Council

University of Portsmouth

Comserv

Mountjoy

Corrigenda

Uber

DMWR Architects

Noami House and Jacksplace

Digi-Toolbox

Stanbury Chameleon

SAM FM

Fasset

Turrem Data

Toucan Diversity

Ronin Health and Safety

Mountjoy

Comserv

Corrigenda

Affordable IT

Balfour Beatty

Liberty Group

TJ Waste

PPG/Johnstone's Paints

Dolphin Embroidery

Grant Thornton
Please note that we have not included all attendess on the list above, but this gives you an idea of the types and sizes of companies attending.
Confirmed Speakers:
Our speaker slots are 15-20 minutes and will help you learn more about the following topics, these are held in a conference room adjacent to the main exhibitor and buyer hall:
Portsmouth City Council – Donna Jones (Leader of PCC) – Event opening 'The Future of Portsmouth'

University of Portsmouth – Faculty of Business and Law – SME Support

Uber – The Future of Urban Mobility

DMWR Architects – An Introduction to BIM Modelling for Beginners

Turrem Data – GDPR and what you need to do – NOW!

G by Grant Thornton - Business Funding and Growth for SMEs
Our corporate companies have active projects that they are seeking to award to local businesses and they want to see you if you are in the following trades/areas:
Construction/HVAC/Power/Manufacturing/Facilities/M&E or if you sell goods or services into these industries such as waste removal, building supplies, cleaning companies, consultancy etc
We can put you in front of the buyers to start the conversations, but you need to book NOW!
You can find out more on our social media channels:
www.facebook.com/hampshiremtb
www.twitter.com/hampshiremtb
www.instagram.com/hampshiremtb
Successes from last year's event include a rolling £300k contract awarded to TJ Waste, £6k of orders for a promotional company within 12 weeks of the event, a £12k contract to a start-up IT company and more.
Business Support:
Find out how the University of Portsmouth can signpost support services that can help you grow your company, from start-ups to SME's, the University has a range of support that can be offered and some of it is totally FREE!
Why did we design this event?
This event is for you if you are FRUSTRATED with not being able to find answers and sales at other networking events and expos, or if the local offer in other areas seems a 'bit woolly'.
Why come along?
This is no 'run of the mill' event, as we will be using new technology at this event, including a dedicated mobile phone app, that will use your Linked In profile, to match you to other buyers, sponsors and attendees at the event.
Who is attending?
This event is for STEM, Engineering, Construction, Facilities Management and Power Generation industries OR those start-ups & SMEs supplying to these industries (in the sub-contract supply chain). If you have a company that provides services or products to ANY or ALL of the above, then miss this and miss out!
BOOK NOW - this event will be over-subscribed!
Why YOU need this event:
84% of event attendees get frustrated when they attend events, as they don't have the chance to use their time effectively. For the first time, we will be using tech to help you get MORE introductions and MORE relevant and useful contacts locally.
Who should attend?
STEM based businesses – technical industries such as defence
Facilities Management (FM) companies

Construction companies or companies linked to the industry

M&E companies and contractors, including HVAC/power generation companies

SME's and start-up companies (that are supplying to the above markets)
Why should I attend?
If the below statements apply, you need to be at this event, so BOOK NOW!
You are a company owner wishing to gain more local business and are fed up of other local events yielding low ROI

You are a start-up company involved in any of the markets of operation for this event

You are employed in sales within an SME or corporate and need more leads

You are a corporate buyer or part of a procurement team looking to source more local sub-contractors

You are a sales person involved in any of the specified markets looking to expand your contact base to increase sales for your company and you want to make structured use of your time
---
We are currently accepting applications from corporate organisations who wish to be represented at Hampshire Meet The Buyer.
What we are looking for:
Buyers (working in procurement in a large corporate M&E/FM/STEM based companies)
Sponsor companies that wish to headline, speak at and sponsor the event - contact admin@littlekanga.co.uk for more information
(Please note that we reserve the right to change and update the speaker line up at any time withour prior notice, if there are circumstances that cannot reasonably be forseen).
---
Charitable Event Partner
Our charitable event partners for this year are Noami House and Jacksplace and Toucan Diversity - they will be in attendance at the event, so come and speak to them about the fantastic work that they do.
If you have read this far, then you must be interested so BOOK NOW!
If you want more information, then please refer to our website which will be where updates and more information will be posted: www.hampshiremtb.co.uk
Follow us on social media and send us your messages FREE promotion for you, let us know that you have booked and share your company offers and let people know that you are ready to do business at the event.
If you have event offers then let us know and we can promote them on our social media feeds!
FAQs
What are my transport/parking options for getting to and from the event?
The Marriott has limited parking so we would recommend an Uber ride or local taxi.
Please come early, you can make yourself at home in the main atrium area and have a coffee and purchase breakfast if you wish. We DON'T want you to miss out!
Nearest railway station is Cosham, Portsmouth (you can Uber from there).
Address of the venue is: Marriott, Southampton Road, Portsmouth, PO6 4SH
Event starts at 10am with registration from 9am onwards. Please be aware that there are a large volume of attendees at this event, so there may be a small delay on checking in. So if you are there earlier, that will help.
Please note that speaker sessions start PROMPTLY and are on a first come, first served basis for seating, so please ensure that you are there in time for these to commence.
You will be sent joining instructions at least 10 days in advance of the event and the event app details will be sent no later than 7 days in advance of the event.
What can I bring into the event?
Common sense prevails here. This is a business event, so no pets and ice creams (unless you are bringing us all one - ice creams that is), business dress and smart casual attire is acceptable.
We will greet you at the registration desk on the day and issue you with a badge and programme.
How can I contact the organiser with any questions?
0333 444 0364 on the dog and bone (telephone)
E-mail: info@hampshiremtb.co.uk
What's the refund policy?
We offer a 100% money back guarantee on stand only bookings. This is subject to our terms and conditions. Attendee tickets and sponsorship are non-refundable. Our refund policy is subject to our terms and conditions.
Do I have to bring my printed ticket to the event?
Yes, we require that you have this with you, or that you have it on your phone.
Is my registration fee or ticket transferrable?
We accept that something may come up and as long as you advise us more than 24 hours in advance in writing, we can transfer it to another member of your company only. Please note, we cannot refund at such short notice.
Please note that this ticket cannot be used against any of our future events or other events organised by Little Kanga Ltd or value transferred in any way.
Is it ok if the name on my ticket or registration doesn't match the person who attends?
Please see above (if you need to notify us, this has to be in WRITING only to: info@littlekanga.co.uk).
The whole event is subject to our terms and conditions and by buying a ticket, you are submitting to be bound by all our terms.
Thanks for booking!