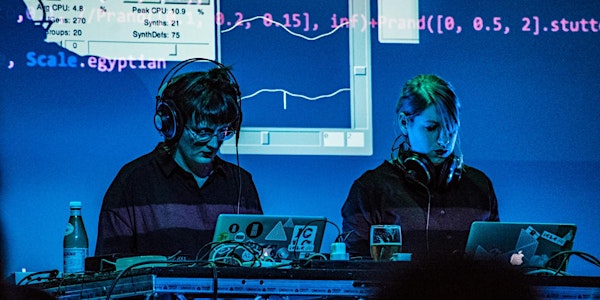 Introduction to Live Coding for Women and Non-binary People
Event Information
Location
Access Space Labs
14-16 Fitzalan Square
Sheffield
S1 2AZ
United Kingdom
Description
Introduction to Live Coding
**Please note this event is for women and non-binary people only**
In this workshop we will cover the basics of live coding using popular environments SuperCollider and FoxDot. Together we will explore how to use code to build and sequence synthesizers. Come expecting errors, noise and sine waves.
No prior knowledge of live coding, programming or music is required.
If you have a laptop and headphones, please bring them. If not, please contact us at midigirl1990@gmail.com to arrange borrowing equipment. Feel free to bring any other sound-making devices you have access to.
This workshop is open to all women and non-binary people. If you have any questions relating to the workshop, please contact us. Please let us know if you have any access requirements or how we can support your participation in any way. You are welcome to bring a personal assistant along to the event if you need one - if you have any questions about this please feel free to get in touch.
Software
If you can, please install the following software before the workshop. Contact us if you have any problems.
SuperCollider is a powerful, open-source, cross-platform, audio engine and programming language, used not only to create music, but also for machine learning, audio/music reactive installations, performance, interactive systems, research, live-coding and much more.
https://supercollider.github.io
FoxDot is an easy-to-use Python library that creates an interactive programming environment and talks to the powerful sound synthesis engine, called SuperCollider to make music. FoxDot schedules musical events in a user-friendly and easy-to-grasp manner that makes live coding easy and fun
http://foxdot.org/installation/
Workshop Leaders
Joanne Armitage is a live coder and half of the live coding duo ALGOBABEZ with Shelly Knotts and member of the laptop collective OFFAL (http://offal.github.io). She is part of the Sound and Music Composer-Curator programme for 2018. In the day time she lectures in digital media at University of Leeds.
Shelly Knotts produces live-coded and network music performances and projects which explore aspects of code, data and collaboration in improvisation. Based in Newcastle Upon Tyne, UK, she performs internationally, collaborating with computers and other humans. She studied for a PhD in Live Computer Music at Durham University with a focus on collaboration in Network Music. She is currently a Post-doctoral Researcher at Durham University working on AHRC project: Musically Intelligent Machines Interacting Creatively. As well as performing at numerous Algoraves and Live Coding events, current collaborative projects include algo-pop duo ALGOBABEZ (with Joanne Armitage), OFFAL (Orchestra For Females And Laptops), and live coding performance [Sisesta Pealkiri] with Alo Allik.

Lucy Cheesman makes sound installations as part of creative collective SONA and performs live coded music using open source software under the name Heavy Lifting. She also runs a record label called Pickled Discs which is dedicated to promoting experimental electronic sounds. She is (also) part of the Sound and Music Composer-Curator programme for 2018.
Date and time
Location
Access Space Labs
14-16 Fitzalan Square
Sheffield
S1 2AZ
United Kingdom