Description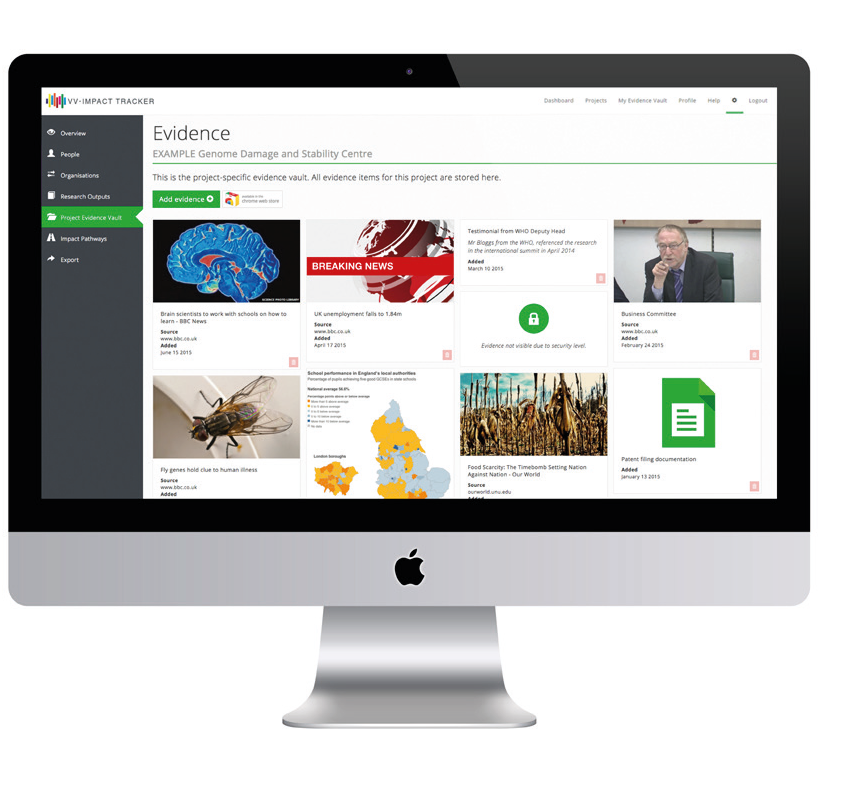 This webinar is intended only for VV-Impact Tracker users. If you are from one of our member universities and are a current user of our VV-Impact Tracker software, please register your interest here for the webinar using your official organisational email.
Please be advised that you will receive an email with joining instructions shortly after registration closes. Ensure that you follow these instructions to successfully attend the webinar. Registration for this webinar will close on Sunday 23rd of September 2018.
---
Background
Articulating the wider impact of research - on society, economy and environment - has never been as topical or important as it is today. While, the evaluation of the non-academic impact of research is not entirely new, the 2014 Research Excellence Framework (REF) was the largest and most comprehensive assessment of its kind worldwide. The REF assessed universities based on the quality of research outputs, vitality of the research environment and, for the first time, the wider impact of research. The weighting for the impact assessment part of the REF – assessed in the form of impact case studies and an impact template - was 20% of the total assessment, influencing the allocation of around £1.6 billion worth of public funding. In REF2021, the weighing of impact case studies alone has been increased to 25%.
This movement towards systematic measurement and reporting of research impact hss not just been happening in the UK. Australia has introduced its own pilot Engagement and Impact Assessment (EI) 2018 exercise to run parallel to its main national research assessment exercise, while Hong Kong is following in UK's REF footsteps by introducing impact as a key criterion in their Research Assessment Exercise (RAE) 2020. New Zealand, Canada and others globally are looking closely at how they should embed impact, as part of their research assessment processes or otherwise. So, whilst the funding landscape is subject to change, the requirement to demonstrate the wider impact of research is likely to continue to grow.
Overview of webinar
Apart from the obvious criteria of quality of the research and its impact, their clear link and robust evidencing, the structure and narrative of a case study also greatly influence its scoring. It is important to note that the panel members who assess these are usually a mix of academics and non-academics (e.g. from the industry, non-profits, funders etc.) and as such these case studies are not to be written in the same way as a research paper. They should also be written in a direct and concise manner, with simple, jargon free language.
VV-Impact Tracker is a cutting-edge software tool with many easy to use functions that helps researchers and research institutions to systematically track, store and analyse aggregated impact data, to structure and develop impact case studies, and, easily report and demonstrate their impact generally. This webinar will be a practical session around VV-Impact Tracker's 'storyboard' function which can be hugely beneficial to researchers for optimal planning and structuring of their impact case studies.
Since 2009, Vertigo Ventures (VV) has been developing and using its proprietary impact taxonomy, VV-Impact Metrics, as a framework for VV-Impact Tracker to prompt and guide academics and institutions in identifying, managing and presenting their research impact. Currently, VV are working closely with over 30 universities in the United Kingdom, Australia and Hong Kong to help them best prepare for their national research assessment exercises of REF 2021, EIA 2018 and RAE 2020 respectively.
Webinar details
This webinar will be led by Vertigo Ventures' Training Manager, Kristy Evers. The webinar will run for approximately 45 minutes covering:
Introduction to research impact and impact case studies

What makes a 4* impact case study

A run through of VV-Impact Tracker's storyboard function and how it can help structure strong impact case studies
The webinar will also include a live Q&A session.
Who should attend?:
ONLY VV-Impact Tracker Client universities

Researchers/Impact Case Study authors

Academic Impact Leads/Impact Champions

Impact Officers