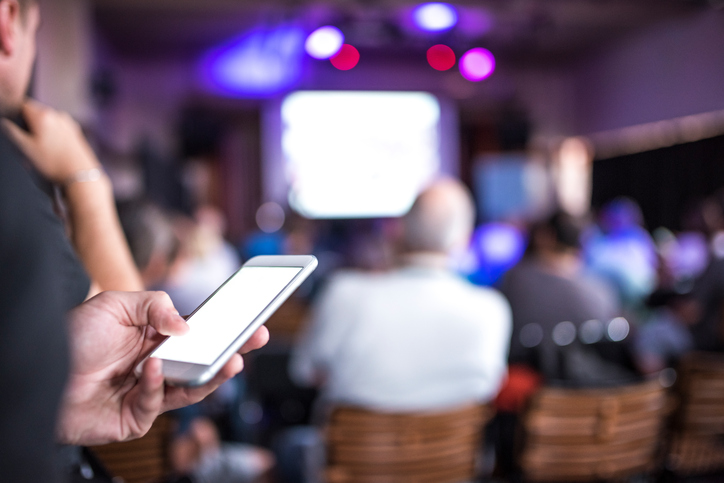 7 Upcoming Trends in Event Technology You Need to Know About
How has technology changed the event industry? Well, whether it's a music gig, flower-arranging workshop, or art exhibition, technology has been key to holding successful events during the COVID-19 pandemic, enabling creators to adapt to unforeseen circumstances and meet consumer demands. It's even brought new and exciting opportunities, as virtual events have reached wider audiences from across the globe.
From software like ticketing systems and webinar tools to innovations such as artificial intelligence and virtual reality, technology opens up the possibilities of what an event can look like. And with the range of tech constantly growing, you'll want to stay on top of the latest developments to give your event a competitive edge. Here are seven upcoming trends in event technology to keep on your radar.
1. RFID makes things quicker 
Radio-frequency identification (RFID) continues to streamline the attendee experience by replacing tickets and physical payments for in-person events. RFID chips are small enough to fit inside attendee bracelets and badges and, by being scannable, they reduce queuing time. They can also be used for cashless payments onsite at events such as music gigs and food festivals.
In COVID-19 times, RFID is beneficial for speeding up person-to-person interactions and is worth considering for socially distanced events. Plus, by using RFID technology for events, you can track the behaviour and movement of attendees for valuable insight into venue layout.
2. Facial recognition for contactless check-ins
One of the latest trends in event management, facial recognition is already being used at a number of events, from trade shows and conferences to football matches and club nights. It creates a "smart event," which allows for automated, contactless check-ins, dramatically reducing waiting times and interactions between attendees and event staff. In addition to speeding things up, the software can read facial expressions and body language to predict the mood of attendees – taking feedback to a whole new level.
3. Chatbots demonstrate it's good to talk
As people get used to asking Alexa and Siri to add milk to their shopping list or play their favourite album, we can expect to see digital assistants and chatbots powered by artificial intelligence (AI) popping up in the events industry, too. Chatbots are being used at events such as virtual gigs and trade fairs to answer attendee questions and provide important information. By automating customer service, attendees receive a rapid response and organisers can continue to focus on planning their event. From using Google's Dialogflow, which integrates a chatbot into a website or event app, to adding a customer service plugin with Facebook Messenger, there are plenty of ways to get started.
4. Offer customised recommendations with AI
Speaking of AI, it's increasingly being used to analyse data and offer up personalised recommendations, which can include everything from which talks you should attend to a new band that really fits your music taste. Event creators can use AI technology to interpret data from social media profiles including LinkedIn and Facebook to create bespoke suggestions for each event attendee – for example, who they should meet, which presentation might be particularly useful for their line of work, or which speaker they'd really love to hear. If this all sounds a little techy, don't despair – the quickest way to get up to speed is to use an event app with an AI plug-in , such as Grip.
5. Enter a new reality
There's been a lot of buzz around experiential events, and augmented reality (AR) and virtual reality (VR) certainly have the ability to transport attendees to a whole new world. The possibilities are seemingly limitless, with creators using AR and VR for engaging presentations and to stand out among hundreds of exhibitors at trade fairs. Charities are also revolutionising fundraising by using the technology to draw attention to their cause.
When it comes to virtual event trends, look out for platforms like Sansar that allow you to create a fully immersive digital world. Whether it's a music festival, meet-and-greet, or lecture series, you can host your event with avatars in real-time. Not only does it offer customisation options including a multi-tiered ticketing system, but the stunning visuals and spatial audio mirror the in-person experience so that your attendees will feel like they're in the same room.
6. Livestream your event online
The COVID-19 pandemic kickstarted a huge shift to virtual events. Many creators are embracing the medium for things like webinars, concerts, and even theatre productions as a means of reaching wider audiences while events are unable to take place live. When in-person gatherings are an option, why not consider how you can incorporate the technology into a hybrid event for the best of both worlds?
Use social media to your advantage when livestreaming an event. Post the details ahead of the day – you could invite people to join Facebook Live events –  and encourage attendees, volunteers, staff, and suppliers to share them on platforms such as Twitter. You could also use paid ads to increase your social media reach.
7. Connected customers are happy customers
With the roll-out of 5G network technology, there's an expectation that venues will provide a super-speedy WiFi connection – and that's good news for both event creators and attendees. It's especially important at socially distanced music and food events where you might be using an app or website for table service. Plus, that increased speed will make other technologies such as livestreaming, VR, and AR smoother and quicker to implement. 
Stay ahead of the curve
New technology for the events industry is continuously changing, giving event creators a regular source of exciting opportunities. From well-loved staples like apps and project management tools to exciting new technologies like AI, it's worth staying on top of how tech can enhance your event and keep attendees hooked.
To save precious time, why not automate your event with the help of Eventbrite's app marketplace?