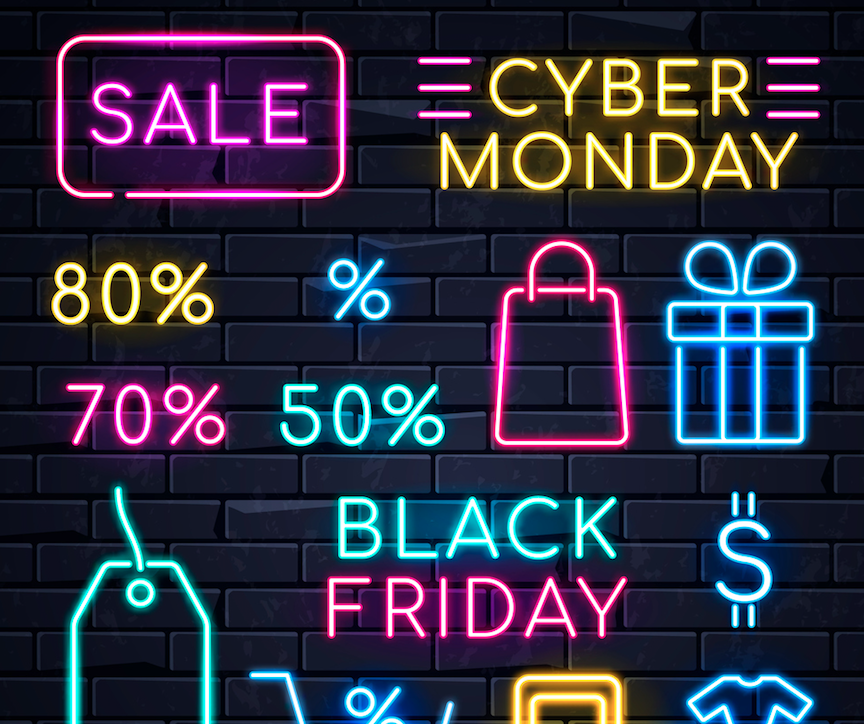 How to Create Black Friday Discounts For Your Event
Having travelled across the water from the US, Black Friday has become an integral part of many UK retail marketing strategies – both offline and online (via online counterpart, Cyber Monday). This year, the crazy discount day falls on Friday, November 29th, and we'll tell you what it's all about, where Black Friday comes from, and – most importantly – how you can use it for your event.
Where does Black Friday come from?
There are different theories here – one is that Black Friday refers to the 24th of October 1929 – the day of the New York stock market crash. Another theory is that this Friday is simply a day chosen favourably by retailers because it is the bridge day between Thanksgiving and the weekend. Many Americans use this day to start their Christmas shopping and grab some bargains, and for both online and offline retailers, Black Friday marks the start of the festive shopping season.
Fun Fact: The day of the collapse of the New York Stock Exchange was actually a Thursday, but due to the time difference with Europe, it fell here on a Friday and is therefore called Black Friday in our longitude, and not Black Thursday.
When is Black Friday?
Black Friday traditionally takes place on the Friday after the US Thanksgiving celebration. Thanksgiving is traditionally on the fourth Thursday in November – so this year, it falls on November 29th.
Fun Fact: Thanksgiving will be celebrated in Eventbrite offices all over the world, not just in the US!
How do I use Black Friday for my event?
So, Black Friday is the perfect opportunity for a discount strategy for your event – that much is clear. But how do you approach the whole thing?
What tools do you need to create these discounts?
Discount codes are the perfect tool for your Black Friday campaign. Create an individual code for your event, such as BLACKFRIDAY2019 or YAYITSBLACKFRIDAY or BlackFestivalFriday. Then, post this code as part of a discount message on your social media channels.
It is important that you make it clear that this code only lasts until midnight of Black Friday – ie November 29th, 2019. The urgency to complete the purchase of a ticket or upgrade for your event today is the biggest driver of your discount campaign!
Using Eventbrite for your events? Find out how to set up a discount code for your event here.
Group discounts are also a great idea. You can grant discounts on group orders and increase sales with price incentives that can be a bit higher. After all, the number of tickets sold when this discount is redeemed is also significantly higher.
Find out how to set up group discounts on Eventbrite.
How low should I go with the price?
When it comes to online shopping, limited discounts of up to 90% are no longer a rarity. That's why your Black Friday discount should be a real "wow" offer that attendees can't refuse. 5-10% discounts may not cut it on Black Friday.
"What do you mean, a 90% discount?!", you ask. But don't worry, you don't have to go that far – and if you do, it's strategic and, importantly, limited.
Maybe your most expensive ticket category, VIP tickets, aren't selling out? Then this could be a ticket type to discount on Black Friday, for a limited time only.
Example: The first 20 buyers of a VIP ticket on Black Friday will receive a 75% discount!
You are only offering those 20 tickets at a very reduced price, but your VIP tickets are suddenly on everyone's lips!
What else should you look out for on Black Friday?
Our Black Friday checklist:
Make sure you can still reach your sales targets with the new discounts
Make sure that all discounts are deactivated the day after Black Friday.
Make sure your ticketing partner and/or website can withstand an online traffic jam
Work with a professional ticketing partner who makes it hard for scammers to take advantage of your discount campaign
Limit your discounts to the purchase of a maximum of 2 tickets per buyer
Communicate your Black Friday discount promotion a few days before Black Friday. But not too early!
We all love to feel we have secured a bargain, and your event attendees will be no different. If the promise of the joy of a live experience isn't quite enough, this Black Friday strategy might just push those tentative buyers over the line.
If discounts aren't your thing, check out a list of other great ways to sell out your event.