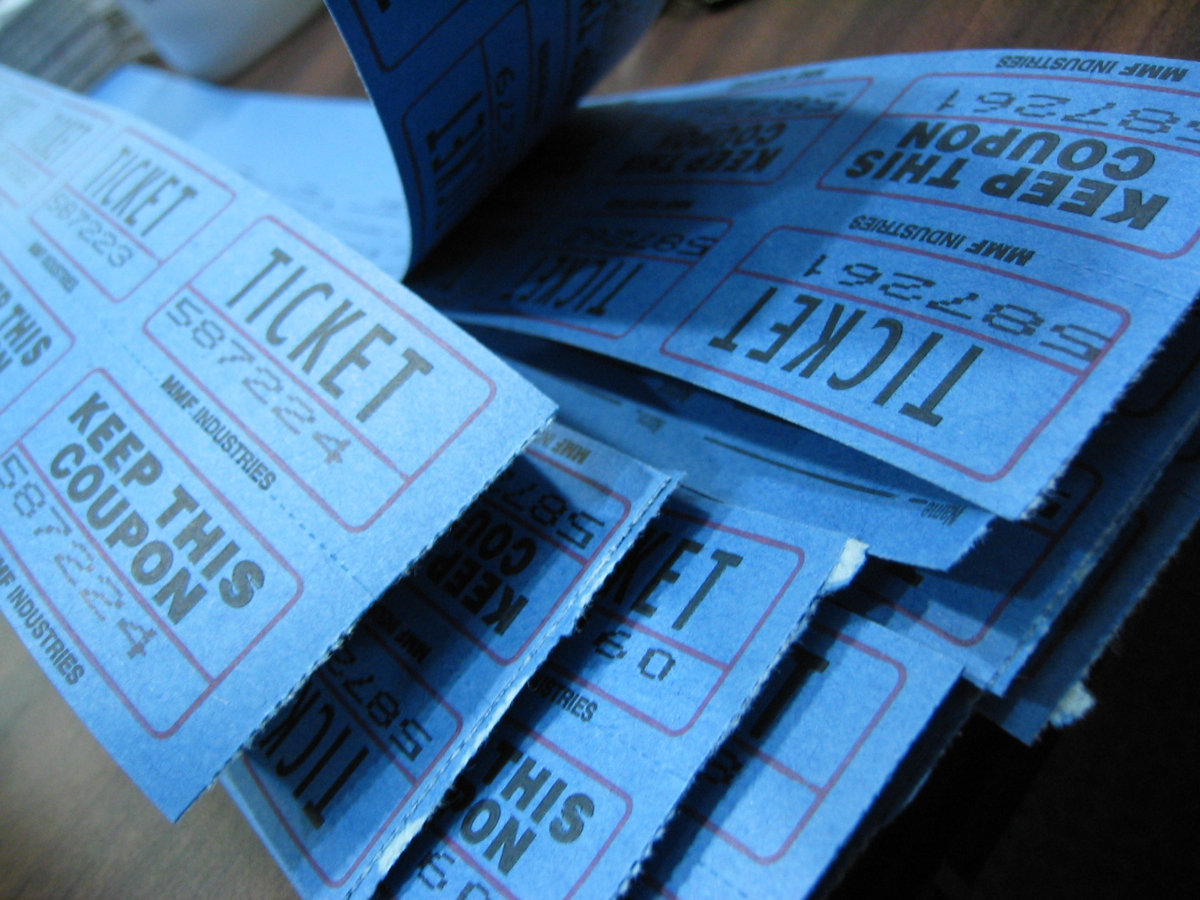 Using Eventbrite Discount Codes to Boost Demand and Ticket Sales
Discount codes are an excellent way to make your event more attractive and boost online ticket sales. You can use the codes to offer discounts for attendees registering early or as a way to track the effectiveness of event promotion. Offering them to specific customer groups can even give you a comprehensive view of who your event is attracting.
Potential attendees may still have a level of uncertainty with regards to committing to an event, but an Eventbrite discount code will go a long way to motivate any reticent purchasers. At first, it might feel like you're selling your event short. But ultimately, more tickets purchased means a busier event and a greater overall profit.
This blog aims to help you create buzz around your events and to increase ticket sales by exploring the following topics:
How to boost ticket sales with short-term offers
Flash sales are one of the online event promotion ideas that help create awareness and buzz about your event. By creating a flash sale for a limited time only, you can control how many of these discounted tickets are purchased. A flash sale is a great example of how to increase ticket sales during low buying times such as a week before payday or after Christmas. They can also be used to link to certain events – for example, Valentine's Day or Mother's Day.
The Eventbrite discount code tool allows you to create your code, select which ticket type it is applied to, and choose how long the code is valid for. You can then track the success of the offer in the Promo Code Usage Event Report.
Below, you can see the "Discount Codes" tab, with the code "FLASH" added. You'll also see that you can choose which ticket types the code can work on and set a time period that allows the discount code to work.
Once this is live, an attendee can click on the "Enter Promotional Code" link as seen below.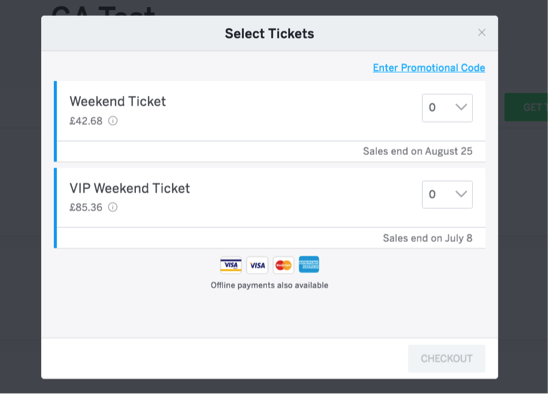 Below, you can see the "FLASH" code has been entered, letting the attendee know a 10% discount is available. The attendee can then choose the right ticket type for them and the discount is taken off the amount, showing them the total to pay.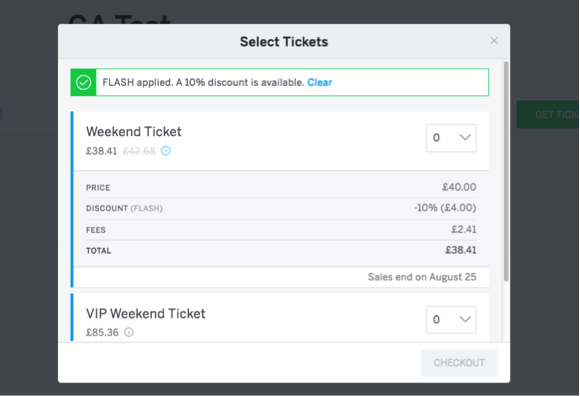 Early bird offers to improve online ticket sales
We all know from personal experience that ticket-buying is often left to the last minute. This can create a lot of stress. After all, it can be difficult to organise things like catering, seating, or venue size when you don't know how many people will be attending.
One way to minimise the stress is to incentivise people to buy their ticket early. To do just that, offer an exclusive limited discount on tickets for early bird purchasers. Not only does this encourage attendees to register early, but it also helps to create hype around your event – which is really handy if you don't have the line-up finalised.
People will often share the fact that they're attending an event via social channels. So the earlier they buy their ticket, the more time they have to advertise the fact that they're attending, which can only be good for your event promotion. Plus, the more tickets that are sold way ahead of the event, the better prepared you can be for the number of attendees coming.
Top tip: Increase conversion by including an embedded checkout integration on your event page. This handy integration lets users purchase tickets without having to leave your website.
Access codes and event promotion
Whether it's for your super fans, VIPs, or any other group, you can use access codes to offer unique special offers for a select number of ticket buyers. Don't worry about other potential attendees finding out about this super-duper offer, as you can hide that ticket type and assign an access code, allowing that select group to access their unique ticket.
In the same "Discounts Code" tab, change the promotion type to "access" and create a code. Below, the code "SECRET" has been used.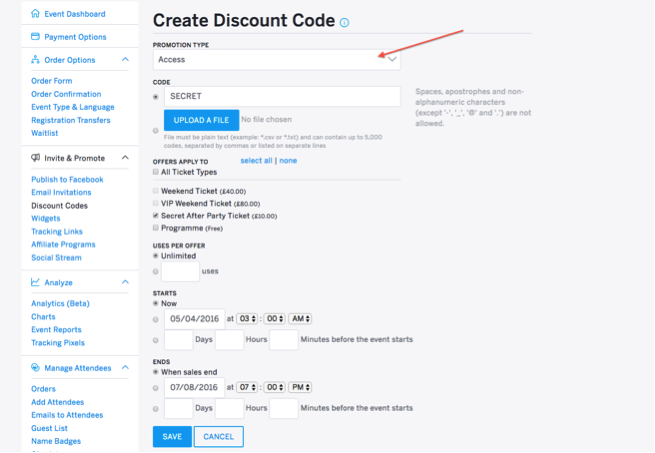 Once the attendee enters the code "SECRET" in the "Promotional Code" tab, they will have access to the unique ticket type. As you can see below, this has now opened the ticket type "Secret After Party Ticket".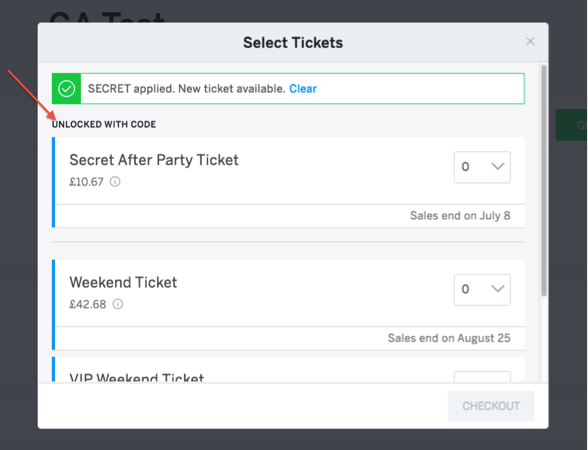 Top tip: After creating a promotional or access code, you can embed that code in a link to publish on the likes of your website, blog, or email newsletter. With the above example, you'd simply add "discount=SECRET" at the end of the link. This addition to your URL will allow the registrant to see the discounted prices or hidden tickets on the event page without having to enter the code.
How to increase ticket sales with public discounts
With the access codes, different ticket types were hidden. But public discount codes can be seen by anyone. This type of discount is a great way to offer concession price tickets for customer segments or specific audience types – concession tickets meaning lower prices for the likes of students and pensioners.
Public discounts apply to the ticket types you choose and don't require a promo code, which means attendees can go through a seamless registration process.
An attendee can click on the drop-down box of the ticket type they wish to purchase.
They are then able to click the discount that applies to them. So if you were a student, you would be able to select the "Concession Ticket".
Use an Eventbrite discount code to maximise your event promotion
Eventbrite offers a number of different ways you can apply discounts to your online ticket sales – useful when selling tickets for a single event or using a multi-event promo code. Each discount type has its own function, allowing you to offer the right discount to the right person at the right time.
Ultimately, discount codes allow you to take control of your ticket sales and adapt the pricing of your tickets depending on the demand. So when you're ready to create your next event, set it up and start selling tickets online with Eventbrite.