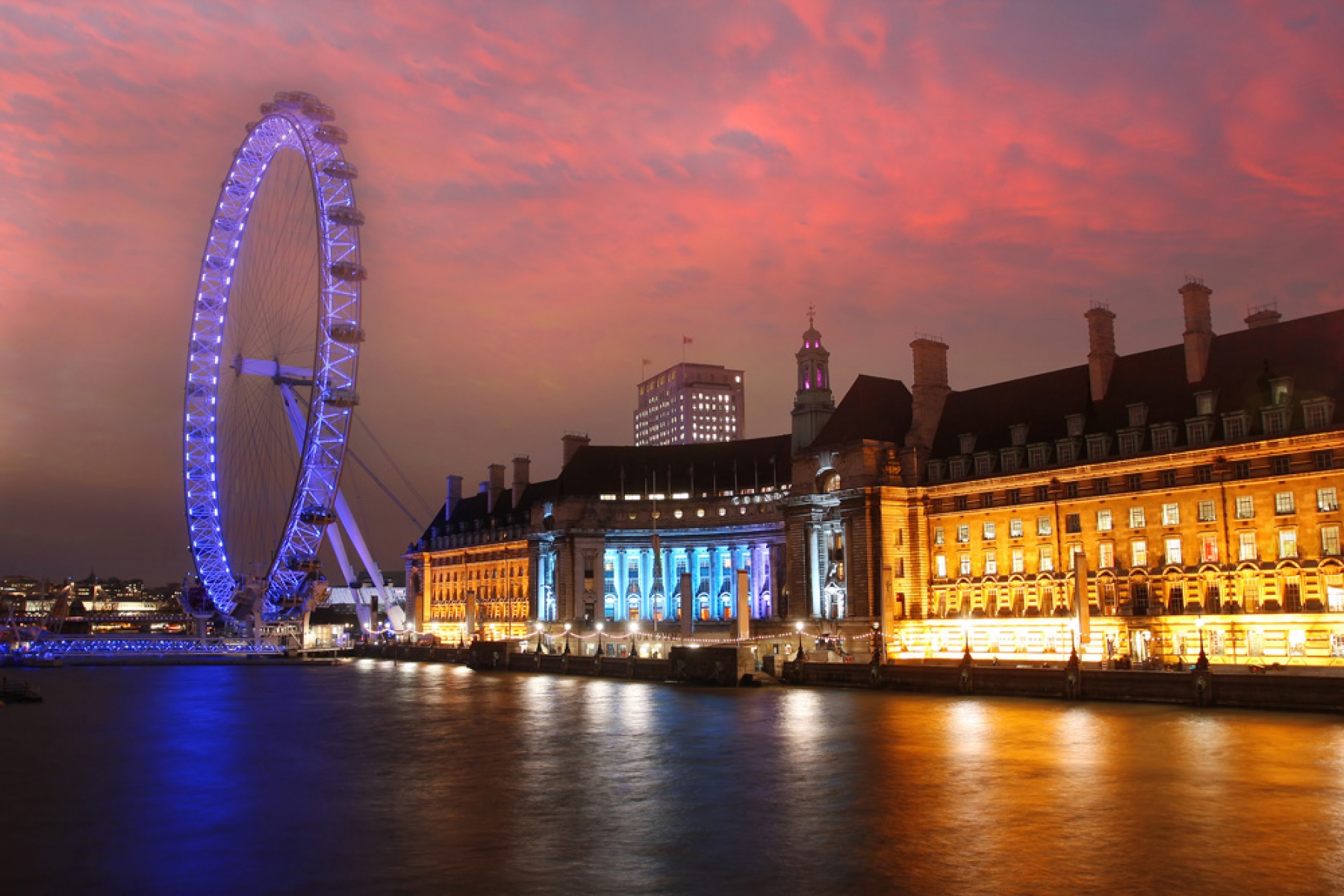 Choosing a Venue that Adds Value to Your Event
What makes for a perfect event venue? Is it the location, the building, the technology or the food?
According to etc.venues, the brand behind new London event space County Hall, it's all of those things and more!
Project Manager Head of Design Franck Rosello and Sales Manager Tiernan Redmond explain how choosing the right venue can help event organisers attract more attendees, reduce their costs, provide more effective networking and enhance their social media impact.
Related: 77 UK venues you need to check out
How important is location for an event venue?
FR: "When a client looks for space they often look for location, either because of where they're based or because they want to be near a train station. But it's not only practical considerations; often they want a location that will be an attractive proposition to their delegates. County Hall fulfils that premium location. Everyone – even international attendees – knows the London Eye, which is right next to it."
TR: "More and more we're hearing feedback from clients, from a social media point of view, they want images from their event that showcase where they are without them having to say. Our main exhibition space is all overlooking Big Ben and a number of clients book purely based on that – so that the backdrop to their event is Big Ben. They don't have to say they're in London, everyone can see for themselves and their message gets translated all over the world."
Related: 7 London venues with a view
Is using an iconic, historic or unique building for your event an advantage?
FR: "Event organisers want to have something to add value to their event that's unique. There's a lot bland space that's fit for purpose but very anonymous and in non-descript areas. It loses the sense of location and occasion. If you choose an unusual venue for your event, people look twice when they receive the invitation and say, "That sounds like a really special place.""
TR: "County Hall certainly has iconic status. Everything in London was administered from this building from 1922 to 1986 and it has been the backdrop to the New Year's Eve fireworks for the last 30 years. It's one of those buildings people know and conference planners do want to be associated with that."
Related: 5 Exceptional venues with a unique history
Are organisers looking for blank canvass spaces or more inspiring interiors?
FR: "We have tried to offer both. Whilst we've embraced the older features like the parquet floors, it's very much a contemporary environment. It's not a pastiche of something that used to be.
"There's a trend that's increasing; clients like to brand and add their own value to a venue. It goes further than a logo on the media wall; they'll pay an external company to apply vinyl on the walls, wrap whatever they can with their brand colours, so it looks like part of the fabric of the building. Our logo is only in one place because we wanted to create a blank canvass so that our clients can have a range of options to brand."
TR: "One of the pillars of the company is that you can brand all of this space, but it's not a bland environment. We invest heavily in our contemporary art. There's always something in your environment that you can start a conversation around. This is especially useful to encourage networking.
"We think we have achieved the perfect balance between respecting the history of the building and serving the needs of the modern conference organiser. Testament to that is a fellow longstanding tenant in the building who just came in to see the finished product. They've accommodated our project work over the last few months but he said, "My God that was worth it. To think we actually have a space like this in County Hall! You'd never think it when you walk into the building." It shows we've managed to retain that surprise factor, which is something event planners can benefit from."
Related: 7 Things to consider when viewing a venue
County Hall is your largest venue in London. Is bigger better?
TR: "London cries out for larger space. County Hall is 43,000 sq ft all on one floor – that's the biggest we have, by a large margin. The main conference room can accommodate 400 to 500 delegates and we have a catering and exhibition space that is larger than that, and that's the key part.
"Some space providers seem to think that by placing the maximum number of delegates in a room and then having them come out to a catering and exhibition space that's actually smaller is conducive to a successful event, whereas we think the complete opposite. We believe face-to-face networking is as important as the content-driven discussions in the main room."
Related: How and when to increase your venue size to match your event growth
What are the tech demands of the modern event planner?
TR: "From the media walls to the complimentary Wi-Fi, people just want more and more. In our main room we've added seven screens and seven projectors, so clients can display social media, event, exhibitor and sponsors content all at the same time.
"Everything is at the touch of an iPad. You can change the entire colour of the room. It's quick, easy and we can deliver amazing events for very little cost to the client; they don't have to bring in huge amounts of additional AV. It's all about what you can do with the equipment we've installed."
FR: "Our Wi-Fi system is geared towards a huge amount of people. If you have 500 people in one small area, with at least one device each, they can all log in without experiencing any problems. These are the sorts of detail which make a huge difference to organisers."
Related: Increasing event ROI with technology
How else have you incorporated market research into County Hall?
TR: "We've incorporated it into everything, even down to the design of the floor. Originally we had more meeting rooms that offered less flexibility. We always go out to partners that use our other venues and get their feedback on designs before we go to construction. At the end of the day it's not us who are going to be using it – it's them.
"The whole layout for our main suite and expo area was completely redesigned for that exact reason. Clients wanted an impact statement, so their view is now pivoted on Victoria Tower on the Houses of Parliament. Originally we had a bar down in that area and that made no sense to clients. They said, "A bar is lovely, but we're not going to make use of that during the day."
"When delegates see that view juxtaposed next to the nine-screen media wall displaying the client branding, they associate that branding with something so iconic."
Related: 8 Questions you must ask an event venue before signing
What trends are you seeing in event food and beverage?
FR: "Brain food remains popular – food that is able to sustain a working day. The days of sandwiches curled up on the tray or big stodgy meals are gone, however we still provide plenty of little treats so delegates will feel very special.
"Great coffee is a must too. If you can get a great cup of coffee around every corner we have to make sure ours is damn good. It has to come with choice and be made fresh from bean to cup, not a filtered type that's been standing in a flask for hours."
TR: "It's also about finding the right option for the event. We had a client recently for an awards ceremony. We talked through the dinner packages and she loved them but when we got down to the nitty gritty we discovered the whole point of the event was networking.
"We offer what we call Social Eating, it's where you have a huge number of market stalls with chefs behind them, and the whole point of it is you're moving around that space and networking with your peers. The client said, "So we don't have to sit next to one person for two and half hours and then just grab five minutes with someone at the very end?" Not only does this concept relate to what many clients are trying to do, it also delivers a wow factor for the attendees."
Related: How to secure your preferred venue with better RFPs
County Hall will play host to the Event360 Forum on 1 June 2017. The event promises to bring together brands, event agencies and suppliers for a day filled with inspirational content, one-to-one meetings and networking.