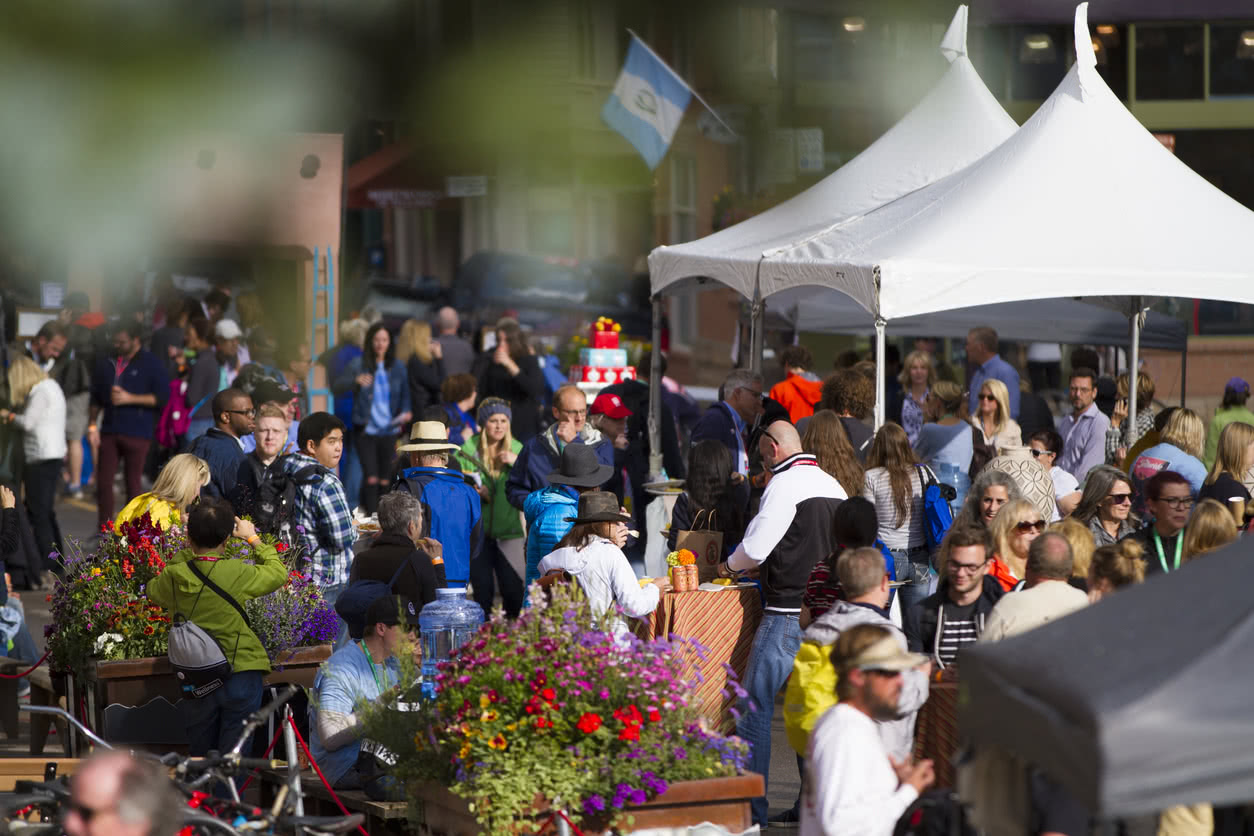 8 Tips for Beating Bad Weather at Your Outdoor Events
Whether it's a festival, fundraiser, or fun run, you'll know that outdoor event success largely depends on the weather. Even planning your event for the warmer months is no guarantee when it comes to the temperamental British summer. But with proper preparation, you can organise an outdoor event that's great for all your guests come rain or shine.
This year especially, going outdoors is a great way to help make sure that your event isn't cancelled by changes in restrictions. In this post, you'll find our top tips for planning and dealing with events affected by weather. Remember to check the latest local and national guidelines before hosting any event.
1. Bank on a plan B
Bad weather has the potential to completely derail even the most high-budget event, so it pays to put your back-up plan together with an expectation that it may very well come to this last resort.
If your event revolves around outdoor activities, it's worth arranging alternative entertainment options that can keep attendees engaged even if blue skies aren't on the agenda – as well as hiring portable pavilions or marquees to shelter event-goers and act as a rain event space. (Just make sure you have enough room for them all to fit in according to the latest guidelines.) For festivals and other events where guests will be moving between several outside locations, portable outdoor flooring can help prevent everyone from getting stuck in the mud.
This may increase your overall budget. But if you factor your rain contingency plan into the price of tickets from the start, you can still maintain your margins while allowing for any surprises that the weather may hold.
2. Know your outdoor event venues
Knowing that your location is suitable isn't enough to avoid any operational issues before or on the big day – especially when the wild card of weather is thrown into the mix.
Mapping out where the various elements of your outdoor event will take place, where hired vendors or paying exhibitors will set up shop, and how any essential equipment will be transported onto the site is vital to help ensure that everything is effectively coordinated.
It's also important to make sure that everyone at the event – staff and attendees – knows where everything is. Providing maps or signposts and making sure that all your key areas are clearly labelled helps to keep people flowing around the event. And should the weather turn on you suddenly, it'll help reduce crowds and chaos as people rush to get out of the rain.
Beyond the venue itself, outdoor event organisers will also benefit from learning as much as they can about its wider location. From noting sheltered spots where you can move your equipment in the event of a downpour to investing in wind blockers for events in notoriously blustery areas, you can fine-tune the conditions of your event and pre-empt weather-related disruptions.
When it comes to setting up for the event, making sure all of your structures are securely anchored is an absolute must to avoid a disaster. Toilets seem a bit wobbly? Get them checked over. Marquee looks like it might blow away? Move it to a more sheltered spot or double-check that it's properly tied down.
3. Provide essential amenities
While amenities may play a seemingly smaller part in the success of an event compared to elements like entertainment and catering, organisers should put the comfort and convenience of attendees first at all times.
And although rain can put a big dampener on an event, it's worth having a hot weather plan, too. So from waterproof ponchos and blankets to handheld fans and suncream, make sure you're in a position to accommodate attendees whatever the weather.
Sufficient seating is also recommended (depending on the nature of the event), adequate sanitation facilities are non-negotiable and, when rain falls, attendees will definitely appreciate a sheltered area where they can continue to enjoy the event.
4. Explore onsite storage
A waterproof storage solution could be the lifesaver your outdoor event needs so that nothing's left out in the rain. Hard-wearing plastic lockers ensure weather resistance, providing attendees with somewhere sheltered and secure to store their belongings or even a change of clothes, should the need arise. They can even prove highly useful for any vendors or exhibitors who are also looking for weatherproof storage.
5. Think about food and drink
If there's a distinct possibility that bad weather could wreak havoc on your event, make sure your catering options are practical and, more importantly, disaster-proof. Whatever's on the menu, a steady supply of fresh drinking water and food is essential – so take the necessary precautions to guarantee your guests are hydrated and well-fed throughout.
Food and drink can even be a saving grace for event organisers when it comes to managing attendee satisfaction, in the event that the weather does take a turn for the worse.
If the heavens open, make sure onsite vendors are ready and waiting to distract attendees from wind and rain with hot snacks and a combination of hot and cold beverages – perhaps even offering event-goers a free drink to keep their spirits high.
6. Honour health and safety protocol
Risk assessments and adverse weather policy should be part of every event organiser's repertoire.
Health and safety provisions are of the utmost importance when it comes to planning any sort of event – especially outdoors – and it's your job to put systems in place so that hazardous scenarios, no matter how unlikely, can be dealt with as a matter of urgency.
You'll need first aid kits handy as a minimum, as well as directions to nearby hospitals. But in the case of unpredictable weather, it could also be worth providing extra medical facilities onsite. This is especially true for larger events or events where attendees are more likely to need medical assistance, like sporting activities.
7. Keep everyone in the loop
Working outside in the rain isn't always easy but, with proper preparation, things can still run smoothly. For plan A – and even plan B – to go off without a hitch, seamless communication with event staff is crucial.
Make the necessary provisions to ensure that all staff understand their role in keeping the event running like a well-oiled machine and are fully aware of procedures in the event of bad weather.
Open communication is also vital, allowing real-time updates among all onsite staff and empowering your event team to react in unpredictable situations – so distribute the walkie-talkies accordingly. Having a PA system, screens, or giving your staff access to microphones can help you to get the message out if attendees need to move in or out of a particular area.
Communicating with your guests before and during the event will also help to make sure things go to plan – whether that's plan A, B, or even C. A gentle reminder of what the British weather might bring will ensure more of them come prepared. Letting attendees know what to wear to a festival when it's raining, for example, will help them get ready for a good time, with coats, umbrellas, suitable footwear, and suncream if needed.
8. Watch the forecast
Taking a proactive approach and making sure your plans safeguard against all types of weather will give you welcome peace of mind and help to make sure that your event is a success for everyone.
Although you can't book good weather, keeping an eye on the local forecast in the days leading up to your event can give you some idea of what to expect. That way, you can further communicate with guests on the likely essentials and alter your plan to suit.
Host a weather-beating event
Right now, people need something to look forward to – for many, a fun and engaging outdoor event could be just the ticket. Remember that, come rain or shine, a combination of caution, creativity, and careful planning means outdoor events can still be a great success. And don't forget about event insurance. Designed to alleviate the many worries that event creators face, it offers everything from event equipment cover to adverse weather extensions.
Before hosting any event, check the latest local and national guidelines. When you're ready to welcome guests, create a seamless event experience with Eventbrite.