New and alternative pedagogies for teaching Political Science
Description
Funded by the Political Studies Association and the American Political Science Association Specialist Group International Engagement Fund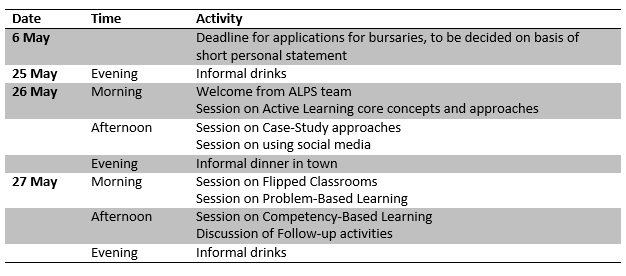 Workshop:
The workshop will be held on the campus of the University of Surrey, with provision of refreshments and a buffet lunch included. Sessions will run for approximately 1.5 hours apiece, to allow time for discussion and activities, led by the ALPS team. The final session will be focused on maintaining the networks that have developed during the workshop. An informal dinner will be held in Guildford on the evening of the 26th, with participants paying for themselves.
Bursaries:
In order to support doctoral students and early career researchers, a limited number of bursaries of £100 apiece are available, to help cover travel and accommodation costs. In order to apply for one of these, please send an email to Simon Usherwood (s.usherwood@surrey.ac.uk) by 1200 on Friday 6th May, with a 200-word personal statement on what they can bring to the workshop in the way of ideas and interests. Decisions will be made by Monday 9th May. Note that bursaries will normally be paid out after the event upon production of claims, unless particular needs are demonstrated.
The changing L&T landscape
In contrast to the US, the British university sector has traditionally been resistant to a division between research and teaching activity, at least in formal terms. Most academics are expected and required to be involved in both activities (in addition to administrative duties), with a pervasive, if ill-defined notion of 'research-led teaching' being a strong norm. While this has allowed for much cross-over, it has also tended to have the effect of marginalising teaching, since research has maintained a dominant position, especially in relation to promotion.
However, this picture has been changing over the past decade. Government policy has been an important driver here, firstly with the introduction of student fees and then with the use of new metrics for student satisfaction and achievement. The former has required universities to make much clearer the added value of studying on their programmes, while the latter has given incentive to improve positions on national league tables, which are seen as important in students' application decision-making process. Whether or not this is actually the case, there is much clearer evidence that students are increasingly sensitive to the provision they receive from their university, and a greater willingness to articulate their views, both internally and externally.
This shift looks set to take an important step in the coming year, with the government's recent proposals on a Teaching Excellence Framework (TEF), which would be analogous to its more-established Research counterpart. This TEF would, in effect, provide a national accreditation of 'good teaching' and allow universities to raise their student fees upon achievement of certain thresholds. Even if TEF's definition of 'good teaching' is rather narrow – proposed metrics would be student satisfaction, progression and completion rates, and employment outcomes – the direction of travel is clearly set out. The continuing cut-backs to central funding to universities have meant that increasing student numbers is the main way that universities can maintain their income. As a result, a renewed focus on good practice in L&T has arguably never been as important as now.
While the shift has been most notable in the UK, US colleges and universities are also under increasing pressure to demonstrate the achievement of curriculum objectives and added value, primarily through the operation of market forces and the wholesale disruption of the sector. Whether or not this is a presaging of the UK's own future path is moot, but both sides have much to learn from each other.
In addition to these shifts, new opportunities have also become available in the sector. On both sides of the Atlantic, there has been a significant growth in high-quality pedagogic research on the conceptualisation, operationalisation and value of new pedagogies. In particular, there has been growing recognition that active learning that places the student at the centre of the learning process is a more productive and engaging approach. Coupled to this, the advent of new information technologies has created new spaces for student activity, interaction and learning, as well as scope for new linkages with universities' research activity.
How this workshop adds value
Interaction between US and UK universities on changing L&T has been limited to date. This workshop aims to build a base on which can develop a much broader and more fruitful interaction between the members of the two Associations, by show-casing not only new pedagogies but also the value of a community of practice. As such, the workshop is not only about personal professional development, but also about creating a stronger organic linkage between the two Sections, ideally with the ambition of generating new joint activities. By bringing three of the ALPS team – Victor Asal (SUNY), Chad Raymond (Salve Regina), Amanda Rosen (Webster) – to the UK to facilitate this workshop together with Simon Usherwood (Surrey), it will be possible to offer a breadth of experience and practice to participants.
While traditional lecture and discussion methods continue to dominate in pedagogical practice, there is a wide range of innovative techniques available to instructors that research has shown has a positive impact on students. This workshop introduces instructors to several of these newer pedagogical approaches for teaching political science theory and practice, including problem-based learning, the flipped classroom, the case-study approach, and competency-based teaching. We begin by introducing the method, and work together through an example of how it would work to teach a central concept in political science. We will extensively discuss the merits and challenges of each method and then participants will have an opportunity to redesign a lesson or class to include one of these methods.
Around these sessions there will be space for informal interaction and debate. The ALPS team's experience has shown that these spaces are vital for individuals to really get to grips with the potential that such approaches offer, and to build more lasting social interactions with colleagues.
The ALPS team
A key part of the proposal is the quality of the team that stands behind it. Our experience and enthusiasm has already generated a strong track record. Access to this funding opportunity will finally allow us to bring this to a British audience for the first time.
The five original members of the Active Learning in Political Science group first met at the APSA TLC held in Albuquerque NM in 2011. Their initial mutual interest in using simulation games led them to start a blog (www.activelearningps.com) that same year, which has progressively built up a global audience with over 6000 hits per month and a regular stream of guest posts from US and UK colleagues. In addition, we have run a number of collective workshops in the US and elsewhere on the themes proposed here, as well as sessions run individually in a number of countries.
Hotel accommodation in Guildford
The following hotels are within walking distance of the University and have easy access to public transport. There are frequent bus services from the main campus to the town centre and train/bus station (5 min drive). We advise that you book your hotel accommodation well in advance.
BUDGET
MEDIUM PRICE
Mandolay - town centre
Asperion - near the town centre
This 4* guesthouse is within walking distance of the town centre, train station and the University.
MORE EXPENSIVE
Holiday Inn - away from the town centre, near the University
Angel Hotel - town centre
A small luxury hotel situated in the centre of Guildford's historic High Street. It is one of England's oldest and most charming inns.