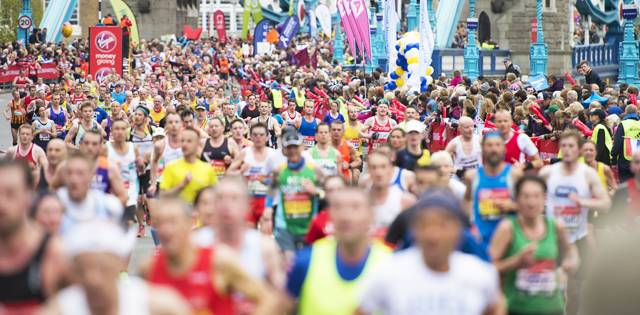 A Modern History of UK Fundraising Events
Britain has a long history of charitable giving, with our oldest registered charity dating back as far as the 12th Century. However, it isn't until the turn of the 20th Century that we see the birth of the mass participation fundraising event.
The origins can be traced to the 1908 Olympic Games, when the Olympic movement visited Britain for the first time. Over 2,000 athletes competed in a variety of disciplines, including the first ever marathon to be held in London.
The race, organised by a local athletics club, drew a crowd of 90,000 spectators and, such was its success, went on to become an annual occurrence in the capital.
The Polytechnic Marathon was held nearly every year until 1996, and although it never attracted the huge number of participants that city marathons do now, it helped establish the sport and encourage public involvement.
It's unknown how much money was raised by runners taking part in 'The Poly'. Although many would have undoubtedly have sought sponsorship for various causes, the charitable aspect of the event was a less formal affair.
It wasn't until the launch of the London Marathon we know today, by former Olympic athletics champion Chris Brasher and journalist John Disley, that fundraising became a core part of participation. In 1984, the London Marathon named its first 'official charity' and granted the Sports Aid Foundation some entry places to help their fundraising. The London Marathon has had one or two official charities every year since.
Credit: Virgin London Marathon
As charity involvement grew, the organisers decided to offer more places to a wider range of charities and, in 1993, introduced the Golden Bond scheme. Under this scheme, hundreds of charities buy guaranteed entries for £300 each. Runners who take one of these places commit to raise a four-figure sum for their cause.
Over the last 15 years, this scheme has grown and now includes more than 750 British charities with a total of 15,000 guaranteed places – that's a third of all entry places.
Additionally, many of the runners who gain a place in the marathon via the ballot also raise money for charities – in total more than three quarters of competitors now run for a good cause, collectively raising more than £50 million annually.
Read our Exclusive Report on How to Increase Participation in Your Fundraising Events based on 1000 respondents.
The running bug hits 'up North'
The year the London Marathon was launched also saw the inaugural Great North Run take place in Newcastle upon Tyne. The half marathon was set up by Olympic long distance runner Brendan Foster, initially as a local fun run but it proved to be incredibly popular. The first event attracted 12,000 participants – a figure which quickly grew to more than 56,0000. More than half of runners taking part in the event now raise money for charity.
The Great North Run is the biggest mass participation event in Britain and one of the biggest half marathons in the world. This year, Brendan Foster aims to give the race a more international flavour by recruiting one runner from every country in the United Nations – 193 in total – to take part in the September event.
Credit: Great Run
"When we started this off we didn't know what was going to happen," he says. "From day one, the Great North Run has been the biggest mass participation event in Britain.
"We've had 36 years at number one in the charts. More than Sting or Mark Knopfler! And more than Ant and Dec. We've grown the event – we've had world records here, the millionth finisher.
"What we're saying, is that it's the world's favourite run, because we've had more runners than anywhere else in the world. Now we want the world to come and join us."
The British public gets on their bikes
The London Marathon and The Great North Run helped firmly establish running events as fundraising vehicles – according to JustGiving, running events now account for 77% of all event fundraising pages.
But during the 80's cycling was also growing in popularity, with the launch of the London to Brighton Bike Ride. The race – which is now British Heart Foundation's flagship fundraising event – was started by street performer Robert Stredder and his partner, who gathered 34 members from their cycle club to ride the 54-mile route in 1975.
The event grew in numbers each year and BHF became officially involved. In 2015, the London to Brighton celebrated its 40th anniversary, with more than 22,000 riders taking part in the race – including the charity's ambassador Pippa Middleton.
Credit: British Heart Foundation
"The London to Brighton Bike Ride has gone from being a jaunt down to the seaside for a group of friends, to an event which people have on their bucket lists," says Tristam Jones, Head of Events at the BHF.
"Whether people take on the ride as a one off challenge or come back year after year, what is unchanging is the unity and commitment we see every year from thousands of people willing to helping others. We're very proud of what this ride has achieved."
This year, the iconic bike ride is getting a makeover, with the addition of a 75-mile off road mountain bike route to Brighton.
Sisters start doing it for themselves
The evolution of mass participation fundraising events in the UK includes the development of the first women-only event in 1994; Cancer Research UK's Race for Life.
Starting as a single 5k fun run in London's Battersea Park with just 600 participants, it has grown to become the country's top grossing fundraising event, generating more than £51 million annually.
Emma Hyatt, Head of Race For Life at CRUK, says: "If you were to launch a female-only event now it would be very different because there are so many others, but in1994 there wasn't anything like that.
"We were able to capitalise on what we saw was starting to become really successful. We started putting more and more events on around the UK and in 2009 we had our record year with 750,000 women taking part."

Emma believes the success of the event comes down to several factors: "It's the feeling of sisterhood, and running alongside other women who have been affected by cancer. The back signs the women wear, which say who they are running in memory or celebration of, automatically bring to the front why they are taking part and give them an affinity with one another. It's also the fact it's non competitive and really accessible for all abilities."
Race For Life has been a game-changer for CRUK, raising an incredible £550 million since it started.
"It's a huge income stream for us," says Emma. "We're the only charity researching all types of cancer – over 200 types – are the need for funds is immense. This year we're hoping to raise £55 million, which is enough to cover whole pots of research into certain cancers. Without that money the outlook for cancer would be very different."
However, as the number of charity events has multiplied over the last decade, competition is getting stiffer.
"For at least 15 years the 5k and 10k sponsored run was enough, we just saw growth, whereas now people want different experiences," she says. "If they're going to ask people to sponsor them they perhaps want more of a challenge.
"It's become a lot more competitive and that's why we've worked really hard at innovating what we do with Race For Life. We've launched an obstacle race – Pretty Muddy – a marathon, a schools programme and this year we're launching a hike as well."
Read our Interview with Claire Rowney, Director of Innovation, Campaigns & Events
Barnardo's thinks small
Another important innovation in the history of UK fundraising events was the birth of the first event concept specifically designed for pre-school children. The Big Toddle was launched by Barnardo's in 1997 and challenged parents and childcare professionals to organise sponsored group walks.
Hannah Gibbs-Harker, Project Manager – Community Fundraising, at Barnardo's, says: "The idea of the event was about children helping children, so we saw a really nice synergy with the charity. It started quite organically and has just grown exponentially ever since. It's the biggest fundraising event for the under fives in the UK, with hundreds of thousands of children participating every year."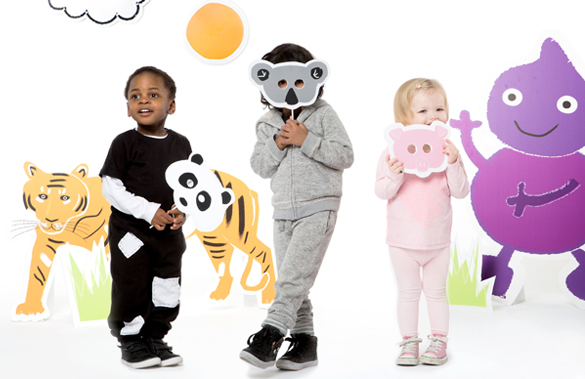 2016 marks Barnado's 150th anniversary – and the 19th year of the Big Toddle. According to Hannah, the event has been vital in keeping the charity at the forefront of people's minds.
"Barnado's is one of the UK's longest standing charities so one of its challenges has been to stay relevant for the younger market. Getting into the under five's space is a great way to get exposure in the community.
"Every year we get thousands of nurseries up and down the UK organising toddles so it really is a beacon for us in that community. I think it's been popular because it's easy to organise an event and it's a great opportunity for nurseries to perform within their community and show their philanthropic side."
Dressing up drives participation
Runners in novelty costumes have long been a familiar sight at fundraising events, but it wasn't until 2003, that an event asked all participants to come dressed as the same thing.
The Great Gorilla Run was launched by conservation charity Gorilla Organization and required all runners to dress as, you've guessed it, gorillas.
Chris Perrin, Event Manager at The Gorilla Organization, explains: "The Charity decided it needed a flagship fundraiser that had a nice novelty factor and something that could become and annual event.
"The Great Gorilla run was the first of its kind in London to have fundraisers running in a fancy dress costume. The popularity of the event in its early years set a president, which has now been copied by many charities both domestically and internationally."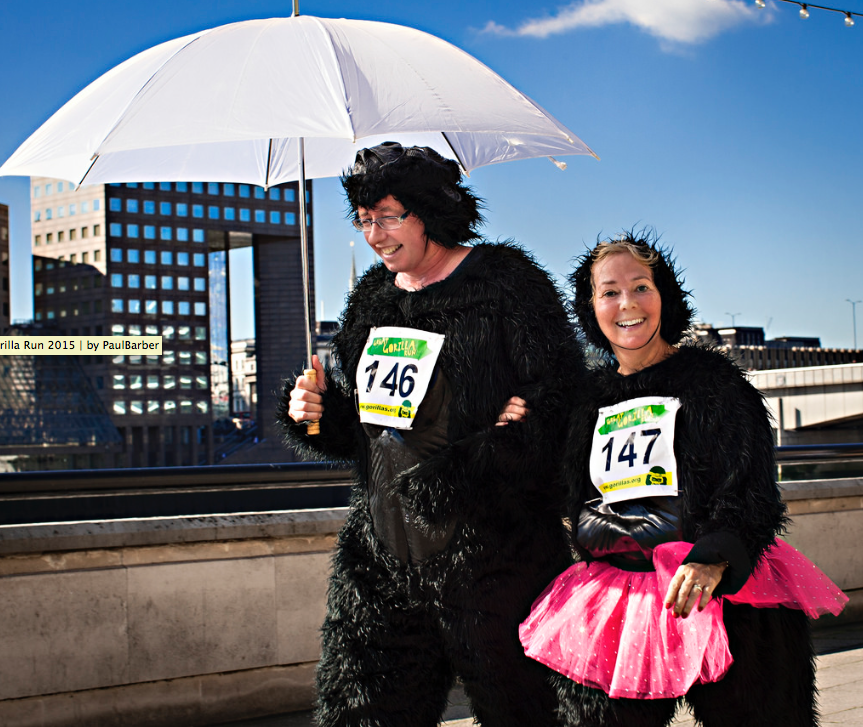 Although still one of the smaller mass participation events in the UK, attracting around 800 participants annually, The Great Gorilla Run has still managed to raise more than £2 million for the charity's projects in Africa and for gorilla conservation.
"The Great Gorilla Run is our flagship event and is hugely important to us but it has become harder to stay competitive. There are significantly more events similar to the Great Gorilla Run than when it started so retaining participants and raising the same amount of money as in the event's top years of 2007/2008 is always a challenge.
"The financial landscape has effected fundraising, since the economic downturn post 2008, we have different types of people take part, less city bankers than before. The cost of the run has also increased with inflation too. The challenge is to keep your fundraising events current and significant in a market that is somewhat saturated with events nowadays.
"We plan on making the event bigger and bigger, raising more and having more and more people from all over the world come and take part. We would like to reach more businesses and have a larger effect at a corporate level, both for donations and teams taking part."
Related: 15 Unique, Unusual and Fantastic Fundraising Event Ideas
The Olympic effect
The success of Team GB at the London 2012 Olympic Games is thought to have played a big role in the increased interest in mass participation sporting events, with people keen to emulate their heroes.
A year after the games, research conducted by Just Giving and Active Network, showed there had been a 21% growth in triathlon fundraising and a 30% growth in cycling fundraising.
Now a new event will capitalise on that Olympic spirit by giving participants a chance to swim competitively in an official 2012 Games venue. Swim Serpentine, being organised by London Marathon Events in partnership with British Swimming, is a two-day open water swimming festival staged in and around the Serpentine in Hyde Park.
The first day (Saturday 24 September) will be a mass participation event where up to 6,000 swimmers will have the chance to swim a mile in open water. The second day (Sunday 25 September) will feature the British Open Water Swimming Championships over a distance of 3.2km, alongside an elite invitation 5km swim.

"We all remember the stunning images from the open water competition in the Serpentine at the London 2012 Olympic Games and this is the chance for everyone to swim in this great venue." says Hugh Brasher, Event Director for London Marathon Events.
Virgin Money Giving has been named as the official fundraising partner for the new event and one of the charities already signed up to take part is Tommy's, which funds research into miscarriage, premature birth and stillbirth.
"Tommy's is really excited to be involved in Swim Serpentine," says Katherine Tinker-Switzer, Events and Corporate Partnerships Manager at the charity. "London Marathon Events has a great track record of creating really wonderful events and we're sure our supporters will love the challenge!"
Innovation ahead
Despite increased completion, which has seen a 700% increase in the number of fundraising events since 2007 alone, event-based fundraising is in healthy growth and participation levels continue to ascend.
The challenge remains for charities to continue to innovate and present new experiences that excite, inspire and dare their supporters into taking part and raising more.
Watch this space!
Here's even more UK fundraising events history plotted against key timelines: