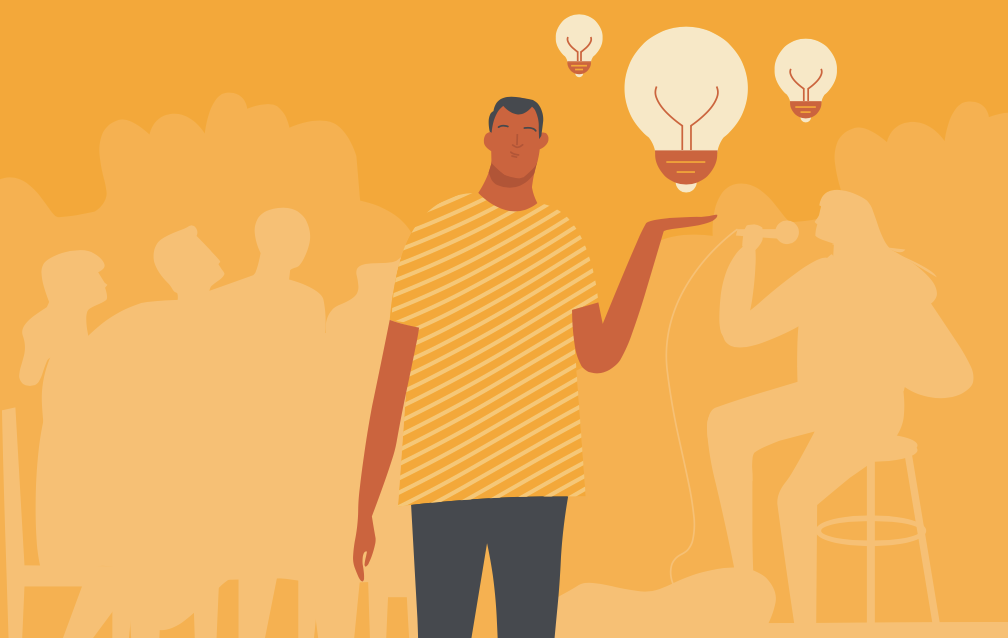 70+ Unique Fundraising Ideas For Successful Events
This post was originally published in February 2015, and has been updated in 2019 to give you a ton of new and unique ideas and some background on what a fundraising event is and why you might want to hold one.
Creating a fundraising event is a fast and effective way to raise funds for your charity, club or other non-profit organisation. It doesn't have to be a ton of work either! With the right fundraising event ideas, successful planning and a few key considerations around your target audience and the type of activity you want to plan for, you'll be sailing your way into new funds! And if you're looking for something other than the usual bake sale or black tie dinner, then we have more than 70 easy ideas for successful charity fun days, nights and events. Ideas that will excite donors and engage everyone taking part. Let's dive right in!
What is a fundraising event?
A fundraising or charity event is designed to raise money, awareness and/or sponsors for your registered charity or non-profit organisation. The benefit of a fundraising event is that you can raise funds quickly in a live event environment, and raise awareness of your cause which could take longer to do online or through "cold" communications.
How to learn event planning – start fundraising!
If you don't have much experience of planning an event, organising a fundraising event is a great place to start. The benefits are:
No experience required – fundraising events are a great place for someone with no previous event planning experience to get started.
No budget required – You can organise a charity event on a small or large scale, so you don't need a huge budget. Many venues or businesses will also be happy to help donate prizes or lend space for a charity initiative.
Easy access – Charities are always looking for volunteers and will gladly accept help from someone who is passionate about making a difference.
Build your portfolio – Not-for-profit events are a great addition to your CV and show off your experience and your ability to organise a public event.
Develop your network – during the event planning you're likely to meet suppliers like caterers and bands, business owners, marketing professionals and the general public, who will all help build your network.
How to plan a successful fundraising event
Here's how you can arrange a charity event in order to raise funds for an organisation that needs them.
1. Decide on a core purpose
Why do you want to run a charity event in the first place? The obvious answer is 'to raise money' but it's not always as simple as that. Sometimes charities organise events to raise awareness about their work or a specific issue, engage with a particular audience, or as a low-cost way of acquiring new supporters who may contribute in other ways in the future.
Identifying your purpose makes it much easier to set up all of the details for your event and get everyone from the charity itself to your personal network involved and ready to share the workload.
2. Choose your charity event idea
Once you have decided on your charity and the purpose of your event, you'll need to decide on the best fundraising event idea to help fulfil your aim. For example, if you want to raise as much money as possible, you may want to choose an outdoor event that will bring in lots of families at the weekend when they're free. If you want to promote the charity to businesses and investors, you may want to host a sit down dinner. Choosing your event is really important, as it will give all of your fundraising activities something to focus around.
3. Review other charity events
Before planning your fundraising event, look at some of the many events out there already. Which events are currently popular and what can you learn from the ones who have got it wrong? Try to experience as many charity events as possible as an active participant. You'll be able to find out what participants are excited or unhappy about, and how to handle specific challenges like ensuring on-the-day registration runs smoothly or deciding what music to play at the finish line. Arranging a charity event can be hard work and time consuming, so the more information you have to hand the better.
4. Set a date, location and time for your charity event
Before you decide on your charity event, look at the date, time and space you have available. If, logistically, you only have one night for a fundraising event, this is going to determine a different course of action than if you have a whole week. Look at event calendars to see if you can tie in to any national events, as coverage will often be higher; and try to find a location that's easy for your ideal audience to get to.
5. Create a launch marketing plan
Turning a great idea into a great event requires a strong plan. Pull together a "launch team" for your charity event but be wary of involving too many cooks at this stage. Be clear on the biggest tasks, people responsible, and key milestones – and be firm about staying on schedule. Try to sound out friends of your charity before the official launch so they're primed to sign up or share content immediately – this is crucial for launching with a splash.
6. Get donations
In order to make your charity event a success you'll want to set a target mark for money raised. Donations for your charity event can be made by attendees, through ticket sales, activities, from the markup on food and drink sales, or through an event such as a raffle or auction. Here are some methods you can use to get donations for a charity event:
Promote to your personal network – your personal network is a great place to start to ask for donations towards a charity event, or to get people to attend. Include as much detail as possible about who the event is for and which charity will benefit from the donation to increase interest. This could be via Whatsapp group, email, social media or a leaflet.
Create a Facebook event – Facebook already has a huge community hanging out, and the tools to help you create an event and even an online donations page. Use this to get donations for your charity event and to encourage those who can't attend to donate as well.
Approach local businesses – if you need donations to help cover the cost of setting up a charity event, local businesses are a great place to start. You can exchange value in the form of sponsorship by allowing a business to have their logo or name around the charity event, or get them involved in donating prizes for a raffle or auction.
Make it easy to donate – the less friction there is between requesting a donation and the person making it, the more likely you will be to receive your donation. Think about an easy-to-use donation page or website that anyone from a friend, to a local business, can donate to in just a few clicks.
Ask suppliers for donations – when it comes to charity events many suppliers will help ensure the maximum amount of funds possible goes to the charity. See if your venue, caterers or staff will "donate" some of their fee to your chosen charity, or if they'll reduce the markup on items to help you raise more.
7. Go to market
Now that you have your charity and an outline of your event idea and who it is for, it's time to go to town. Building momentum and interest is a key part of a successful fundraising event. Think about the different marketing channels you have on hand and build an event marketing plan. Then use our event planning checklist to ensure you have everything covered.
Fundraising event ideas
Need help coming up with a fundraising idea that will inspire participation and help you collect more funds for your cause? Here we've put together a list of 72 unique fundraising ideas that are sure to get you started — or spark a new idea of your own.
Charity night ideas
1. Silent auction
Get creative with the auction items and don't think you can only auction wine or chocolates. Include experiences in your auction to get the your audience excited. Is there a local business that might be willing to give away a free haircut or manicure? Or perhaps someone with a holiday home who'd be willing to offer it up for the weekend?
2. Singles charity night
Bring dating hopefuls together and honour one of your favourite causes at the same time! You can even make it themed so the activity relates to the charity, for example making dog toys for a local animal shelter or cooking meals for the homeless.
3. Message sending
Sky lanterns and 'message in a bottle' are often warned against now due to the ill effects they can have on nature, but sending a message is still a great idea for an evening celebration. More environmentally-friendly ideas include writing a message to 'pin' to a washing line, tying a biodegradable ribbon to a tree or making a time box that someone keeps safe before you all meet to re-open the messages. These are ideas that all of the family can involved in and that make for a great insta-worthy moment.
4. A big "night in"
Host a relaxed, laid-back gathering at your organisation (dress code: PJs and comfy clothes) and ask guests to donate what they typically spend on a big night out while you watch movies, eat snacks and drink hot chocolate.
5. Ugly jumper party
We all have that one horrible jumper a well-intentioned family member knitted us. It's time to put it to good use. Why not ask all staff members to wear an ugly jumper to work and donate to the cause?
6. Red cup party
One for the adults only – host a cocktail party and have participants buy the red Solo cups, made famous at American frat parties, at the door, at a wildly inflated price to be donated to your cause. Amazon and many other online stores often sell them cheaply.
7. A night of gaming
Grab some retro consoles, borrow some TVs and you've got yourself a gaming event. Just like Extra Life, which organises gaming events to raise money for local children, this fundraising idea is great for kids and big kids alike.
Charity fundraising ideas
8. Charity match
Whether it's a football match, a game of rugby, or any other group sport, why not organise a charity match to bring people together? You could even take a leaf out of Soccer Six's book and organise a football match with local celebrities.
9. An organised walk
'Walk a Mile in Her Shoes' is an annual fundraiser organised by Sojourner Family Peace Center, in Wisconsin, an America-based domestic violence prevention charity. It invites men to slip on high heels and literally walk a mile in women's shoes to raise money and awareness for domestic-violence programs. An organised walk with a theme is a great way to raise participation and funds.
10. Morning dance party
Great for parents to organise with children, an alcohol-free dance party with fancy mocktails made from energising freshly-squeezed juice.
11. Fancy dress party
Rather than a fancy black tie do, create a fancy dress party and pick an unusual theme. Why not consider a historical theme like "Come as your favourite feminist" or "Guess which inventor I am?" Check out this blog for 15 creative event examples.
12. Fashion show
Got a catwalk? Got models? Got some haute couture? You actually don't need any of the above to pull off a fundraising fashion show. All you need is some space, some clothes and a small team willing to have a laugh. Use this to sell your charity's t-shirts or to raise money by auctioning off donated clothes at the end of it.
13. Carnival
A carnival is always a fun way to raise funds and can be suitable for any budget. Make up your own games with homemade booths and costumes for a lower cost and more personalised event experience.
14. Treasure hunt
Use an augmented reality app, or create your own treasure map and ask everyone to pay a small fee to take part. The winner can be crowned "top pirate" in an award ceremony.
15. Pamper-yourself festival
Curate a selection of stalls offering things like luxury beauty treatments, chair massage, makeovers, wellness items, and clothing from local boutiques then ask them to donate a percentage of profits to your cause.
16. Balloon pop
Fill a room with balloons, hide prizes inside a select few, and sell needles to event-goers for a chance to "pop for prizes." This is a great charity idea for the whole family to get involved in, as long as you watch the needles carefully.
17. Alice in Wonderland-themed tea party
Find a whimsical spot to serve midday earl grey and biscuits with "eat me" signs on them.
Food fundraising ideas
18. Bake sale
This is an oldie but definitely still a goodie. Stand out with a theme that's on point with your fundraising focus, like baked goods made from locally sourced ingredients to benefit local farmers.
19. Adult lemonade stand
Spice up your average glass of lemonade and add gin, or another liquor of your choice, for an adult-only lemonade stand.
20. Ice lolly stand
Another summer time fave. You can freeze anything liquid in a homemade ice lolly mold. Be creative with your flavours! Margarita lollies sprinkled with salt? Mmmmmm.
21. Pancake stand
Make sure you offer options for everyone — the gluten free, the vegan, the sugar-free, and the foodie who will eat anything. Then add lashings of topping choices!
22. Pie-throwing stand
Invite people to come and let off steam at a pie-throwing stand. If you don't want to sacrifice anyone's face, use coconuts or a dummy character instead.
23. Burger eating stand
The "Four Pound Burger Challenge" is an annual burger-eating contest organised by Norfolk butcher, Ali Dent. Held to raise money for mental health charity MENCAP, contestants are challenged to eat giant four-pound Norfolk patties – the equivalent of 16-quarter pounders! Why not create your own competition which will help to raise funds for your special charity.
Unique themed fundraising ideas
24. A doggy day out
Anything that involves dogs will be a sure fire success. An animal shelter in Massachusetts, US, held classes at the Great Falls Animal Shelter annual Fall Fantasy Dog Show including musical sit, dog/owner look-alike, waggiest butt, best vocal, best biscuit catcher, best hair, most mysterious heritage, best trick, best costume and people's choice. Owners are also encouraged to get into the spirit of things by dressing up in costumes with their dog.
25. Bowl-a-thon
Bowling is a crowd-pleaser, and this one's a great rain-or-shine activity. You can set up an information and merchandise stand in the bowling alley to raise extra cash, too.
26. Wet and wild
Charities up and down the country capitalised on the tradition of Boxing Day swims last year, by organising charity dips. Dressing up as everything from Pirates and Princesses, to Angels and Santas, members of the public swam in seas around the country to raise thousands of pounds for charity. And if you can't wait until Boxing Day, why not organise other adventurous events to push participants to the limits?
27. Casino night
Take the gambling up a notch with multiple card games, costumes (Wild West theme, anyone?) and cocktails.
28. Activity marathon
Dream up an activity volunteers can sustain for 24 straight hours, and stream it live or get the local news to cover it. Dance marathons are the most popular variation, but you can get as creative as you like!
29. A movie-themed night out
Choosing a good theme can turn an ordinary fundraising event into a great one. A chain of charity shops in Hampshire, raising funds for Children's hospice Naomi House, acquired a licence to thrill with a James Bond themed fundraising event. Attractions included a brass band and choir performing music from the classic spy films and a chance to pose with a famous Bond car, the Aston Martin DB9. Tapping into a popular brand or theme can work wonders for your attendee engagement. (NB: Be careful when using trademarked or copyrighted brands for your own purposes – make sure you seek relevant permissions and legal advice where necessary).
30. Workout class fundraiser
Find a local gym class or personal trainer and ask them if you can host a workout fundraiser. Charge an extra fee for entrance to this special one-time class with everyone's favourite instructor. Or get permission from your local council to hold a donation-based class in the park!
31. Scavenger hunt
Puzzle events like escape rooms and scavenger hunts are growing in popularity, so this is the perfect time to start your very own! Get inspired by Hidden City and create your own treasure hunt around your town, and get people to pay a fee to register as groups. The team who gets to the final destination first wins!
Sports fundraising ideas
32. Golf tournament
If there's a particularly swanky golf course nearby, ask them to donate some less popular hours to your cause and let the beginners and the pros loose in a golf tournament.
33. Rock-paper-scissors tournament
You don't need any special equipment to play rock-paper-scissors, just your hands and a location to do it in. Set up the rules and get the crowd riled to bet on their favourite contenders. Offer drinks and snacks at a reasonable price and charge attendees to bet on participants or to take part.
34. A running race
Fundraising runs are a timeless way to raise money for a good cause. Take the Go Ape event in London which sees over 600 people wearing gorilla costumes while running to raise money for endangered animals. In a truly unique fundraising idea, The London Great Gorilla Run saw runners take on an eight km route past landmarks such as St Paul's Cathedral and The Tower of London, resulting in £100,000 for The Gorilla Organisation. The event even attracted the attention of celebrities, conservationist Bill Oddie and spoon-bending magician Uri Geller, who handed medals to everyone who took part.
35. Goal kicking contest
Let contestants battle it out to be the next Harry Kane with a goal kicking contest. Charge for entry or take bets on the winner.
36. Rounders tournament
For a lot of us, this was the first sport we ever learned in school. Everyone knows the rules, so all you need is an empty field, a team, some bats and a ball.
37. Tennis tournament
Host round-robin tennis matches with doubles teams, and sell refreshments to participants and viewers. Great for the entire family to get involved in.
38. Poker tournament
The proceeds will go to charity, of course, but the winner gets acclaim and a grand prize as the poker champion!
39. Beer pong tournament
Set up multiple stations around your venue, with local microbreweries selling beer they've donated to your cause. The ultimate winner takes home a keg.
40. Climbing challenge
Rent a climbing wall or team up with a local climbing gym to hold a race to the top. You can create teams and individual players who battle it out to be the climbing champion! Everyone pays £5 to take part.
41. Trivia night
Host a trivia night at a local bar and have participants pay to play. For extra credit, the bar can donate a portion of proceeds of drinks and food sold.
42. World record attempt party
Dig out your Guinness Book of Records (it doesn't have to be the newest version!) and give guests a list of "highly attainable world records" they can attempt to break at your event.
Community Fundraising Ideas
43. Neighbourhood street party
This is a great way to make money for a local cause or a recent calamity, with the added bonus of bringing your community together. Have neighbours donate food, drinks and lawn chairs and get together for a big bash.
44. Community garage sale
Most people have tons of stuff they are secretly dying to get rid of. Have them donate it to a neighbourhood sale with the proceeds going to your charity.
45. Car wash
This isn't just for the movies or for students. Have your execs or the political groups in your community washing the cars and donate the proceeds to a good cause.
46. Clothing swap
Everyone brings a bag of clothes they don't wear anymore. Set everything up on retail racks, and let participants buy a new item from a stand they like. Donate all the rest to charity.
47. Book sale
Ask everyone to donate books they no longer want and sell them off at a book sale. Ask the donator to write a little blurb for extra buy-ability. All proceeds go to charity.
48. Tip night
Ask a local restaurant or café to donate tips or a percentage of sales for the night to your charity.
Creative fundraising ideas
49. Street art
Often called "Paint Jams", these successful charity events bring together a number of street artists to paint live, drawing in fans who watch the artists in action. Adding a raffle or an auction while the paint jam is going on is a great way to bring in extra cash from the event and give it a festival vibe.
50. Theatre charity night
Partner with a local theatre company and ask them to create a theatre charity night where proceeds from tickets can be donated to your cause.
51. Photo exhibition
Have participants contribute photographs they've taken that relate to your charity. Have an art opening where event-goers buy a ticket to attend then auction off the photos.
52. Craft fair
Get a bunch of artisans on board and charge tickets at the door. This idea is perfect for the holidays, when people are keen to buy unique, original gifts for their loved ones.
53. Haircut party
Find a local salon whose stylists are willing to donate their time for just one day to give haircuts. Customers pay what they think their haircut is worth, and all of the money goes to your cause.
Educational fundraising ideas
54. Mentorship auction
Set up bidding for one-on-one chat sessions with thought leaders or business owners from your local community. This gives budding entrepreneurs the chance to speak to an expert, while you raise money for your charity.
55. Film screening
Is there a documentary related to your cause? Host a night at the movies (you could even create an outdoor cinema), with sweets, popcorn, and drinks, with the profits going to your charity.
56. Sausage sizzle
Popular in Australia & New Zealand, BBQ hosts charge for a hotdog and donate the proceeds to charity. Down under, they sometimes call this "Democracy Sausage" because this type of fundraiser is often held at polling stations on Election Day.
Environmental fundraising ideas
57. Seedling sale
Set up in a busy car park and ask departing drivers to purchase seedlings of plants or trees. Call it a "carbon exchange" — for the pollution their cars emit, drivers purchase a seedling, and you commit to planting it.
58. "Junk" donations
Have community members donate their used ink cartridges, defunct electronics and old magazines. You can resell these to recyclers for a profit.
59. Tote bag sales
Get a local artist to create a cool design to print on a series of low-cost tote bags. Sell these and donate the proceeds to charity – your hook is that it'll save your customers from needing to buy plastic bags which pollute the ocean!
60. Guided walk
Host a guided walk led by an expert who can point out the value of the environment and why our natural world is so valuable.
61. Meatless Monday dinner party
Giving up meat for just one day a week can have a huge positive impact on our environmental footprint. Promote the idea of "meatless Monday" with a hosted dinner that guests can pay to attend.
62. Plant a community garden
Invite those with aspiring green fingers to come together and plant a community garden to benefit at-risk communities.
Musical fundraising ideas
63. Silent disco
No need to hire a professional DJ or performer. Simply plan a killer playlist and provide each attendee with a headset when they enter the door.
64. Battle of the bands
Invite some local guitar heroes and give your donors a chance to support your cause and enjoy the performance.
65. Talent search
How many of us have rock-n-roll dreams? Here's everyone's chance to try out for a band. "The band" is one you'll put together for this event, with the grand prize a chance to perform at a local venue.
66. Karaoke contest
Recruit a local celebrity or two to judge participants willing to put themselves out there, The Voice-style.
Online fundraising event ideas
67. Dare fundraiser
Sponsor a dare contest in which participants agree to do outlandish things if sponsors contribute a certain amount of money.
68. Baby photo contest
Charge a small entry fee for participants to upload their baby photos, and then have the crowd vote on categories like "cutest," "chubbiest," and "most improved".
69. Call sprint
Send out emails ahead of time to let your charity's supporters know you'll be calling and asking for a donation. Then assemble volunteers to make as many calls as they can in a given period of time.
70. Donations on your event page
Make it easy for people to give even if they can't attend your event with donation buttons on your event page.
71. Shared photos
Use Fundography to allow event attendees to upload and share photos from the event. Other attendees can then purchase these photos for £3 each. The proceeds go directly to your cause.
72. Fundraising bracelets
Remember the LiveStrong silicone wristbands? You can craft more modern, classy bracelets working with a local designer, and sell them for the cause. Just make sure they have an iconic design that makes them immediately recognisable.
In conclusion
Fundraising is such a competitive market place, so the quirkier and more unique your events the better in order to stand out and excite your supporters. People need a real reason to sit up and take notice of your cause, so get brainstorming and let us know how you get on! Please share any other great, whacky or unusual fundraising event ideas you've come across in the comments!
For more information on events that make a difference, check out our Event Creator's Guide to Purpose-Driven Events and start raising money for a movement that matters to you.