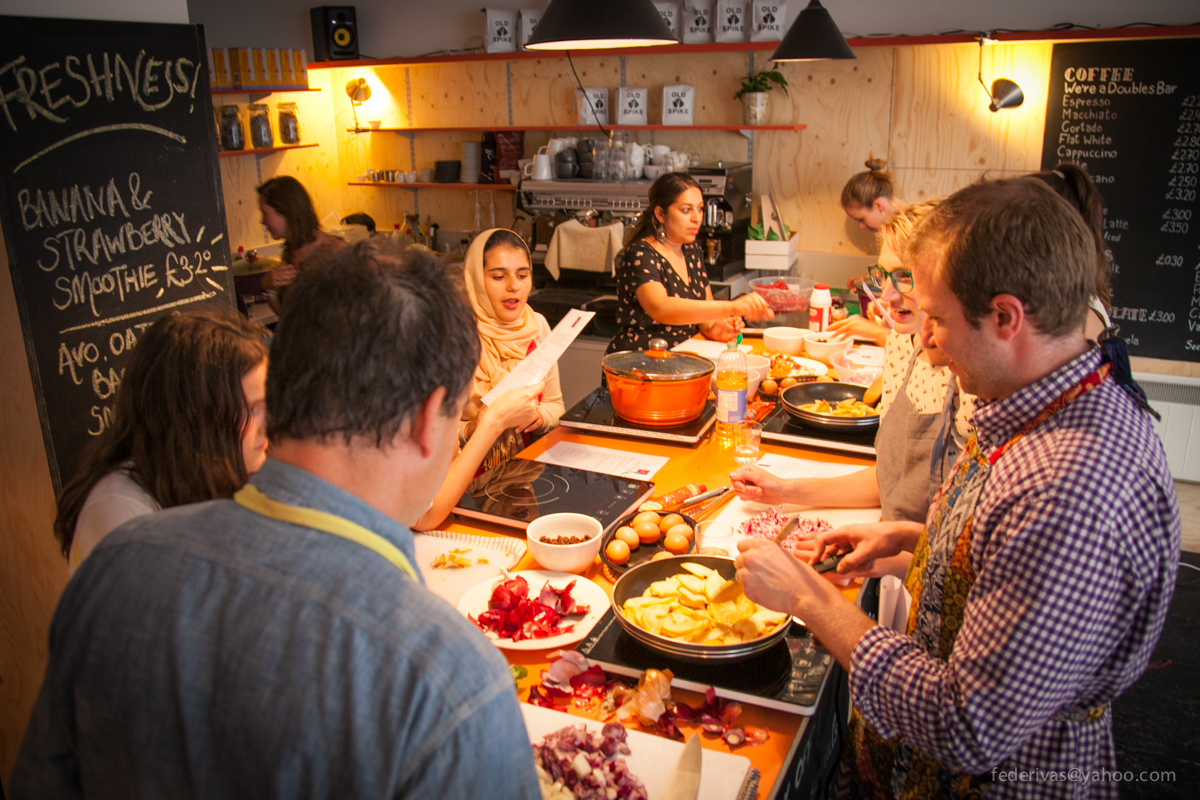 Passion to Project: Cooking Up a Cultural Exchange With Migrateful
Attend a Migrateful cookery class and you'll learn more than a few new recipes. We talk to founder Jess Thompson about how her events use food to help asylum seekers, refugees and migrants, while giving attendees an opportunity to learn more about a range of international cultures. 
Having worked in refugee camps in Morocco and Dunkirk, Jess Thompson has witnessed the international migrant crisis first hand and, when it was time to return home, she knew she wanted to keep making a difference to the lives of displaced people who had arrived in the UK. So she signed up to an innovation fellowship, called Year Here, where participants identify business ideas that can help address social problems.
"I was doing a placement where I was working with refugee women in East London who had been told to leave their countries and careers," remembers Jess. "All of them were extremely qualified, but found themselves unemployed because they didn't speak English very well and their qualifications weren't recognised in the UK. They were feeling a lot of frustration around not being able to integrate and provide for their family. 
When asked about the skills they could bring to their communities, all of them wanted to teach cookery.
I was trying to think of something that could tackle unemployment in the refugee community, and so I thought, why don't we make this a job?
Jess invited a woman from Iran to come to her home and cook for a few of her friends, and the idea Migrateful was born.
Creating a cookery classroom
Events that focus on food can be a powerful way of bringing people together, as Mex Ibrahim, founder of Women In the Food Industry, told us recently. But how do you take a group of home cooks and turn them into chefs? 
"We spend a lot of time with refugees who have a passion for cooking before they are able to teach a class. We help them plan out what recipes to share and what stories to tell, and we cover food hygiene training," says Jess. It's a sustainable model, with ticket sales – which represent 75% of the organisation's income – funding Migrateful's six-month training programme. 
Fundraising makes up the remaining 25% of the organisation's income and enables them to support chefs in their day-to-day lives. "Half of our chefs have pending asylum claims, which means they can't legally work or receive benefits until refugee status in granted," acknowledges Jess. So while they can't be paid to teach cookery classes, Migrateful can award destitution grants to help them cover their basic needs. "In addition, childcare is a big barrier to employment when working with women, so we fundraise to cover childcare costs while teaching a cookery classes."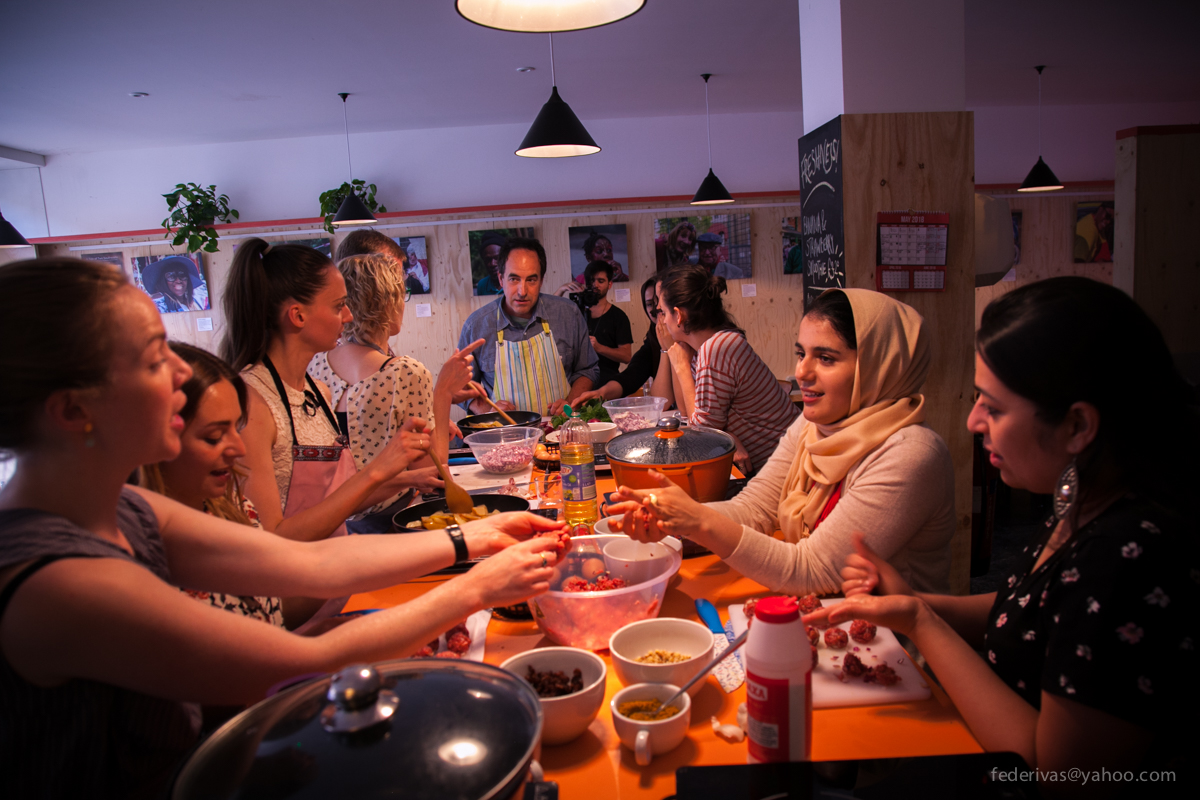 The majority of the chefs who started out with Migrateful continue to host classes. "They obviously really love it and are now very experienced – they offer really amazing classes. But we also want to be able to offer opportunities to more people," says Jess.
With 16 chefs currently trained and teaching in London, 12 more will be joining the rota and offering classes from January. "In the past year, we've grown by 80% in terms of the number of classes we offer, and we are always working to match customer demand to the chefs we have on our rota." 
Having held over 450 cookery classes for more than 4,5000 participants, Jess is proud to say that the learning experience works both ways. Chefs can pick up employable skills and practice their English, while participants have the opportunity to talk to someone from a country they might not know much about.
Migration has been in the news a lot recently, and these classes provide a positive interaction," says Jess. 
A team to support the teaching
Migrateful relies on partnering with venues and working with volunteers in order for its events to be a success, and over the years it has established a rota of more than 100 volunteers and a list of supportive spaces that are happy to host them – from a co-working hub in London Fields and the Duke of Cambridge pub in Islington to Mercato Metropolitano in Elephant and Castle. 
"When it comes to venues, we make it easy by bringing the equipment – so all we need is an area where we can lay out the food and a sink to wash up everything afterwards," says Jess.
We like to run our classes in cafes and restaurants, as opposed to training kitchens. This creates a very sociable environment as everyone is just cooking around a table.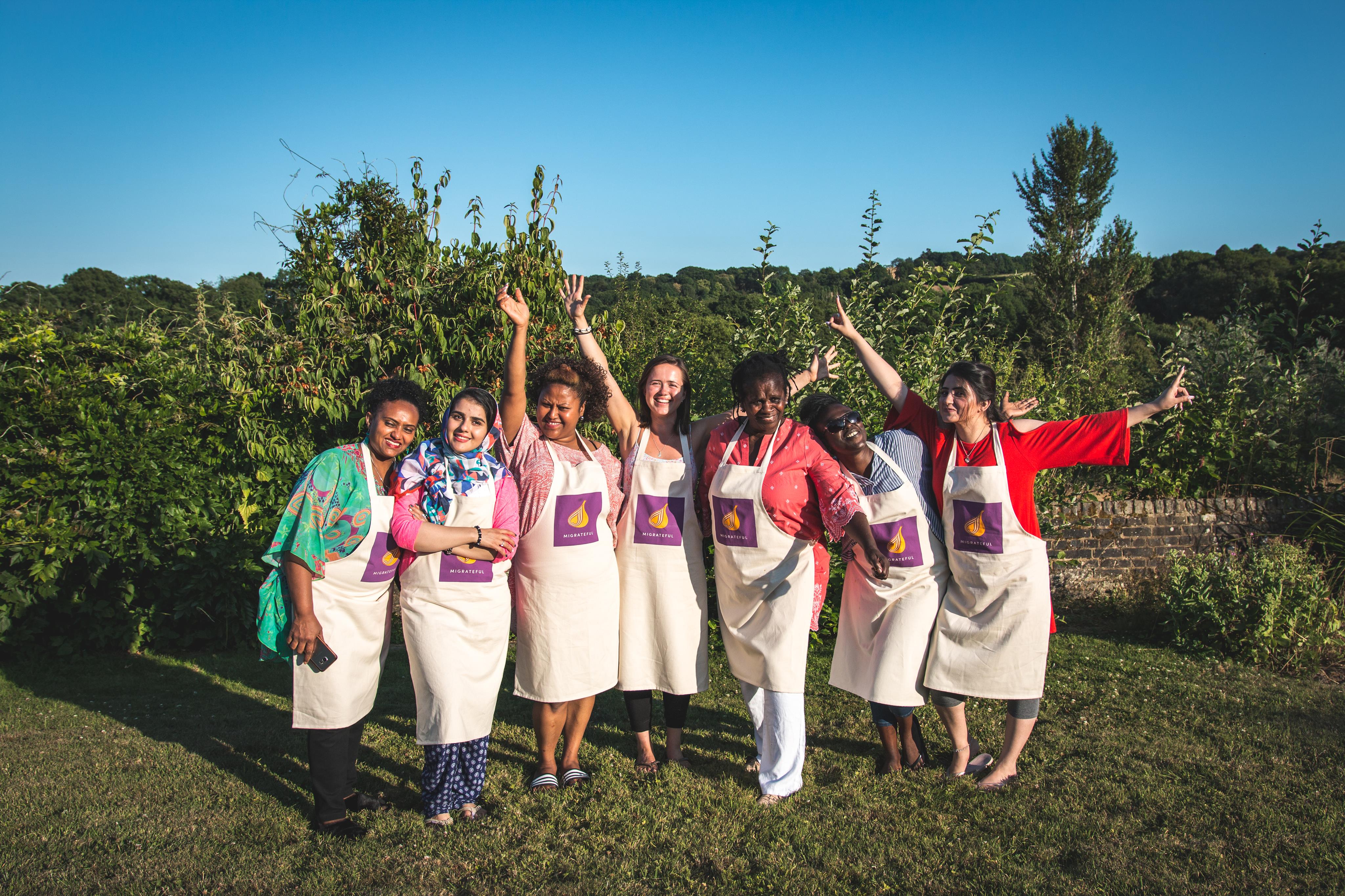 The team also look for venues that might otherwise be closed in the evenings and owners who might let them use their facilities for free or at a discounted price. Jess says that, when going into other people's venues, it can be unfamiliar so it's important to make sure you don't do something like unplug the fridge or pack up a piece of their equipment at the end of the event.
"Our systems have evolved over time and we rely on 10 paid freelance facilitators who are based in different parts of London. They are about a 15-minute drive from the nearest venue. That's how our model works, they arrive with our equipment so chefs can go to venues all over the city." 
The facilitators, who are often students who want to support refugees while earning some money, welcome the guests, set up the equipment and introduce the chef. "That said, some of our chefs are at a stage where they really run the show, but sometimes, at the beginning, it's important to have the facilitator there in case the chef is nervous. Volunteers help clear away and wash up and, if they show a real commitment, they might end up becoming facilitators," says Jess, who adds that Migrateful also advertises facilitator roles on its website.
Attracting people who are keen to cook
"Every class is different and each one really takes on the cultural features of that country," says Jess. "Our Cuban chef Lola will have everyone salsa dancing at the end of her class and people will be speaking Spanish – it's a celebration and lots of fun. Whereas Majeda, who teaches Syrian cookery classes, uses it as a platform to tell people what's happening in her country. While this can be hard-hitting, it's also extremely educational." But whatever's being cooked up, all of the chefs appreciate having a chance to engage with the participants.
Spreading the word and catering to as many potential customers as possible is key, and so Jess is always looking for ways to delight food and drink attendees. Ethiopian and Eritrean classes offer a vegan menu, vegetarians have the opportunity to make dahl, paneer curry and aromatic rice with Noor's Pakistani cookery class, while pescatarians can sign up to an Ecuadorean evening. In addition, corporate classes allow clients to request the chef they want to cook with, and offers a delicious alternative to more traditional team-building activities. 
"It's a strange dynamic when you are running a charity that's dependent on market forces – like how many people you can get to attend your cookery classes – especially as some cuisines seem to be more popular and tickets to different events sell at different rates," says Jess, who also admits their marketing strategy is often complicated by the fact that the majority of people tend to find out about Migrateful through word of mouth. "We post everyday on Instagram, Twitter and Facebook, and people find out about us that way – social is also important because part of our mission is to provide our chefs with a space to share their stories," she says. 
This festive season, Jess hopes another revenue stream – the sale of gift vouchers – will enable Migrateful to fund more training programmes. "It's such as great way of donating to charity while enjoying an experience. Last year we sold 460 vouchers and it meant for the next six months our classes were sold out with people claiming their Christmas presents!"
If you've been inspired to get started with a project of your own, take the leap and start organising your first event with the Eventbrite Organiser App.